New Girl star Zooey Deschanel will play famed country singer Loretta Lynn in a Broadway-bound musical adaptation of Lynn's autobiography (and subsequent biofilm) Coal Miner's Daughter. Deschanel joined Lynn on stage at a May 10 Nashville concert, where the announcement was made. No dates, creative team members or further casting have been announced at this time.

"It's a long way from Butcher Holler to Broadway in New York City," Lynn said in a statement. "I never imagined I'd see Coal Miner's Daughter on a movie screen, and now I can't believe it's going to be on a stage for people to see. I'm going to be right there in the front row. And I know Zooey is going to be great – she sings and writes her own songs just like I do, and we even have the same color eyes!"

"Loretta Lynn and her music have been inspirations for me for as long as I can remember," Deschanel also stated. "She is a true legend and to be chosen to play such an iconic woman is a dream come true."

Coal Miner's Daughter follows Lynn's life from her impoverished Kentucky childhood to working her way to becoming known as the "First Lady of Country Music." Lynn first published her autobiography in 1976, with a film adaptation following in 1980. Sissy Spacek earned an Oscar for playing Lynn. Directed by Michael Apted, the movie also starred Tommy Lee Jones and Beverly d'Angelo.

Deschanel's many film and TV credits include Elf, Our Idiot Brother, 500 Days of Summer, All the Real Girls, Weeds, Failure to Launch, Yes Man, Almost Famous, Once Upon a Mattress and Your Highness. She is also a member of the folk duo She & Him.

Coal Miner's Daughter will be produced by Fox Theatricals (Kristin Caskey and Mike Isaacson) and Scott Sanders Productions.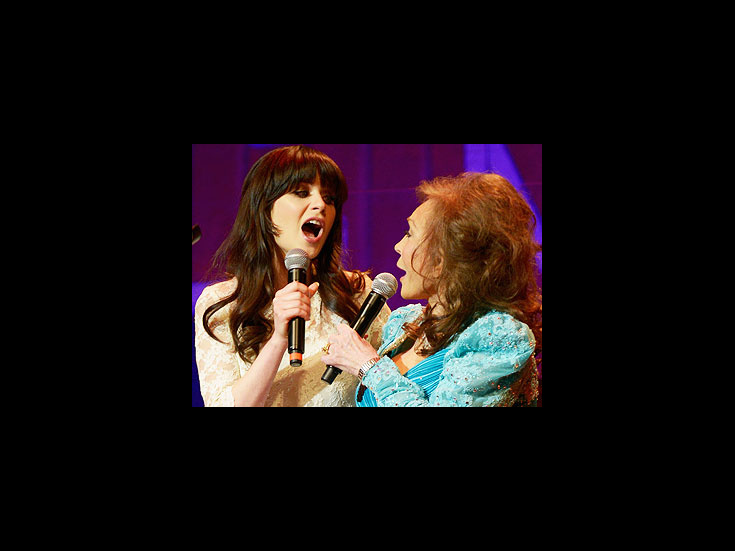 Zooey Deschanel & Loretta Lynn