Here's a quick roundup of stories you may have missed today.

Daveed Diggs' Next Project
What comes next for 2016 Tony nominee Daveed Diggs? #BARS—an ongoing rap for musical theater workshop in NYC. Created by the Hamilton star and Rafael Casal, check out The Bars Medley below, where 12 New Yorkers took 12 popular scenes and remixed them in verse. The film is directed by Carlos Lopez Estrada, and stars in order of appearance, Casal, Diggs, Sarah Kay, Virginia Cavaliere, Jared Dixon, Perry Young, Sofia Snow, Danny Bevins, Dhyvia Arumugham, Ashley August, Lindsay Meck, Jeremy Sartin, Jon Viktor Corpuz and Nate Lombardi.


Scott Rudin Opens Up About His Success
Mega-producer Scott Rudin, the EGOT-winning mastermind behind numerous hits including this season's Tony-nominated productions Shuffle Along, The Humans, The Crucible, A View from the Bridge and Blackbird, has given a rare in-depth interview. He reveals: "I have a deeply passionate interest in the theater, which made me worry that I wouldn't be good at it. So it took me a long time to want to produce in the theater because...I was afraid that I would be too in love with something to be good for it." Check out the full NPR piece here.

Meryl Streep Takes the Stage as Donald Trump
Meryl Streep really can play anyone. The legendary actress, who was headlining a Shakespeare tribute gala for the Public Theater on June 6, appeared as Donald Trump at the event. Along with her Mamma Mia! co-star Christine Baranski as Hillary Clinton, the pair performed "Brush Up Your Shakespeare" from Kiss Me, Kate. There is video, but it is the up close and personal photo below that really has to be seen to be believed!


(Photo: Roy Rochlin/Getty Images)

P.S. Check out Something Rotten!'s fun tribute to this year's Tony nominees below.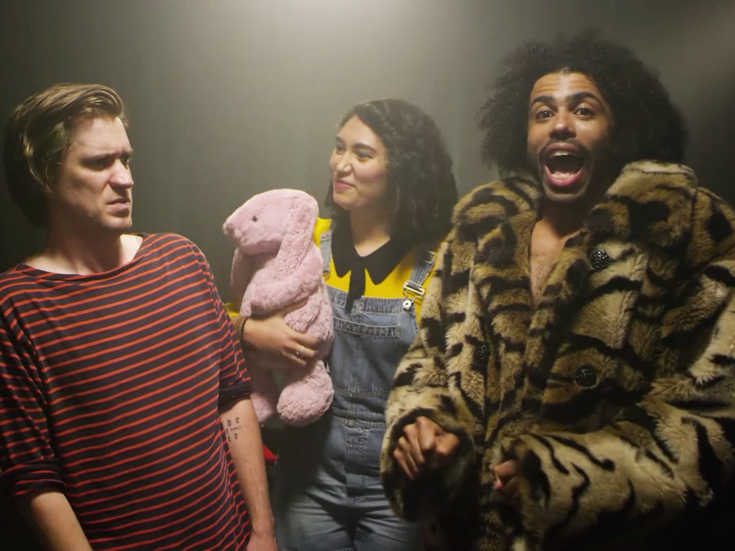 Rafael Casal, Sarah Kay & Daveed Diggs