Barry Bostwick & Joanna Gleason (Photographed by Caitlin McNaney)
It started as the hottest new musical of the 1991-1992 season. An a-list creative team with shows like West Side Story, Gypsy, Annie, Bye Bye Birdie and Miss Saigon under their belts bringing Nick and Nora Charles, the witty, martini-drinking detective couple who stylishly solved crimes (with the help of their pup Asta) in six Hollywood smashes in the '30s and '40s, to Broadway musical life. Cast in the leads were two Tony Award winners: Barry Bostwick, returning to the stage almost 20 years after creating the role of Danny Zuko in Grease, and Joanna Gleason, fresh off her success as The Baker's Wife in Into the Woods. In the featured cast were great stage pros like Christine Baranski, Debra Monk and Faith Prince, who would later in the season enjoy her Tony-winning triumph as Adelaide in Guys and Dolls. To quote one of the show's best songs, what wasn't "Swell" about Nick & Nora?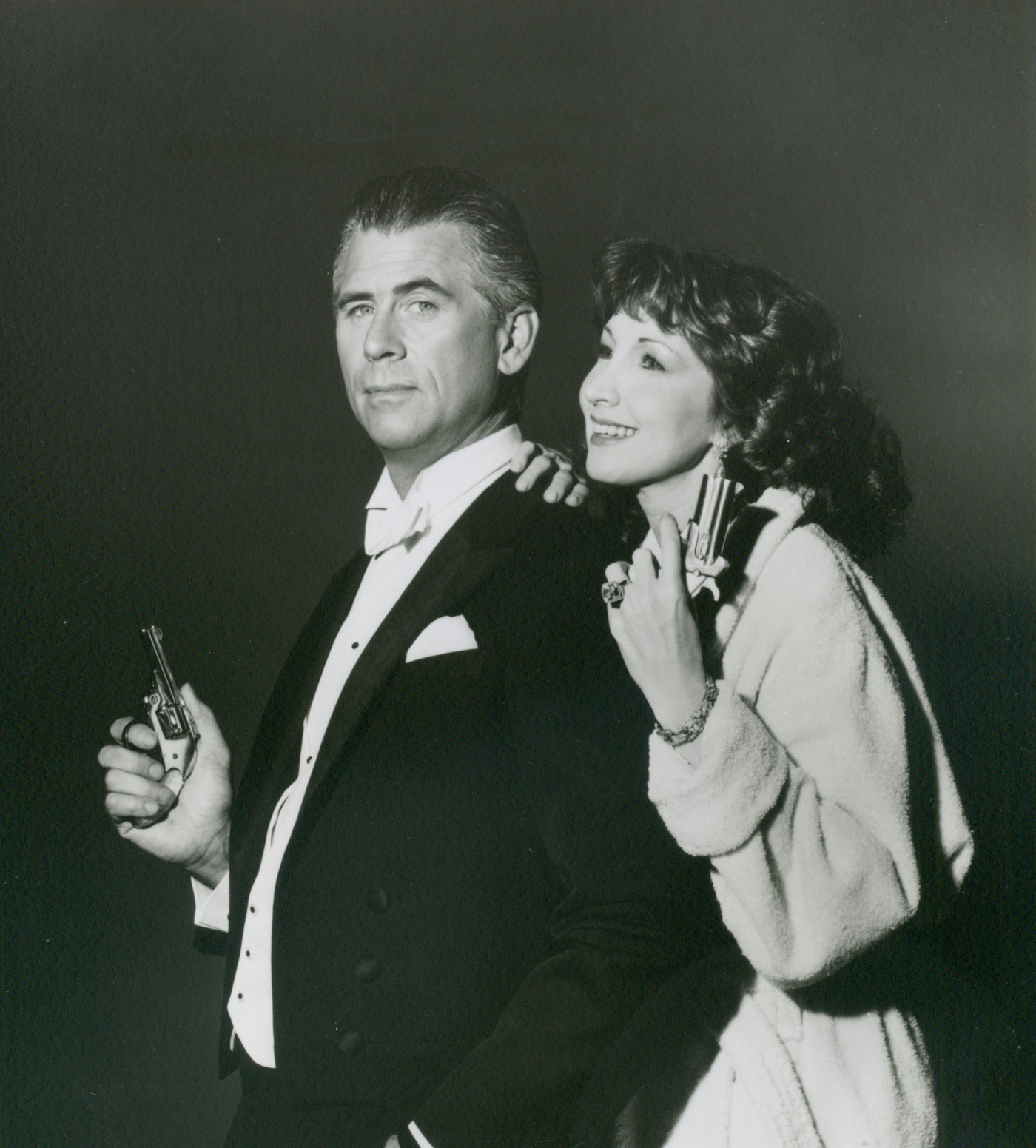 Before the Storm: Barry Bostwick & Joanna Gleason in a promo shot for "Nick & Nora" (Photo by Nathaniel Kramer)

Well, a lot of things. Producers clashed with creatives. Legendary director Arthur Laurents clashed with the cast. The show kept changing, with new songs and lyrics added regularly. One of the featured players was fired and replaced. The opening night was pushed back so many times that many in the theater community started saying it was the show getting murdered every night, not poor Lorraine Bixby, the onstage victim. Finally, after 71 preview performances—two month's worth—Nick & Nora opened at the Marquis Theatre to nasty reviews. One week later, it was gone.

On May 2, Bostwick and Gleason are back together, singing fantastic songs from the show's Tony-nominated score by Charles Strouse and Richard Maltby, Jr. for a reunion concert produced by Second Act Series, a new company dedicated to highlighting neglected Broadway musicals. Joining them are original cast members Tim Connell, Yvette Lawrence and Gleason's husband, Chris Sarandon, who turned his time with Gleason in the short-running show to a long-running marriage of 23 years now.

With the detective duo together again, Broadway.com couldn't resist sitting down and catching up. Read their incredible memories of starring in one of Broadway's biggest flops below!

Nick and Nora back together!
Bostwick: You played Nora, right?
Gleason: And I think you were Nick?
Bostwick: I was at one time. For a lot of previews.
Gleason: For far too long.



The Logo: "With a wig I hated, a costume I hated," says Gleason.

Take me back to the Fall of '91 when you were both starring in the show. How do you describe that time?
Gleason: Well, we say, "Picture a huge mushroom cloud over the Marriott Theatre." And then I say, "But that's where I met Chris Sarandon, so that's 26 years we've been together."
Bostwick: He took my wife away from me.
Gleason: He took your wife away from you. And then we start to tell the stories of what a kind of nightmare it was backstage. But not with us. The cast was amazing!
Bostwick: We were really good. If I do say so myself. There wasn't a deadbeat in the whole group. At least on stage.
Gleason: It was a difficult bunch of very talented people: [Director/librettist] Arthur Laurents, [composer] Charlie Strouse, [lyricist] Richard Maltby, Jr. and Tina Paul and Luis Perez choreographed for us. But our producers were at odds with Arthur who was at odds with—pick a day.
Bostwick: [Laughs] Basically.
Gleason: And so it never got the work done to it that should have been done.



What Song Are You Singing Tonight, Tracy?! Barry Bostwick, Joanna Gleason & Christine Baranski in "Nick & Nora." (Photo by Nathaniel Kramer)

I loved a lot of that show—I saw it multiple times!
Bostwick: Everyone that saw it that I've talked to since then liked it. And I say, "Well what month did you see it in? Which incarnation? What song did [the character of] Tracy sing?" Cause she had three or four songs during those previews. [Christine Baranski] was amazing. She'd get up and do whole new production numbers every three or four days.
Gleason: At the first critics' preview, they changed the lyrics of my song so Arthur said to me, "I'm going to write them under the lids of hat boxes, and we'll pretend you've been shopping, and you'll sit down, and there will be all these hat boxes, and you'll just go from lid to lid…" That night, the song starts, and I open the first lid and it's not the first lyric. And now I'm singing whatever's in the box, and I went to him afterwards, and I said, "Arthur, you didn't number the boxes. I had to guess." He said, "Well, you guessed wrong."
Bostwick: [Laughs] Yeah, I had three by five cards all over the set for the end of the first act on pieces of furniture with lyrics on it, and I was just hoping the dog wouldn't eat them before the end of the song. I had a duet with a dog who could do nothing but look offstage at his trainer and scratch. And I'm singing a love song—to the dog, apparently! The dog wasn't having any of it. That song should not have been…
Gleason: But you know what? It doesn't matter. You have to be in a flop, or you cannot have dinner with us. Do you know what I'm saying? Everybody who's been in one hit after another, one success after another, we just think, "Oh, isn't that wonderful? Yes, you were wonderful in that…" But frankly, it's the war stories. It's this kind of stuff that makes for a better life and better work and a better dinner party.

Were you guys able to stay cool during it and remain friends during the experience? Did the cast just get closer?
Gleason: You bond together, but you know, we would stand ready to go on for our very first scene, and I said to Barry, "Do you feel like you have bullseye painted on your tuckus?" [To Bostwick] You said, "Yeah." We're going to go out there, and everybody's already heard it doesn't work, you know, it's terrible. We previewed for two months. Two months!
Bostwick: It was fun sitting backstage right before the curtain went up, as we listened to that beautiful overture.
Gleason: Oh, the music is divine.
Bostwick: It was unbelievable. And then you get about halfway through the first act, and you wish you were still behind the stage listening to that beautiful overture! [Laughs.]



Together Again: Barry Bostwick & Joanna Gleason at a rehearsal for their reunion concert. (Photo by Caitlin McNaney)

All those previews and then it closed a week after opening. Done.
Gleason: Done! And the night the reviews came out, we were at Sardi's with everybody fleeing. The paper would come in—an actual paper would come in—at about 11 o'clock. And suddenly, I was left at the table with just my family and two waiters who were reading the paper because everybody else had fled not wanting to face anybody. And Arthur left town.
Bostwick: He did?
Gleason: Yeah, he went to the Bahamas or someplace like that.
Bostwick: Oh, good for him.

No vacation for you two. Those reviews come out and then you have to get back onstage the next night.
Bostwick: It's sort of a blessing we closed in 10 days because there's nothing worse for an actor than to be in a half-baked show for three years.
Gleason: There was the poster going up at Joe Allen's immediately. I thought, "Oh really? The body's not even cold yet!"
Bostwick: I think that was my doing actually. I organized the closing night party at Joe Allen's, and presented them with our poster, just to sort of get back at certain people. I'd like to say I regret it.
Gleason: But you don't.
Bostwick: No. Not a bit.
Gleason: They usually seat me under that poster.



Flop Wall: "Nick & Nora" on the wall of flops at Joe Allen. (Photo by Emilio Madrid-Kuser)

It's one thing to have your name on a flop poster at Joe Allen's—but it's big to have your face on a flop poster!
Gleason: With a wig I hated, a costume I hated. I lost every battle.
Bostwick: Who else did you audition for my part?
Gleason: Joe Mantegna!
Bostwick: He should have gotten the part. I was not right for it.
Gleason: And a wonderful actor named Philip Casnoff was approached to play Victor, and then he turned it down and Chris Sarandon accepted the part, so there you are!

So did you immediately say yes to doing this reunion concert at 54 Below?
Bostwick: Well, I called Joe Mantegna to see if he wanted to do it.
Gleason: [Laughs] I said to myself, 'Self, do it! Do it because we get to kind of go out and be who we are now with a bunch of people that we adore with no interference and no egos and none of the crap that went on. And then just go, "This was a nightmare! Let's have some fun!" And Richard Malty Jr. and Charles Strouse's score is so fabulous and they're going to be there watching. So I'm doing it for them.
Bostwick: I agree. I'm doing it for the same reason.
Gleason: Yeah, this one's for Charlie and Richard!



Nick & Nora & Victor: Barry Bostwick, Joanna Gleason & Chris Sarandon today.(Photo by Caitlin McNaney)