Acting Audition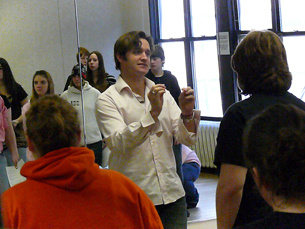 The Acting Audition workshop gives participants the knowledge of how important first impressions are when entering the audition room for the first time. This workshop will focus on the monologue, cold readings and stage presence. The session kicks off with an interactive group activity and then works on specific material focusing on making choices while in an audition situation.
Special details for this workshop:
• Taught by a qualified teaching artist, casting director or Broadway performer
• Volunteers will be asked to participate in front of the class.
• You can add a Q&A with a Broadway performer for an additional fee.
• Group rate: $28/person
• Flat rate: $700
• Prices are subject to change. Please call Broadway Classroom for current rates.
Workshop pricing is based on a group of 25 or more. If less than 25, refer to the flat rate.
Suggested workshops
Go through the Broadway auditioning process! Six to eight participants from your group perform either a monologue or song (with sheet music for the pianist) for a Broadway professional or ...

Taught by a leading casting director or teaching artist, this session will give participants the business skills for a successful career in theatre. The group will learn about audition procedures, ...