In the weeks leading up to Chaplin's August 21 Broadway start date, show headliner Rob McClure has been busy…watching movies! The star, who will play the legendary Charlie Chaplin (as well as his celebrated film persona, the Tramp), has been watching every Chaplin film he can get his hands on to absorb the essence of the comic icon. "Chaplin was the actor, writer, director, producer and musical composer of all of his films," McClure recently told Broadway.com. "This man wrote the song 'Smile' on the violin and composed these huge, romantic, string orchestrations to his films. He lends himself beautifully to a Broadway musical." Want a crash course in Chaplin before catching the show? Check out McClure's favorite film picks below!

1. One AM: "For a quick Chaplin YouTube fix, one of his earliest films is called One AM. He shows up at home in the back of a taxi, drunk out of his mind, and it takes him 20 minutes to get from the backseat of the cab into bed. It's awesome, old-school, hysterically funny Chaplin."



2. City Lights: "This is one of the most romantic and beautiful films I've ever seen in my life, and it also has some of the funniest sequences of all time. The moment at the end of City Lights—no spoilers here—but there's a moment that I think goes down as the most romantic moment in all of film history. It's stunningly beautiful, they featured it on the opening ceremony of the Olympics. It's special."



3. The Great Dictator: "I know that people have been watching the end of The Great Dictator on YouTube, when Chaplin gets up and gives this incredible, rousing speech. The words alone are hugely inspiring. It's really relevant and beautiful, and what I didn't think about before doing Chaplin was that the world had been waiting three decades for the man in the hat and the moustache to say something. Talkies had been around for a decade and Chaplin was being pressured to talk, but he said, 'I don't know what he'd say, I don't know how he'd sound.' It took Hitler and what was going on in the world at the time for Chaplin to finally decide: 'I think the little Tramp has something to say.'"



See Rob McClure in Chaplin, beginning August 21 at the Ethel Barrymore Theatre!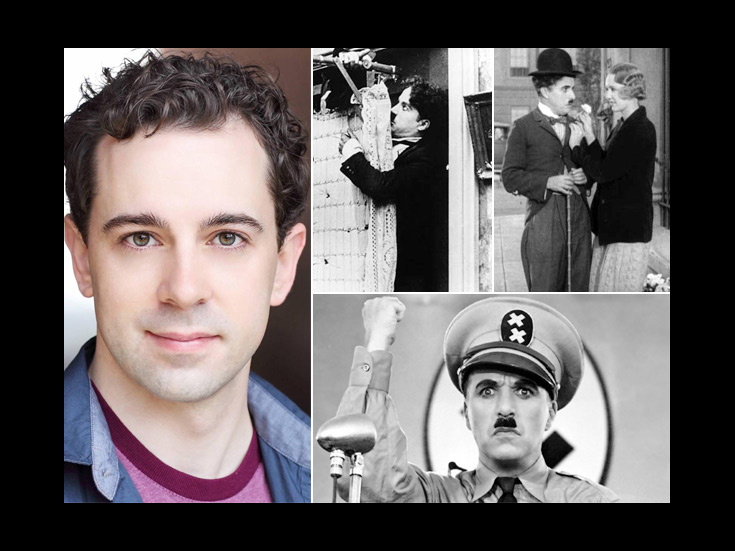 Rob McClure; Charlie Chaplin in 'One AM,' 'City Lights' & 'Great Dictator'