Broadway fans are anxiously counting down the days until the Les Misérables movie hits theaters on December 25! With a cast chock full of megastars like Hugh Jackman, Russell Crowe, Anne Hathaway, Amanda Seyfried, Helena Bonham Carter, Sacha Baron Cohen, Eddie Redmayne, Samantha Barks and Aaron Tveit, Les Misérables is already one of the year's most buzzed-about films. Broadway.com asked Les Miz fans which star performance they're most excited to see on the big screen. Check out the results below!

1. Aaron Tveit as Enjolras – 30%
Move over, Hugh Jackman—our readers are most excited to see Aaron Tveit lead young French revolutionaries as Enjolras. After making a splash in Wicked, Next to Normal and Catch Me If You Can on Broadway, fans can't wait to see the heartthrob storm the silver screen, waving an enormous flag while singing "Red and Black," "Do You Hear the People Sing?" and more.

2. Anne Hathaway as Fantine – 16%
Anne Hathaway is sure to deliver a heartbreaking turn as Les Misérables' tragic mother, Fantine. Her rendition of "I Dreamed a Dream" has been haunting fans ever since it played over the film's first trailer, and with so much Oscar buzz surrounding the starlet, it's no wonder our readers are excited to finally take in her performance.

3. Russell Crowe as Javert – 15%
Not only is Russell Crowe the Oscar-winning star of Gladiator and A Beautiful Mind, but he also fronts the rock band 30 Odd Foot of Grunts. Now, the Aussie actor's movie and music careers are about to cross paths as he takes on steadfast Inspector Javert in Les Miz. In the film, Crowe will sing "Stars" and the suspenseful "Confrontation" (opposite Hugh Jackman) as he ruthlessly hunts down Jean Valjean. All for stealing a loaf of bread!

Thanks for voting!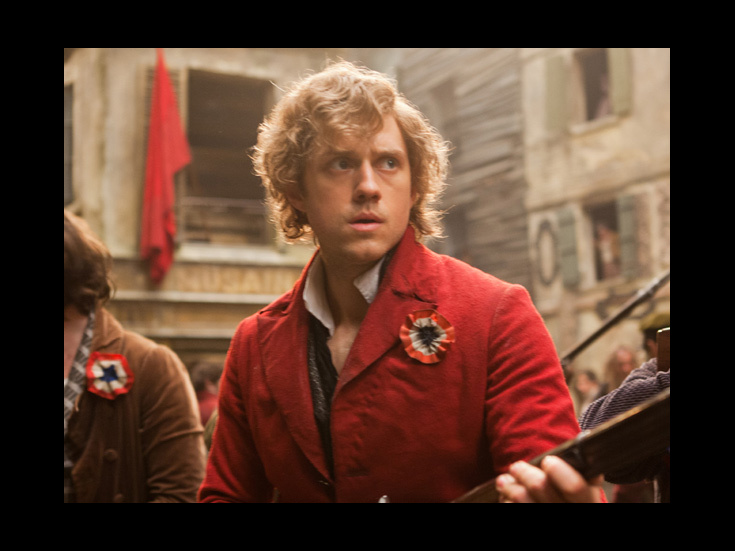 Aaron Tveit in 'Les Miserables'