Hudson Loverro & Athan Sporek photographed at Two Boots Pizza
(Photo: Emilio Madrid-Kuser)
They call them "C," and they like it! Athan Sporek and Hudson Loverro are the pint-sized powerhouses alternating in the role of Young Calogero (a.k.a. C) in Broadway's A Bronx Tale. The two portray a young Chazz Palminteri in the musical adaptation of his acclaimed semi-autobiographical show. Life's a big cookie jar for these bright-eyed boys: Sporek made his Great White Way debut as the youngest Gavroche in Broadway history in Les Miserables; A Bronx Tale marks Loverro's Broadway debut after performances in the national tours of Kinky Boots and A Christmas Story. Backstage buds Sporek and Loverro reveal how they need each other to defend their shared dressing room from cast candy thieves and more.

Q: The movie A Bronx Tale is rated R. Have you seen it?

ATHAN: Yes! Mostly just for the audition, though. I don't think my parents would let me watch it if I wasn't doing the audition.

HUDSON: Same.

Q: What's it like to share this role?

HUDSON: It makes it a little easier on both of us because we have time to rest.

ATHAN: Yeah, I would say that, too. It's a pretty hard part. You have to sing a lot. And dance also.

Q: What do you do backstage in a show full of grown-ups?

ATHAN: Hudson and I share a dressing room. We sometimes play games. We read. We have a guardian backstage to take care of us, and she's teaching me how to knit, so that's really fun!

HUDSON: Some of the adults come in and take candy from us. [Laughs] We're always joking around with them. It's a really fun cast.

Q: Did you decorate your dressing room together?

ATHAN: Yes! We really like Harry Potter, so it's a Harry Potter-themed dressing room. It's really cool!

HUDSON: Yeah, we put castle windows on the walls. There's a poster we taped to the wall, and it looks like spiral staircase with spider webs hanging from it. .I don't know about Athan, but after a while, I just forgot about it.

ATHAN: Yeah, 'cause you get so used to it!

Q: What's the best part about being a kid on Broadway?

ATHAN: It's really fun to work with such amazing people like Robert De Niro and Jerry Zaks and Chazz Palminteri. And it's cool that it actually all happened to Chazz.

HUDSON: Broadway is this one community, so all of the shows are very interactive. All of the shows on Broadway sent us letters when we opened with the casts signing their names and saying something nice. It's a really great community.

Q: What's your favorite memory from opening night?

ATHAN: The cast party was amazing. Not only was the cast there, but all of our other friends were there. Our tutor was there, and we really like our tutor.

HUDSON: One of my favorite moments was Athan and two of our friends—we were all just dancing: There was a DJ. He had all this amazing equipment. Athan would know; he's a real tech guy. I'm leaving it up to him to tell you what that was! But he would play whatever song we wanted, and we were all dancing.

Q: Who are your acting idols?

HUDSON: I love Sutton Foster.

ATHAN: I would have to say Robert De Niro. He's played a lot of good roles, and he's very inspiring.

Q: You really get to ham it up on stage in "I Like It." What's it like to be the center of attention in a big number like that?

ATHAN: It's really uplifting, and you get really excited. Sometimes you just want to scream.

HUDSON: There have been some nights for both us where we literally get standing ovations. It's a very "Woah!" experience. They've really made this a real role, and that's why it's so fun for us.

Q: Did you do any research for this role?

HUDSON: I don't know about research, but I've worked hard to really become the character.

ATHAN: I thought the movie really helped 'cause it was really nice to see how one actor played the role before me, so I could apply some of that to how I act in the Broadway show.

Q: Since you play a character based on him, did Chazz Palminteri give you any pointers?

HUDSON: All of the creative team is always giving us notes. They're very helpful, and he's involved in that, too. He's helped with the development in many ways, especially helping us make what it's like to be a kid in the Bronx look realistic.

ATHAN: One time I remember it was really fun, he taught us how to throw the dice. That was really fun.

Q: Have you watched each other's performance in the show?

ATHAN: I've watched Hudson one or two times. The dance captain or someone else will try to take us out to the audience so we can watch each other and try some things Hudson is doing or have him do things that I'm doing.

HUDSON: I've gotten to watch him once, and he did amazing, obviously. It was really helpful to watch a different way of doing it, like Calogero from a different person, how he interprets the part. I feel like that helped me.

Q: Calogero has a nickname "C." Do you have any nicknames? If not, which ones would you like?

HUDSON: For some reason, people call me "Hud" or "Da Hud." I don't know how that happened. [Laughs]

ATHAN: Some people call me Athe! I kinda like it.

HUDSON: I like it too, Athe!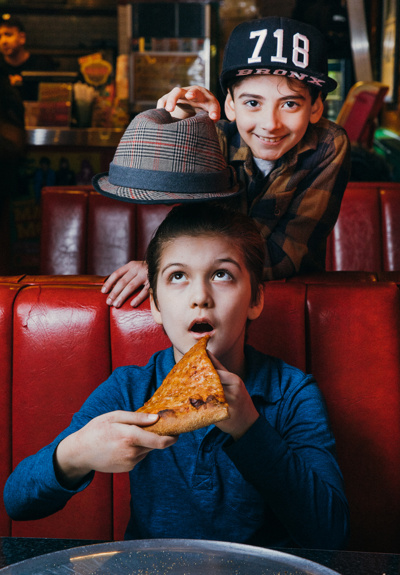 Q: OK, this is a really important question: What toppings are on your perfect pizza?

HUDSON: On my perfect pizza, we have deep dish chicken and bacon.

ATHAN: I would say pepperoni. I love broccoli on my pizza.

HUDSON: Oh, I love broccoli!

Q: What's your favorite show besides A Bronx Tale?

ATHAN: I really liked Paramour. That was a really good show.

HUDSON: Oh, I loved that one! Kinky Boots too. Not only is that amazing to see, but I was also on the tour of that. So that's a show very close to my heart.

Q: Who cracks you up in the cast?

HUDSON: A lot of people. It's a very funny cast. Nick Cordero, he's funny. David Michael Garry. He steals candy from us the most. Not that we care at all. We kind of do, David! [Laughs]

ATHAN: Yeah, I would say David Michael Garry. I think Joey Sorge is very funny. He plays Rudy the Voice in the show. He always cracks me up.

Q: What's the most common response you get at the stage door?

ATHAN: I would say the thing I get most as the stage door is, "You did a great job."

HUDSON: Yeah. Or, "How old are you?" Everyone's always like, "Oh, can I ask you something? How old are you?" From right when they say, "Can I ask you something?" I know exactly what they're going to ask.

Q: How have you trained as an actor?

HUDSON: I've been dancing since I was two or three maybe. I was taking private lessons. I currently have a few different vocal coaches, and I go to acting classes every now and again. I also take dance.

ATHAN: My mom teaches me a lot of acting and dancing because she's a dance teacher. And I also go to The School of American Ballet. It's really cool.

Q: What do you want to be when you grow up?

HUDSON: I think we both have the exact same thing. On three...one, two, three.

HUDSON & ATHAN: Actor!

ATHAN: Well, I also want to be a singer and a dancer. And I want to be an inventor, also.

HUDSON: Actor, singer, dancer, all of those. And I would also like to be an author.