Madison Ferris photographed at the Skylark (Photo: Caitlin McNaney)
Only 25, Madison Ferris is making theatergoers sit up and take notice. Most obviously, the Broadway newbie who is playing Laura opposite Sally Field's Amanda in The Glass Menagerie has muscular distrophy, and is making waves for being the first actress in a wheelchair to land a lead on Broadway. Beyond that historic fact Ferris has also reimagined the role with the help of acclaimed director Sam Gold, swapping out shyness for some spice and giving Laura a freshness that has startled some longtime fans of the Tennessee Williams classic. Broadway.com took the striking star (who was recently featured in People's "World's Most Beautiful" issue) to The Skylark for a glam photo shoot and a chat about her work in the show.

How's life as a Broadway star?
It feels great! [Laughs.] I can't compare it to anything because it's its own thrill.

How did you start acting?
I had a second grade teacher who said I should be an actor and it just kind of stuck with me. Our school did plays starting in fifth grade, and I've been doing one every year ever since. It was a small school, so I got a part every year.

What was your first time on stage?
It was a play that our English teacher's husband wrote.

So not a Tennessee Williams classic…
It wasn't a classic! I think my character's name was literally, "No Name." Like, I didn't have a name. I was just a random high schooler.



Did you immediately get a rush from it?
Yeah, I really enjoyed it. I used to take dance classes as well, so I was familiar with being onstage. I never had stage fright when I was a kid.

What about now? Was getting on a Broadway stage scary?
Definitely! I think I was shaking the whole first week of previews. For multiple reasons. One is the size of the theater and the fact that the house lights are still on when the show starts, so you can see everyone staring at you. And it's even weirder when someone like Daniel Craig is in the audience. You have this weird sort of alternate universe feeling of, "Shouldn't you be up here? Shouldn't our roles be reversed?!" 'Cause I saw him in two plays. I was like, "Why are you watching me? And why are you sitting so close to the stage! I don't think you realize how distracting that is!" [Laughs.]

Have you spotted other celebrities?
Yes. You're like, "Is that Jane Fonda?" And you just have to forget about it and just keep doing the show. But it's hard—we literally look out into the audience at the top of the show.



Did you know Laura Wingfield and this play before getting cast?
Yeah, I did! I had seen scenes from it in college, but I've never actually seen the whole play done.

Your Laura has a nice fire to her. She's different. What's your take on her? Did that develop during rehearsals with Finn Wittrock and Sally Field?
It developed right in the audition room. I remember going in there having a different opinion about who Laura was and Sam Gold said, "Play her without an accent and all the bells and whistles. Play her like a modern-day young woman." And then as I would keep doing it, he asked, "Can you do it with a little more bite? A little bit more edge?" It just kind of went on from there.

What was it like doing all the scenes with Wittrock? Were you an American Horror Story fan?
My mom is. So when I told her he was in the play, she was just so excited. She even came up to him and attacked him at the after-party of the opening. And my mom's gay so I don't get the attraction, but she literally made a beeline for him and grabbed him and gave him a hug and said, 'I'm Madison's mom!' And he's like, 'Oh! Cool!' He was really great about it.




Weren't you living in Australia when you found out about this project?
Yes! I remember reading the notice that my agent had emailed me. I was immediately really excited because I've been told I could always play Laura, but I'd never had the opportunity and then I saw a notice and I was like, "Holy shit. Oh my God! Oh, shit! And I'm here!' My agent tried to convince me to come back just for the audition, but ultimately, I just sent in an audition tape which I was pretty confident no one was going to look at. I mean, it's Broadway. They're going to give it to whoever shows up. And I was nowhere near the city. I recently looked at my audition tape, and it's just so cringe-worthy. I can't watch myself act. Nothing's more uncomfortable.

What did the casting notice say? What kind of Laura were they looking for? Your muscular dystrophy definitely shapes the character and the show.
They did say, "People with any sort of anything could audition." But I said to my agent, "Do they know that I can't walk?" And she said, "Yes."

At the top of the show, everyone watches you get out of your chair and climb up the stairs to the stage. What's it like being in those moments? Do you feel the audience reacting, even if in silence?
I feel like I'm robbing Sally of her opening applause! Right before we go up on stage, I hear people whispering "That's Sally Field!" And I'm like, "Calm down. You paid money for this. Of course, it's Sally Field! Who else were you expecting?" But the moment itself feels very normal to me. To me, it just feels like I'm going up the stairs. But yes, the dead silence—it's a little funny. But you know, the play has yet to start. I think during the first two scenes of the play, you can see people leaning in. You can see them being a little confused like, "Is this what we paid money to go see? Where's the set? This is it? OK." I think you just have to accept the rules of the game, and then once you do, you really enjoy it. There was a reporter that said that once about Sam Gold's productions, and I just recently saw A Doll's House, Part 2 and it's true: You lean in, you accept it and you have an amazing time.

What do you want people to know about your life outside the show?
Some of the physicality of the show, just like any actor, is not how I would normally move. It's not how I would normally talk. It's not how I would normally get around the house or anything like that. I'm acting.



Do you have any other dream roles? What kind of other theater excites you?
I would love to play Lady Macbeth at some point. I really would. I love to play a good villain. I really love comedy, too. I would love to play Arlie from Getting Out by Marsha Norman. I did that once for a scene class, and it was just so much fun. I think that would be a great, great role to play. Laura's actually probably the most type-A character I've ever played.

You looked stunning at our photo shoot. Did you have fun? You seem like a natural model.
I used to model a bit in college, but with no clothes on! For the art! We had a lot of painters at Muhlenberg College, so sometimes I would pose for their figure-drawing classes. I think they really enjoyed it, too because who wants to draw the same models all the time?

Does that mean you have a lot of paintings of yourself nude?
I did. I did have a few. I think I lost them. Maybe my mom threw them away!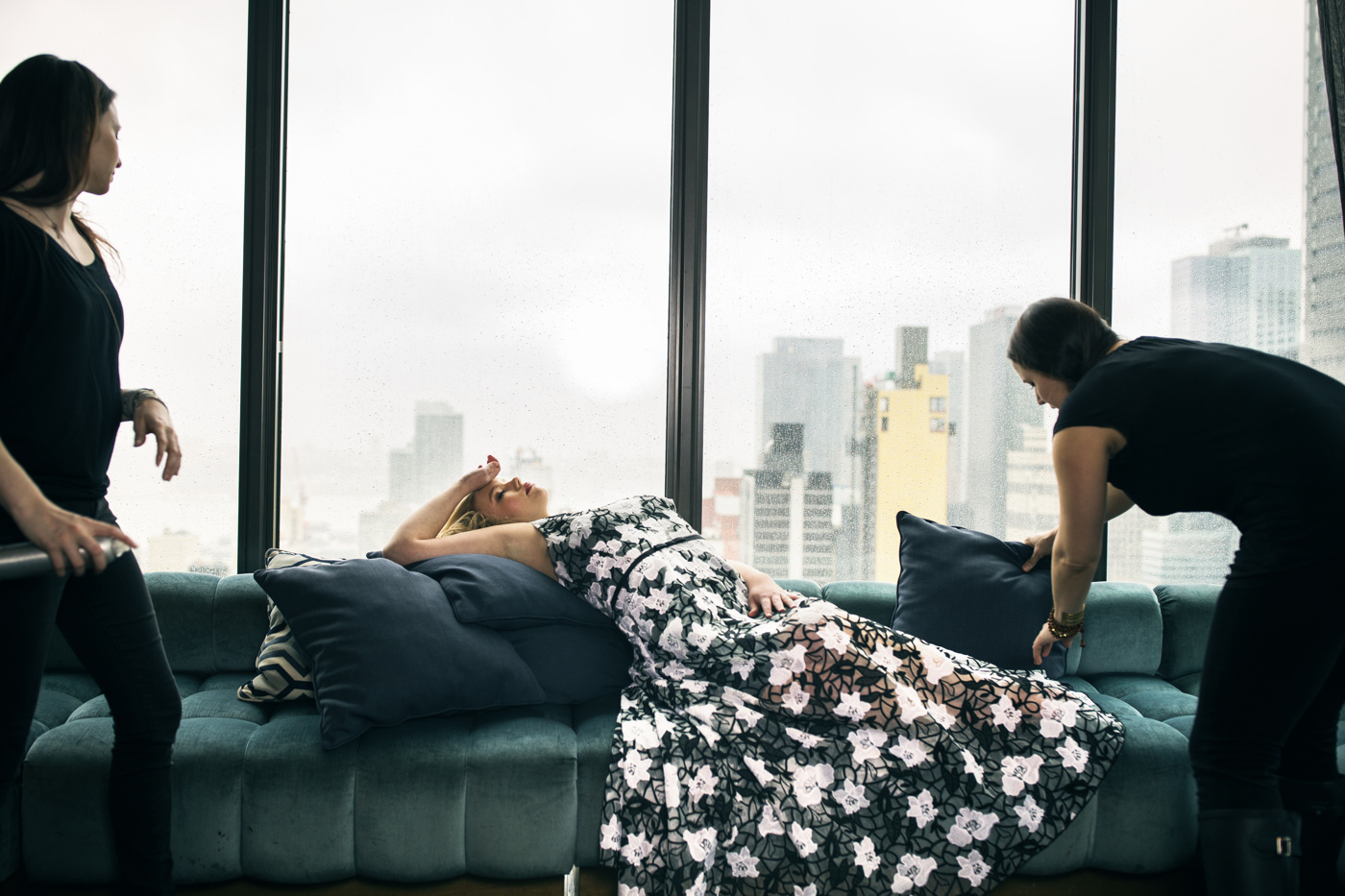 Photographed by Caitlin McNaney at The Skylark