For a month and a half, School of Rock's Justin Collette and Conner John Gillooly have been face-shredding the Winter Garden Theatre as Dewey Finn, the wannabe rock-star slob who parties too hard. Collette, who plays the lead five shows a week, and alternate Gillooly, who steps in for three, both made their Broadway debuts as ensemble members in the Andrew Lloyd Webber-penned musical before working their way up to the perpetually hungover leading man. Fittingly enough, Broadway.com tagged along with the pair for a wild day of drinking, Dewey-style, featuring pizza, beer and tattoos. Below, the pair talks making it over "Mount Rock" every night, playing jam sessions with the show's kid rockers and bartering for Paul McCartney's mandolin.

The pictures of you guys at the tattoo parlor are hilarious. You guys didn't actually get tattooed, right?

Conner: Do you want to find out?

Justin: I'll never tell. I'll show you.

Conner: I don't even know what the tattoos are going to look like because…I mean, I know what they look like.

Justin: He's the worst liar. Just the worst liar.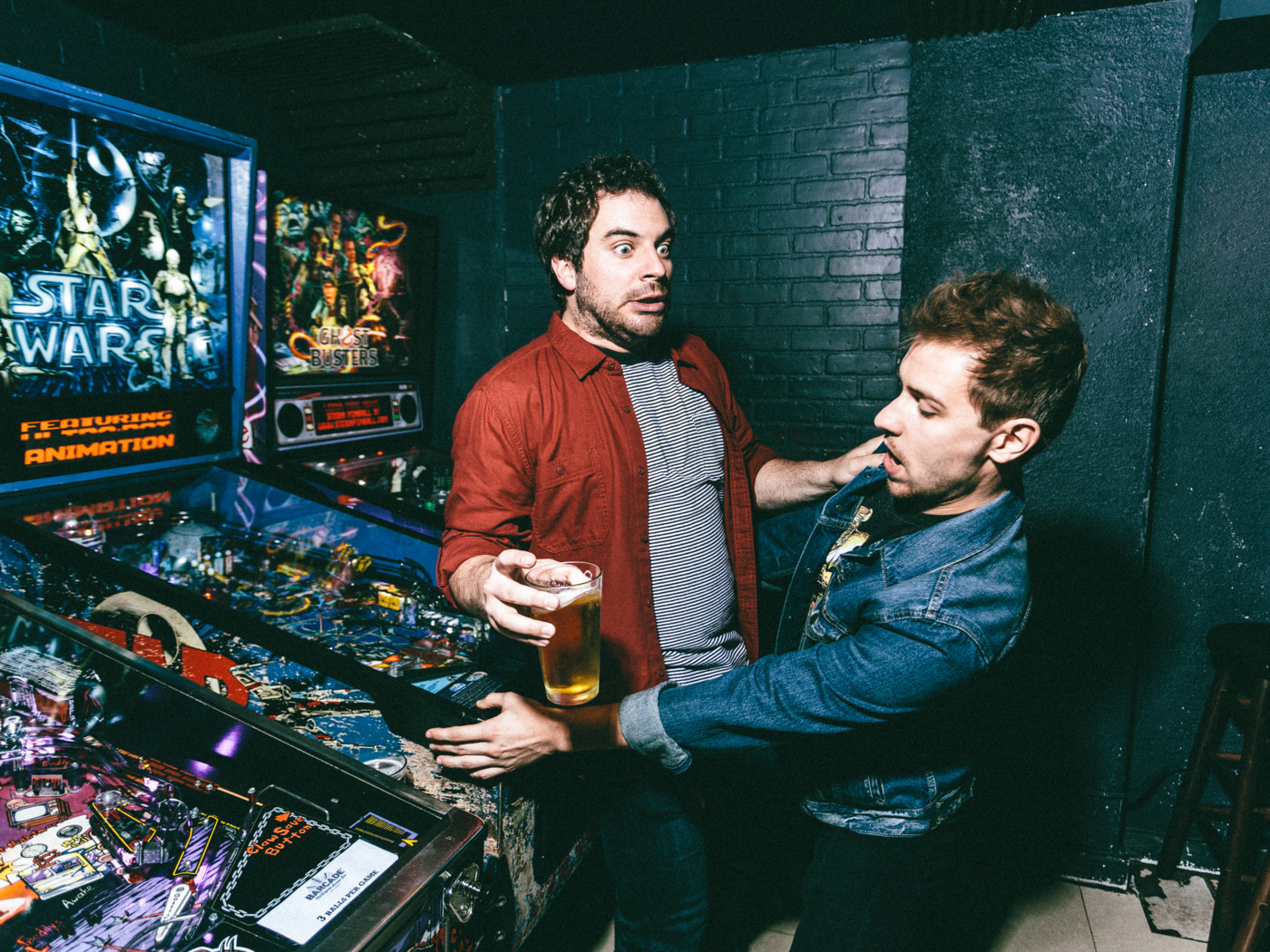 If you were to choose a tattoo for each other, what would it be?

Justin: Can I put it anywhere?

Conner: I think I would tattoo like a laminate flooring pattern on your back.

Justin: Because I'm just a doormat to you. [Laughs.] It's right f—king on. Dead on. I'm just a pushover. Walk all over me. I would put a tattoo that says "Best Guy" on Conner's uhh...face.

Conner: I would be all for that.

Justin: And I would spell it wrong. I would spell it wrong. I would put "Best G-I-Y." [Laughs.]

What were your first impressions of each other?

Justin: We hit it off. We talked a lot. I had been [in School of Rock] a little bit longer, and some people in the cast had given me advice on how to treat the role, so I wanted to immediately pass on the parts that I found the most helpful before you jump into this crazy process.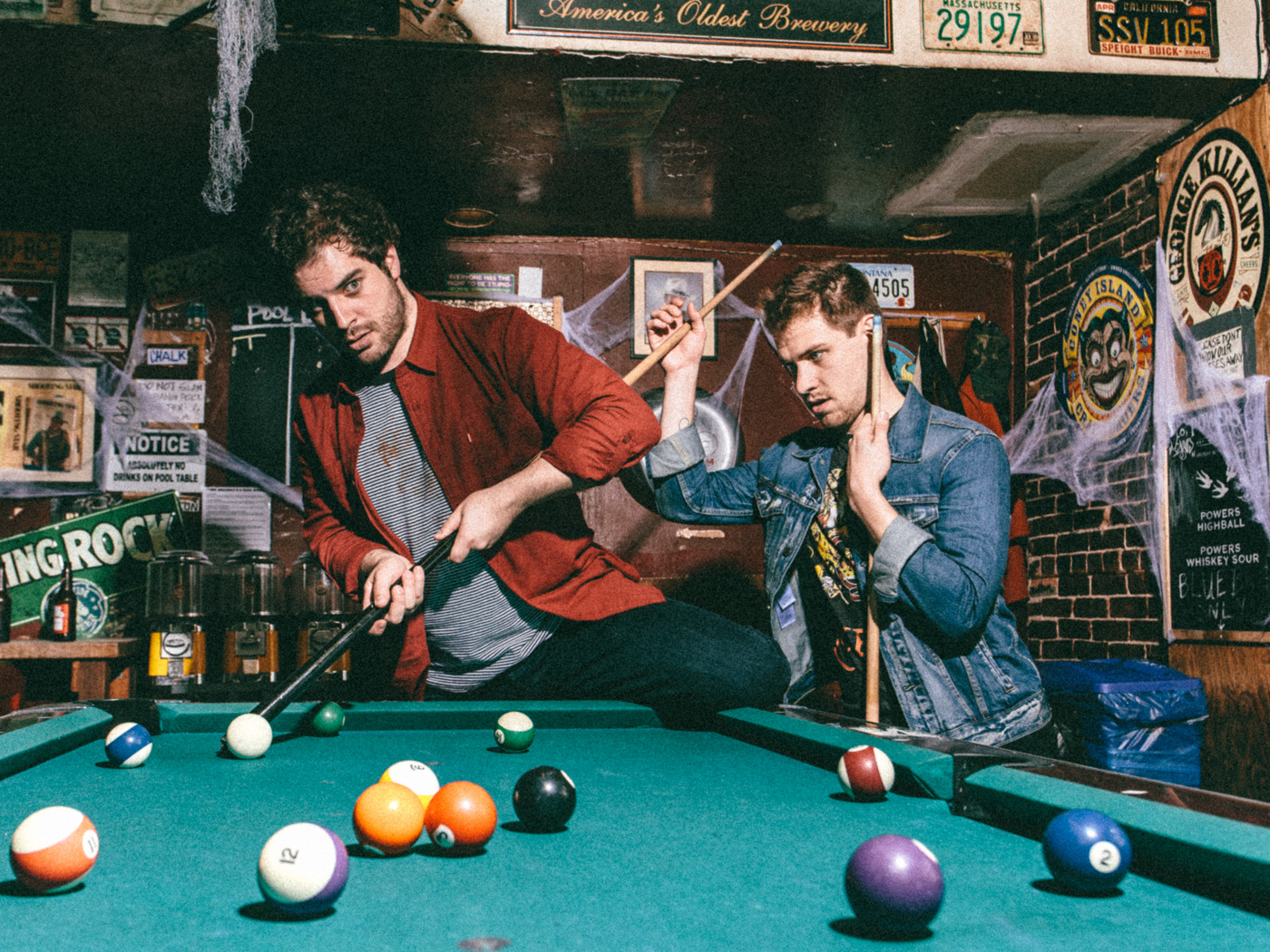 What is your favorite part about the other Dewey's performance?

Justin: Conner is much more physical when he's doing it than I am. He does a lot of physical-comedy stuff that I don't know that I have ever been able to do. It's very slapstick-y and big. It's a kind of goofy I really enjoy.

Conner: Justin has one of the greatest wits that I've had the pleasure of meeting. When we were doing the put-in, it was nice and relaxed and fun, but just...I don't understand how his brain works, but the cogs, they mesh so well.

What does it take to be a Dewey?

Conner: Good question. I'm glad you asked. Well, first you gotta get tattooed by the other.

Is there a secret society of the once and current Deweys? Do you have a group chat?

Conner: I just met [original Dewey] Alex Brightman for the first time a few days ago.

Justin: I met Alex a few times at bars. Go to any bar in like a mile radius of here, and you will probably run into most of the Deweys. Except Eric Petersen, in which case you would have to go to a Buffalo Wild Wings. [Laughs.]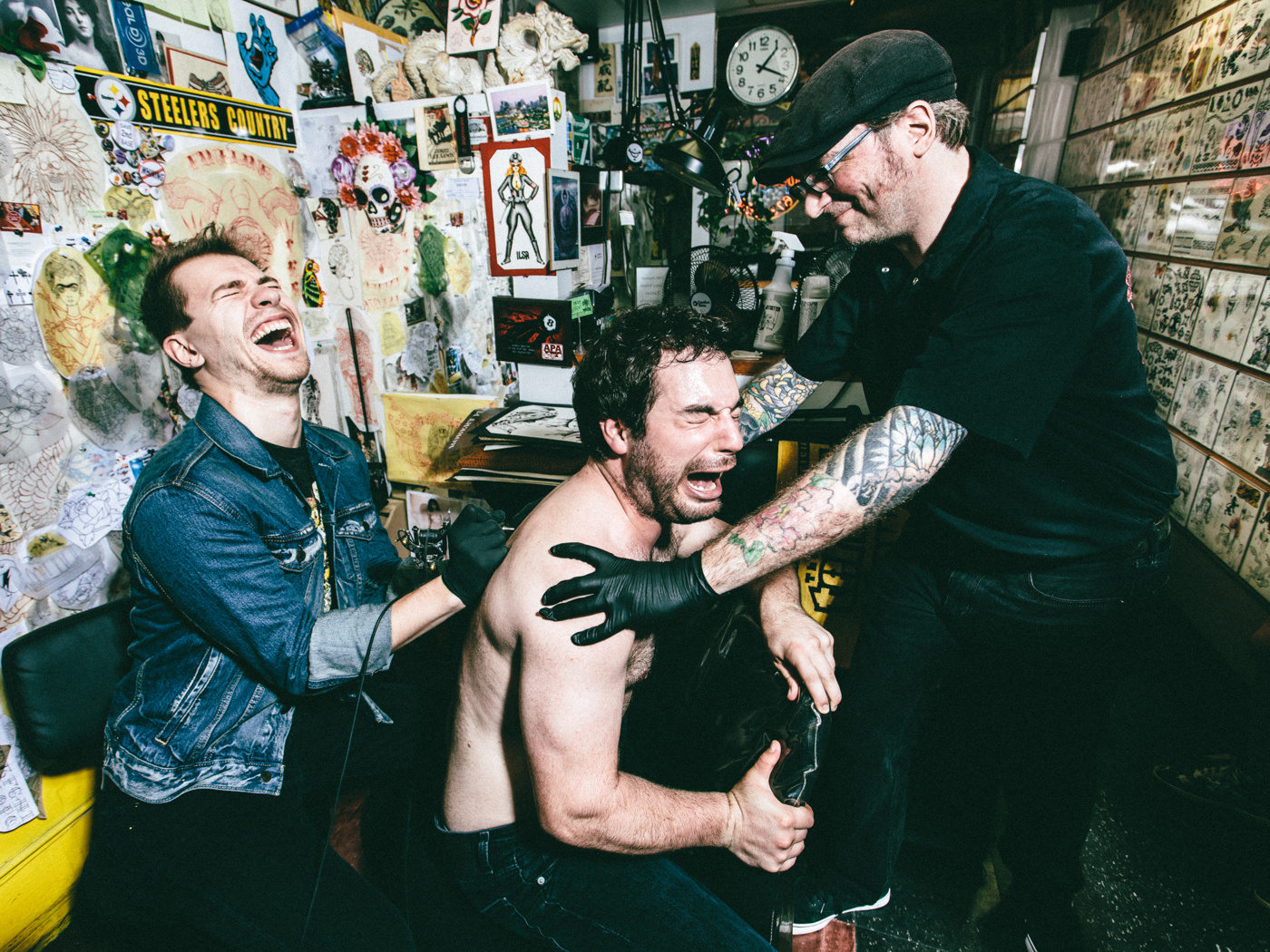 What is the most daunting part of playing Dewey?

Conner: I was a little bit daunted by the playing-live aspect because I taught myself how to play guitar, but when I started taking lessons, I realized I didn't know anything about guitar. So, that was something that I really had to work with: just playing a solo.

Justin, you're a guitarist. Did you help Conner out?

Justin: No, that's not my job.

Conner: We should do that, though. I should make that your job.
I love your Instagrams of jam sessions with the kids in the cast. When did those start?

Justin: I just leave the door open, and the kids started to wander in the dressing room because they think my dressing room is very cool. Before every show, we get the fifteen-minute call, I hear like a rumble of like five kids come running down with instruments, and I pick a song, and we just jam. It kind of warms me up for the show.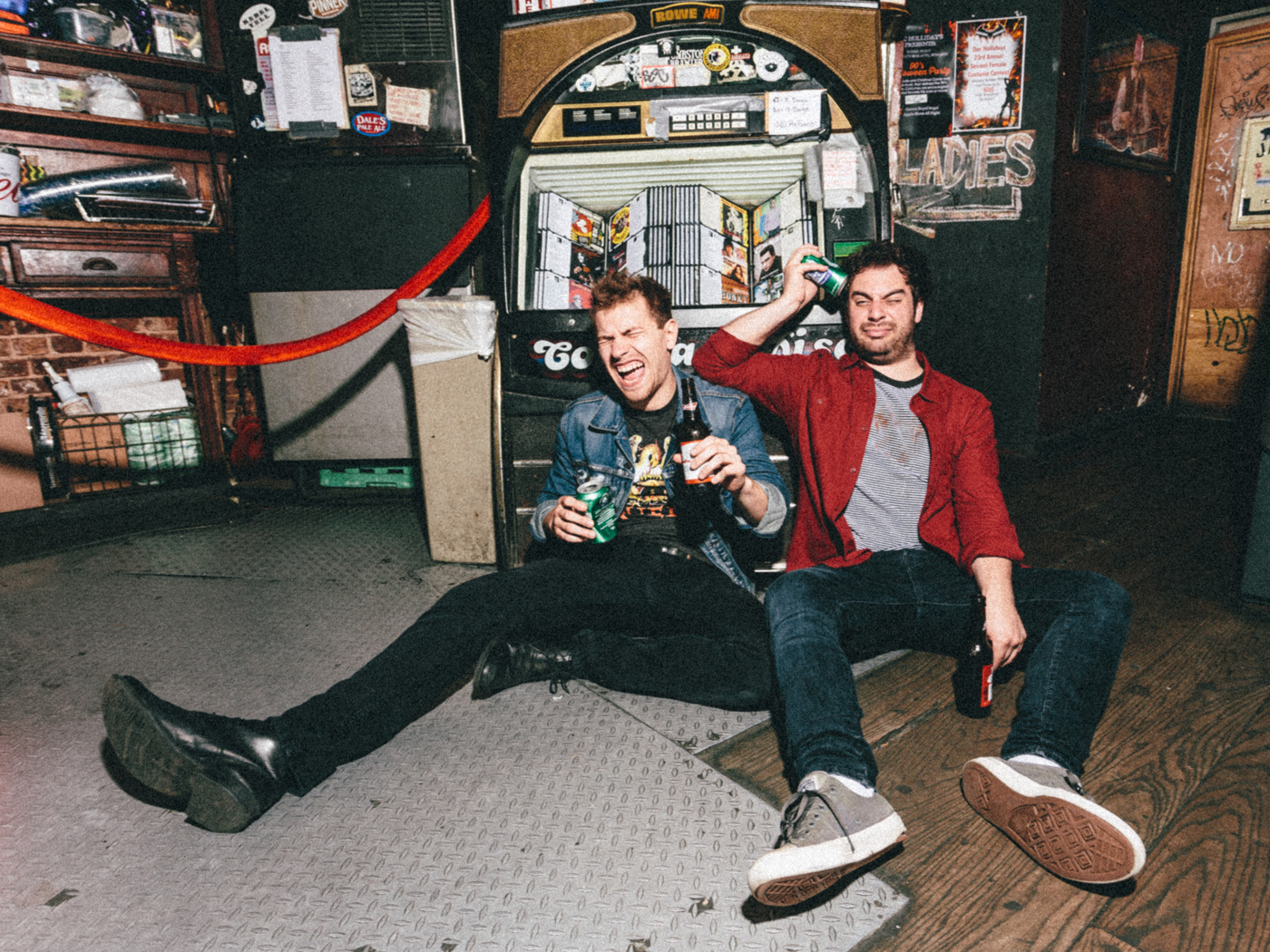 Justin, is it true you have a teaching degree? How long did you teach for?

Justin: I taught briefly at an inner-city school in Toronto, Canada. It's a way harder job than this. Not saying that this is an easy job, I'm saying that that is a massively hard job.

Did teaching prepare you to play a teacher or work with kids?

Justin: Part of my upbringing was as an improviser and in Canada. Throughout my twenties, I constantly taught, and I ran a summer camp for a few years where I would plan activities and things for the kids. So, I always made sure that was a part of my life. The older you get in this industry, the harder you realize it is. And some people either get really hardened by that, or give up. But kids, they're still new to it. They're not bummed out yet, and that helps me to not be bummed out.

Tell me about your theater background, Conner.

Conner: I went to school at Point Park in Pittsburgh, right at home. I went in as an acting student, not a musical-theater student, but I would do the musicals and stuff—I wanted to do everything. I always thought Broadway would be awesome, but I didn't think it was where I would end up going. After school, I did a showcase and I was planning on literally selling all of my stuff, getting in a car and just driving to L.A. and just giving it a shot. But then, I got an agent through a showcase, and all of the sudden I knew more people in New York than L.A., so I just moved here.
What was your experience like going on as Dewey for the first time?

Conner: I didn't want to think about it too much. As soon as you get through "Mount Rock," that's the most daunting. The first twenty minutes you're all amped up, and then that number is over, and boom you're in bed trying to catch your breath because you're running from one end of the stage to the other. It's a blur, but as soon as you get through "Mount Rock" you can just have fun.

Now that you've played the role for some time, what would you say is the most surprising part about it?

Justin: For me, it was the transition of feeling no ownership over the role to feeling some ownership and control over the role. The first few weeks that I did it, I felt like everyone else was holding me together—like the kids were holding the scenes together, and I'm just like, trying to not die. I think after doing it for a few weeks, you start to be able to give some of that back and have more control.

Conner: The biggest thing that I learned through the repetition of this role is just not starting at a ten.

Justin: Remember, physical, this is what I mean. I saw his put-in and I was like, holy shit he's not gonna make it. And then he did! I'm like all right, well I can't do that.

Conner: I had to tell myself, I gotta start at zero. So, then a couple shows I tried to start at zero.

Justin: He started one show fully asleep. [Laughs.]

Conner: Yeah, then I found out that zero, I was still giving too much energy. I needed to go into the negatives. I need to start at a negative five, so then by the time I'm actually with the kids, it means something when we hit that ten.


What's your fondest rock-concert memory?

Justin: Paul McCartney talked to me one time.

Conner: You asshole!

Justin: I slept in a park for two days waiting to see Paul McCartney perform a free concert in Quebec, and like four hundred thousand people showed up to it and I ran—there's a video on the news of me doing this—past a bunch of people. I ran front-row center. I held onto the barricade while thousands people piled up behind me, and then during one of the songs, Paul looked at me and he said [Paul McCartney impression], "I know what you're thinking. You're thinking, Sir Paul, can I have that mandolin?" And he's like, "No, you can't." And I'm like, "I'll buy it off of ya!" And he's like, "You couldn't afford it!"

What's your rock-concert memory, Conner?

Conner: I'm a big fan of this guy, Shakey Graves, and I went to two of his shows, and I got his set list, which was awesome.

I've never heard of him.

Justin: Don't check him out, he's not real.

Conner: Yeah, he's not real.

Justin: Shakey Graves is his alter ego.

Conner: It's my romantic-novel pen name. This is going to be the best thing for Shakey Graves' career!
Photos: Emilio Madrid-Kuser | Styling: Heather Newberger | Makeup: Morgan Blaul | Locations: Barcade St. Marks, Fineline Tattoo, Doc Holliday's