The spring theater season has officially begun, and a slew of highly anticipated musicals and plays, both brand-new and revisited, are set to bow. Broadway.com's Spring Preview series captures the stars bringing these stories center stage in the new season.
---
One of the most unusual love stories ever told on stage is headed back to Broadway on March 22 when TV favorite Joshua Jackson (The Affair, Fringe, Dawson's Creek) and newcomer Lauren Ridloff star in Mark Medoff's Tony Award-winning drama Children of a Lesser God. Set in the 1970s at a school for the deaf, the play centers on the emotionally wrenching romance between James, a hearing speech teacher, and Sarah, a deaf school custodian who insists on using sign language rather than learning to lip-read or speak aloud.
"It's a beautiful, timely story about all the ways we don't listen to each other," says Tony-winning director Kenny Leon, who guided Jackson and Ridloff in an acclaimed pre-Broadway run at the Berkshire Theater Group last summer. "But above all, the play is a love story, so it was important that the actors have chemistry. I wanted the audience to root for James and Sarah and to understand the attraction they feel even before they speak."
Luckily for Leon, Jackson and Ridloff exuded that indefinable "it" quality from the moment they read the script together for the first time. Ridloff, a former Miss Deaf America, had been teaching Leon sign language, and the savvy director realized at once that her "charisma, confidence, authenticity and presence" would be a perfect match for Jackson's star power. "There's a sensuality they have that's pretty magnetic," says Leon.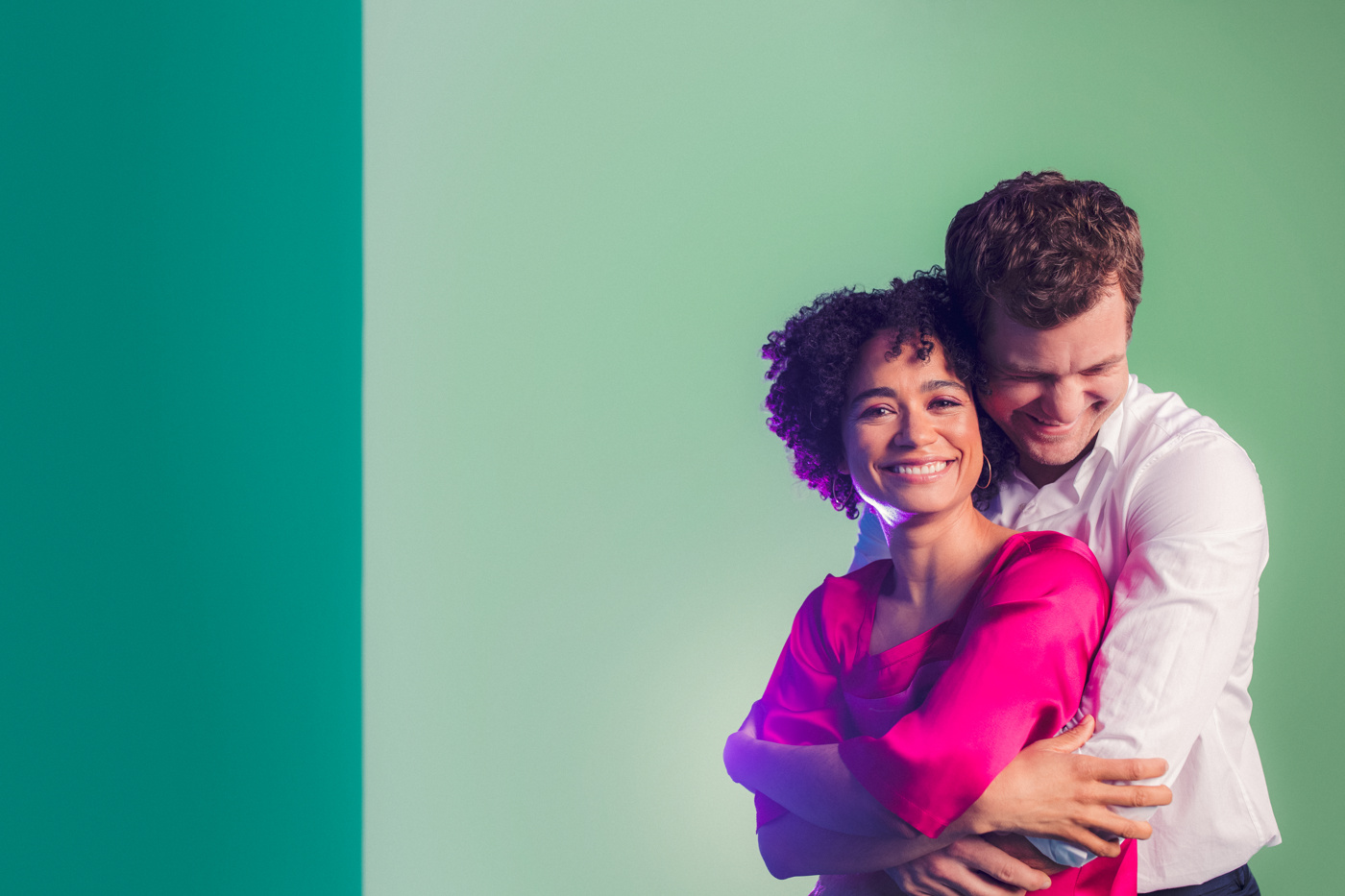 On set in the Broadway.com studio, the co-stars display a more playful vibe, teasing each other and interacting easily via sign language and through an interpreter. "He's so much fun and has such a gentle heart," Ridloff says of Jackson. "He learned to sign so easily, and he's so sensitive and considerate, so willing to take risks and make mistakes."
Jackson—who does triple duty speaking his own lines, interpreting for his co-star in American Sign Language and narrating the entire play—relies on Ridloff to make his juggling act seem effortless. "Over the course of last summer, I was amazed at how patient [Lauren] was with me as I was learning and trying not to have a panic attack," he recalls with a laugh. "The deeper we got into it, the stronger that bond became."
The fact that Sarah and her mother (played by Kecia Lewis) are African-American is never mentioned in Leon's revival, but the director believes it adds an extra level of meaning to a play about the struggle to communicate. "Not only do you see it through [the prism of] hearing and non-hearing," Leon says, "you see it through race, through class, through so many layers that make the play accessible. I'm always trying to get people who are different to sit next to each other and realize how much they have in common."
Uplifting messages wouldn't matter very much if Medoff hadn't succeeded in writing two charismatic lead roles. John Rubinstein and the late Phyllis Frelich won Tonys in 1980 for creating John and Sarah; Marlee Matlin took home the 1987 Best Actress Oscar for the film adaptation opposite Best Actor nominee William Hurt, her partner at the time in a real-life tempestuous romance.
Almost 40 years after its debut, Children of a Lesser God remains fresh and exciting because audiences care what happens to Sarah and James. "I don't think love ever goes out of fashion," says Jackson. "What the play is saying about how we talk past each other and try to reform each other in our own image is universal." Agrees Ridloff, "What's timeless is our need to connect, to feel intimate, to feel that we are understood and heard by another person."

"What's timeless is our need to connect, to feel intimate, to feel that we are understood and heard by another person."

So, American Sign Language is a challenge for Josh; acting is a challenge for Lauren. Falling in love on stage? Not a problem. Explains Jackson, who has done his share (and then some!) of love scenes on screen, "The truth is, you do actually fall in love in the process of doing something like this, where you have to be so exposed and so trusting, and believe that your partner is going to be there. In this dynamic, it wasn't hard."
"There are a lot of tough issues that are touched on in the play, and we both become raw on that journey," Ridloff reflects. "Learning another language and another culture brings up all kinds of vulnerabilities, and that leads to exploration and chemistry." The married mother of two pauses before getting in the last word. "And look, he's so cute. I mean, it's easy, right?"
Photos: Caitlin McNaney | Makeup: Rachel Estabrook | Hair: Morgan Blaul | Stylist: Carlton Jones | Wardrobe: Agnes B
"Children of a Lesser God" begins on March 22 and opens April 11 at Studio 54