The name "Dumezweni" means "to be known in the world," which is fitting for this 2018 Tony nominee. Already a two-time Olivier Award-winning stage great in London, Noma Dumezweni is now making magic in her Broadway debut in the acclaimed hot ticket Harry Potter and the Cursed Child. Her portrayal of beloved character Hermione Granger earned her a 2018 Tony nomination. Despite having all eyes on her and the cast as they bring a new chapter of J.K. Rowling's phenomenal book series to life, Dumezweni exudes confidence, calm and an inspiring gratitude for the moment—and she is definitely having a moment. The talented performer stopped by Show People with Paul Wontorek to talk about keeping the casting secret of the century, how her daughter feels about her mom playing Hermione, what she wants to share with her twenty-something self and more.
1. NEVER SAY "NEVER" ABOUT NOMA APPEARING IN A MUSICAL
"Do you know what I am going to treat myself to this year? I've decided I am going to give myself singing lessons. Just to find out if I can do the beeping thing! In my heart, in my little space, I'm going, 'As long as I can sing outside of the shower, I think I'm OK.' I need practice."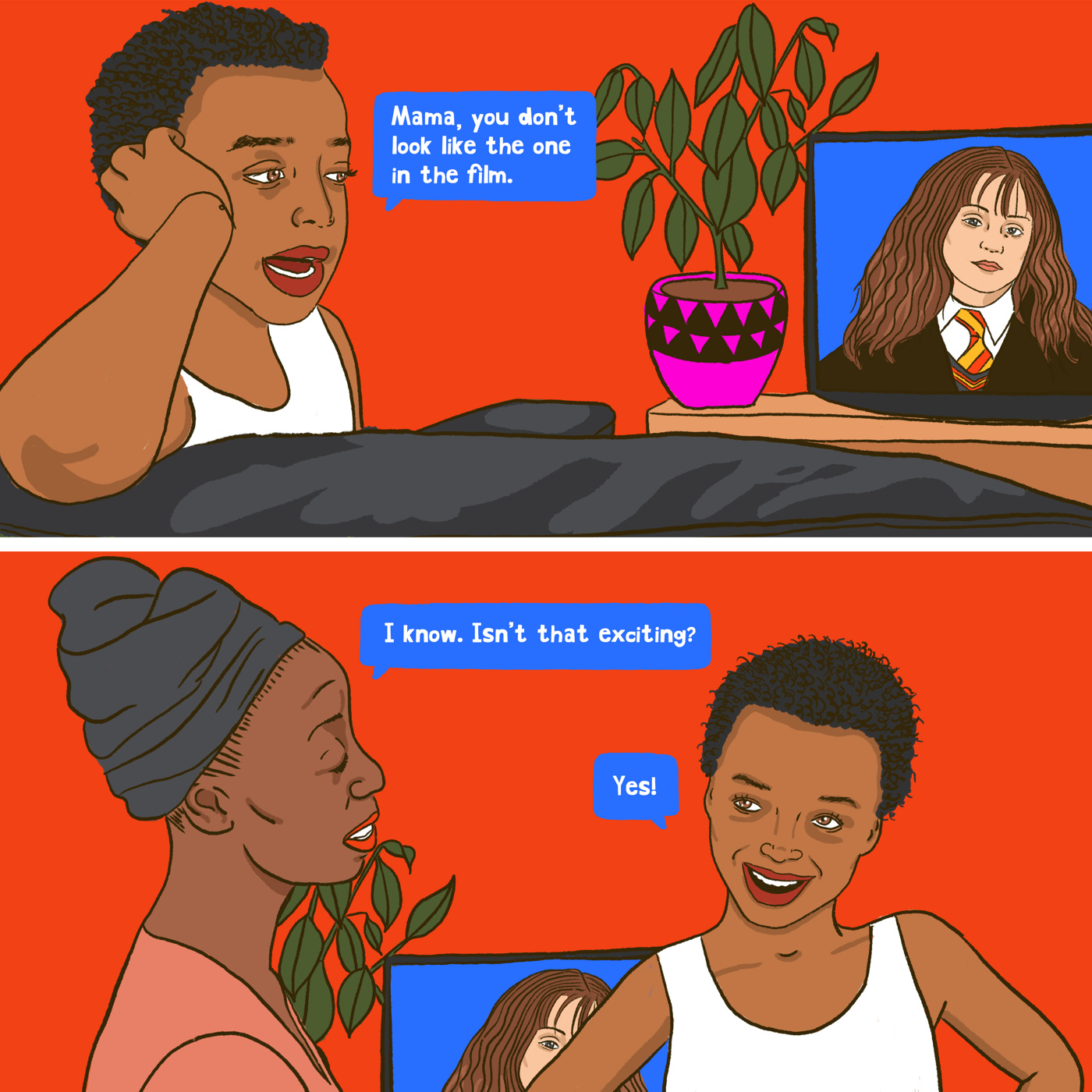 2. HER DAUGHTER HAD THE MOST ADORABLE REACTION TO HER PLAYING HERMIONE
"My daughter goes, 'Mama, you don't look like the one in the film. I went, 'I know. Isn't that exciting?' And she went, 'Yes.' She gets it."
3. SHE'S GOT TONY FASHION ON THE BRAIN
"Shut up! That is all that is on my mind. Jokes aside, I want a banging outfit."
---
Other must-read highlights:
ON CONTINUING TO PLAY IN CURSED CHILD ON BROADWAY
"London was great. Broadway is a different level because these audiences applaud at everything, and it's a joyous thing, when the magic tricks happen, when the entrances happen. This is the longest run of a show I have ever done. My pride is that as a company, we've held it together in the sense that we're telling the story, but we're playing. We keep playing. Each night, I can look at Paul Thornley, and there's a twinkle about what's going to happen. There's Jamie [Parker]. There's Poppy [Miller]. There's Alex [Price]. And Byron Jennings, who I've discovered is a god of Broadway. Kathryn Meisle. An amazing group of people. For me as an actor, that's what I cherish. I don't get bored. I like to see what's going to happen tonight. We have the frame of the show. But anything could happen. I always go back to playing."
ON PLAYING HERMIONE
"I hate to use the phrase 'black Hermione,' but because I'm a black woman, that's the deal. But I am a woman who looks like this who gets to play Hermione, and I'm very, very lucky. Because she's amazing. J.K. Rowling started this story in the form of books, so all of those people reading those stories had their version. And then with the films, that representation of imagery gives you a solid base, so that's what audiences start working with because that's the Hermione that's been put out into the culture. And then the theater form that I'm in, you go, 'OK, we are open to shifting and changing. We're now older. The characters have families.' That's what this play is about: families. There is a sense that you can open up a different way. It's a full circle thing because it goes back to the books and the imagination we had there. So I am very, very proud to be part of that."
ON KEEPING THE SECRETS
"It was my sister who knew [about me getting the role of Hermione] quite early on. Then as it was getting closer, I said to my daughter, 'There is going to be some news coming out, but you can't share the information with your friends.' Keeping secrets for any child is a really hard thing, and this was a joyous secret. And then we start rehearsing, and I go, 'Oh no. I shouldn't have told anybody! I shouldn't have told anybody!' We all had a slight panic. But it is a pleasure to keep secrets that are beautiful. I take pride in keeping secrets. Holding that secret in was long."
ON NOMA: FORGIVING APARTHEID
"This moment happens in South Africa where I get to meet my dad. My lovely friend Sarah Townsend said, 'I need to find this story. I need to make this story.' I said, 'Why would you want to do that?' When one's doing one's own story, you don't see the importance of it. I was like, 'It's icky. It's all about me.' But it's about my parents. I was just that, 'Take the ego out of the way for goodness sake, Noma, and look at where your parents have been and come through and where you are now.' I'm so grateful that Sarah has managed to capture that."
ON TAKING ON A RAISIN IN THE SUN
"At that point I was going, 'I am here as an actor. Yes, I'm black, but why do I always have to be the downtrodden one or the maid or what I perceive as not very positive for the culture?' But Lorraine Hansberry. For me, she's the equivalent of Arthur Miller. That play is the most perfect piece of domestic storytelling which becomes absolutely universal."
ON HER TWENTY-SOMETHING SELF
"Twenty-year-old Noma didn't know what she was doing. If I could talk to her now, I'd say, 'Breathe. Be still. Watch.' I remember someone saying to me recently, 'The rooms where you're feeling like you have to prove yourself—walk out because you don't have to do that anymore.'"
ON THE WOMEN IN HER TONY CATEGORY
"To be in the presence of Susan Brown, Deborah Findlay—oh my God, Laurie Metcalf—and Denise Gough—I'm already having a party knowing that I'm in that company. Any one of them gets it, I am f*cking standing up and cheering and hollering because they are phenomenal actors."
Watch the full episode of Show People with Paul Wontorek below!

Interview has been edited and condensed for clarity.

Did you know Show People is available as a podcast? Listen to your favorite stars talk Broadway and beyond on your way to work, the gym, the theater and more on iTunes and Spotify.