Charlie Carver is best known for his roles on TV's Desperate Housewives, Teen Wolf and The Leftovers—and for working with his twin, Max, who is seven minutes younger. Now, the smart and stunning Charlie is making his Broadway debut in The Boys in the Band as Cowboy, a hustler who serves a birthday "gift" to Zachary Quinto's character, Harold. Cowboy doesn't say much, but Carver "created a whole backstory" for his character including a name: "Tommy." He transformed into a blonde for the part and tries to play "against the idea of the cocky hot guy," he says, claiming that he feels more like a "former fat kid" than a hot hunk. The groundbreaking 1968 gay play is also personal to Carver, who came out in 2016 and has grappled publicly with feelings about the struggle of his father (who died in 2013) with his own sexual identity.

Viva Variety
Carver knew early on that he wanted to perform. "[Twin Max] and I always put on little plays for our family. Like on Thanksgiving, we insisted that there was a talent show so that we could do our twin variety hour, which usually involved me in a dress and Max as my dancing partner. Carver says his love of theater was sparked when he saw a touring production of The Phantom of the Opera. "I made my parents buy all the merch, and I knew all the songs by heart," he recalls. Acting, though, wasn't exactly the cool thing to do in his town. "I leaned fully into pretending to give a damn about sports. That old story." He did Shakespeare in school as well as American Buffalo. "I still don't know how that flew by the administration," Carver cracks about the profanity-laced David Mamet play. He transferred to the Interlochen Arts Academy in Michigan. "From that point on," he says, "I knew I wanted to pursue acting."




Immature Provocateur
At Interlochen, Carver found his unruly side. "I kept positioning myself as this sort of provocateur, which was, in retrospect, really immature. For example, I put on a very serious, very earnest one-man production of The Vagina Monologues. That did not go over well with anyone other than my classmates." His rebelliousness revealed itself in other ways as well. "I always had my eyes on moving to New York City and hopefully making it on Broadway, but the year I was supposed to come here, my dad moved to New York. I wanted to do my own thing and was cavalier and decided to move to Los Angeles."

Quick Change
After Interlochen, Carver admits he got "incredibly lucky" in L.A. Right after his freshman year in the BFA program at the University of Southern California, he got an agent in an unusual way: "I got picked off the street by an agent at a shoe store, which sounded very sketchy. He gave me his card, and I ran it through IMDB and asked around. It was a reputable, small boutique agency." His first audition was for the Fame remake. "Because we had compulsory ballet class at Interlochen, they were like, 'Oh, he knows how to dance.' I do not. It was a disaster." The second audition was Desperate Housewives. "Everything changed in a moment. I decided to stay in school, but I started being on set as a series regular with my brother, who was working as an intern in Washington, D.C. at that time. He made a tape and sent it via Skype. Shortly thereafter, my brother's life completely changed as well." They were the Scavo twins from season five on.




Discovery
Carver discovered The Boys in the Band in his high school library while looking for monologues to perform. "I was so curious about gay stories," he recalls. The fact that the show is being performed on Broadway for the first time in its 50-year history is exciting for Carver. "For me, it's cultivated a lot of appreciation about how lucky I am to have grown up now," he says. "At the same time, there's something about these people. It's too easy to typify them," he notes about the frequent criticism that the play puts stereotypes on display. "There's something about the relationships between these men in this play that is timeless and quintessentially queer. To discover that with a group of openly gay actors and find the love but also the shame and self-sabotage is intensely relevant because it's just human. We can all see ourselves in each of these parts.

Out and Proud
Carver came out via Instagram in 2016. His decision was considered and deliberate. "I always felt like there was so much spectacle attached to the coming-out process, and I didn't want to have a part in that," he says. "I wanted it to be on my terms." He's also been very open about having a gay father, who perhaps could have been one of the characters in the play. "I know my dad struggled with a lot of what the characters in this play struggled with: How do you balance aspirations for a professional career and know being approved in the eyes of society with your authentic self and your sexuality? For a lot of his life, he was juggling that. But he ultimately came to find his own sense of liberation, and that was amazing to see. I feel so lucky as a gay kid having a gay father in my corner. Even in my Playbill bio, I had to put a little note about my dad because I feel like he is and was one of the boys in the band. He paved the way for me. Every night I call upon him in the theater to give us his blessing."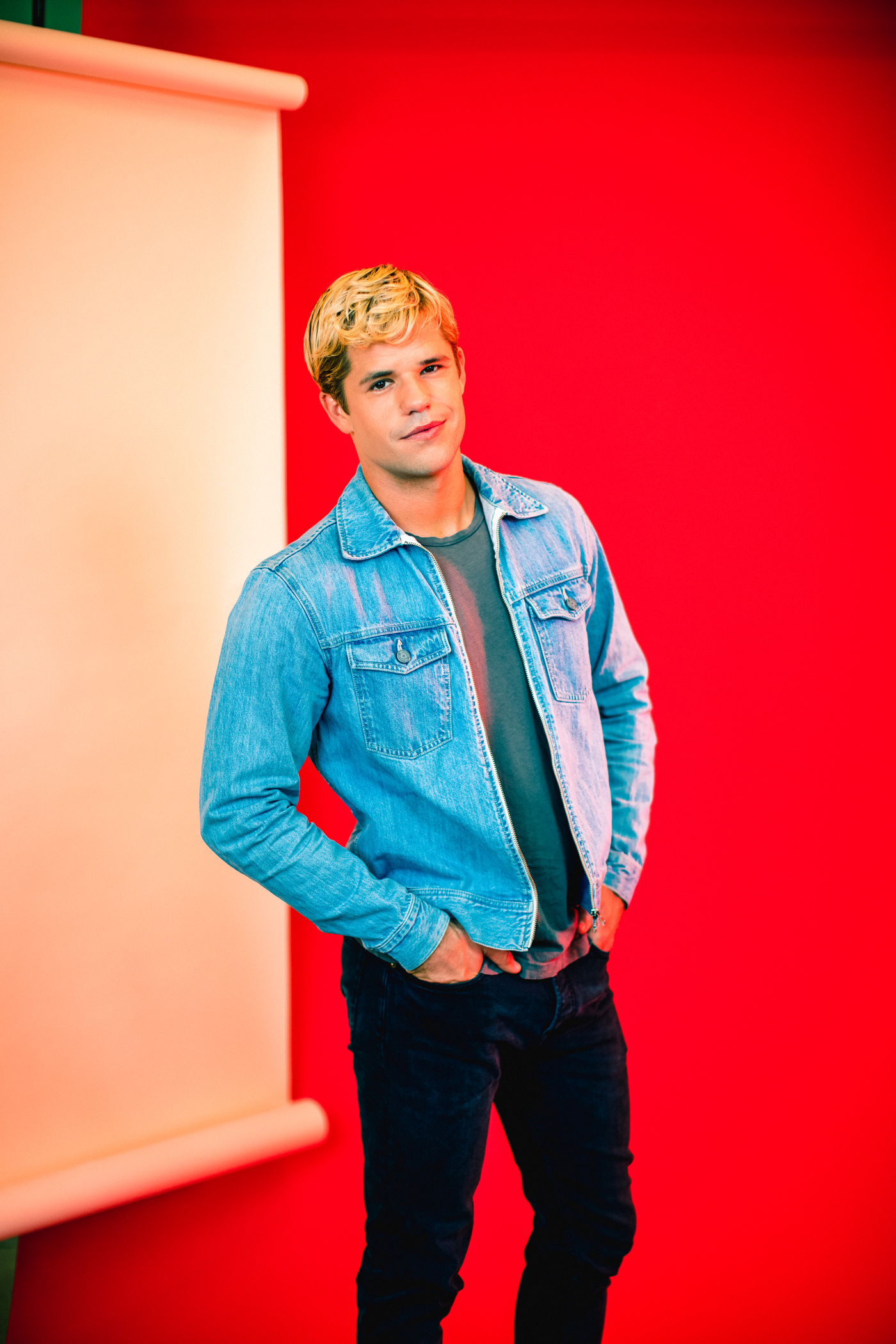 Grooming: Angella Valentine