On the stage of the legendary Emerson Colonial Theatre in Boston on July 10, glamorous, doomed starlet Satine will once again descend on a swing center stage at the famed Parisian nightclub and starry-eyed poet Christian will once again fall madly in love.
Yes, Moulin Rouge! is finally here, with the full title Moulin Rouge! The Musical, although the 2001 Baz Luhrmann film that wowed with a dazzling design and cinematography and a thumping modern soundtrack was always a musical, and the most theatrical creations ever. For its stage bow, Global Creatures, the show's producer (also prepping King Kong for Broadway) has lined up a stellar creative team: director Alex Timbers, acclaimed for his boundary-breaking staging of shows like Here Lies Love and Rocky, book adaptation by John Logan, three-time Oscar-nominated screenwriter who also won a Tony for his play Red and two past Timbers collaborators: choreographer Sonya Tayeh, an Emmy nominee for So You Think You Can Dance, and music supervisor, orchestrator and arranger Justin Levine.
Taking on the roles of the leading lovers, so memorably portrayed onscreen by Nicole Kidman and Ewan McGregor are stage favorites Karen Olivo (original cast member of In the Heights, Tony winner for West Side Story) and Aaron Tveit (Next to Normal, Catch Me If You Can, the Les Miserables film), who are clearly just as excited to see the movie make the leap to the stage as you are.
---

Fans have wanted this movie to make the leap to Broadway since it premiered. What does this project mean to you?

KAREN: I'm a huge fan of the movie, so I'm geeking out on the inside. I'm trying to be real cool on the outside. I mean, who doesn't want to be Satine? I think we were all Satine when we saw the movie for like a split second, right?

AARON: [Laughs.] I wasn't necessarily Satine.

KAREN: A couple times! Come on!

AARON: For like a second, maybe I was Satine. Then I was like, oh, Christian would be cool. [Laughs.] I've been a fan of the movie since it came out and I was thought it would translate so well to a stage. And I think the adaptation that you know, Alex [Timbers], John [Logan] and Justin [Levine] are doing is incredible. We're kind of honoring what's there in the movie, and then trying some new stuff too. So it's gonna be cool.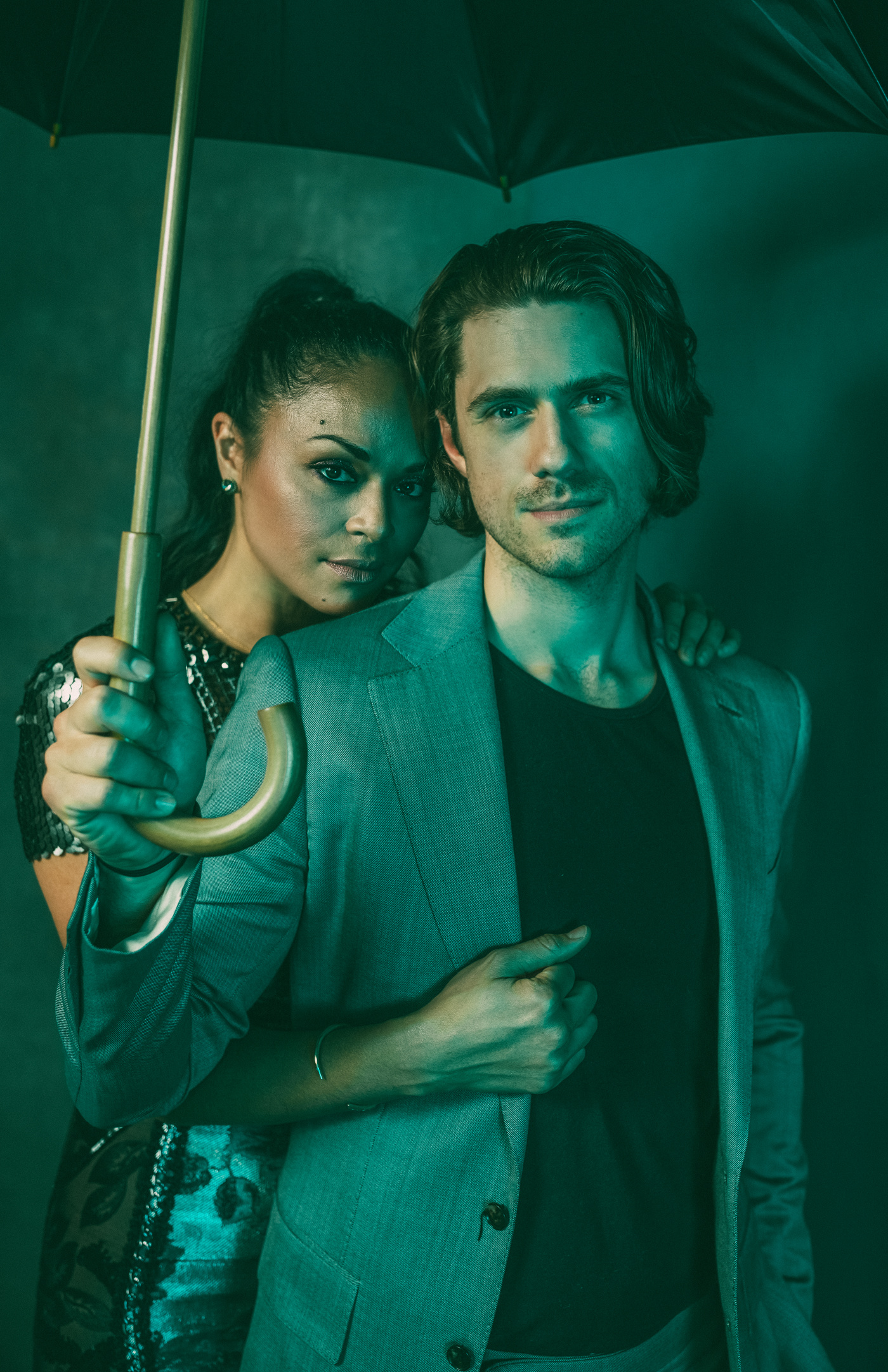 ---

We all got a peek at the show's set design, which looks stunning.

AARON: We kind of lost our minds when we saw the full design presentation. It's spectacular what [set designer] Derek McLane is doing and Cathy Zuber with costumes. Incredible.

KAREN: When you see the movie Baz Luhrmann created, you kind of wanted to climb into the screen. That's pretty much what we're creating in the theater. We might have a hard time keeping people in their seats.

AARON: It's a very immersive experience when you walk in. Hopefully people will think they're walking into the Moulin Rouge that they saw in the film.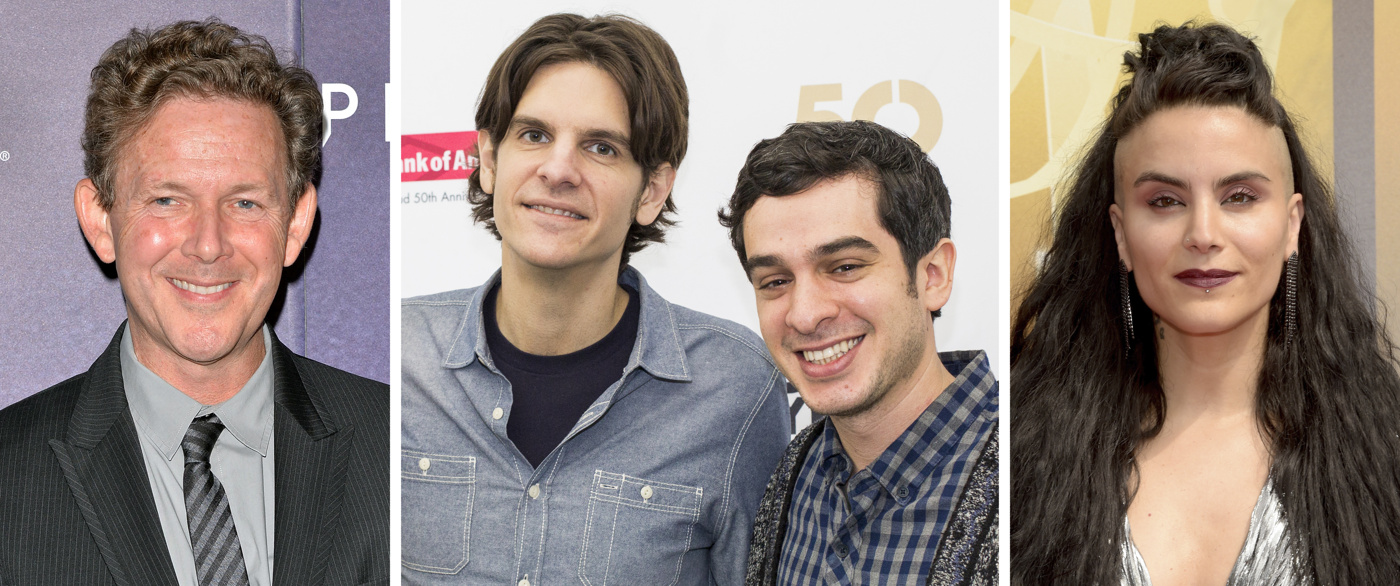 ---

Talk about what's happening with the show's score. I know Justin Levine is bringing new songs into the mix that we written after the film's debut in 2001.

AARON: Yeah, they took the iconic songs from the movie and then Justin Levine has done an amazing job of pulling in pop music from the last 17 years, but also from earlier, too, to kind of thread the storylines as well.

KAREN: He's done a really good job with finding the right kind of sound style, and then, lyrically, matching it to what each character needs to feel in the moment. So it becomes so much more than just like a movie like pulled onto the stage. This is like really a story of characters going through a complete journey.

AARON: Yeah, all the lyrics makes sense with these pop songs, which is kind of nuts.

Why do people love this material so much? What do you think they want to revisit?

KAREN: It's a beautiful love story, set in a very dark time for Paris. It's the truest and purest form of love, and it succeeds in its own tragic way. And I think people get that and they want that, and want a night of the theater like that.

AARON: And it's kind of pure escapism, too. You can go to the theater and just get lost in this amazing story. Yeah, it's very Shakespearean in its strokes of love… it's also so fun, and all the dancing is amazing, and all music. It's the most incredible group of 32 people, I think, I've ever seen on stage. So it's pretty, pretty spectacular.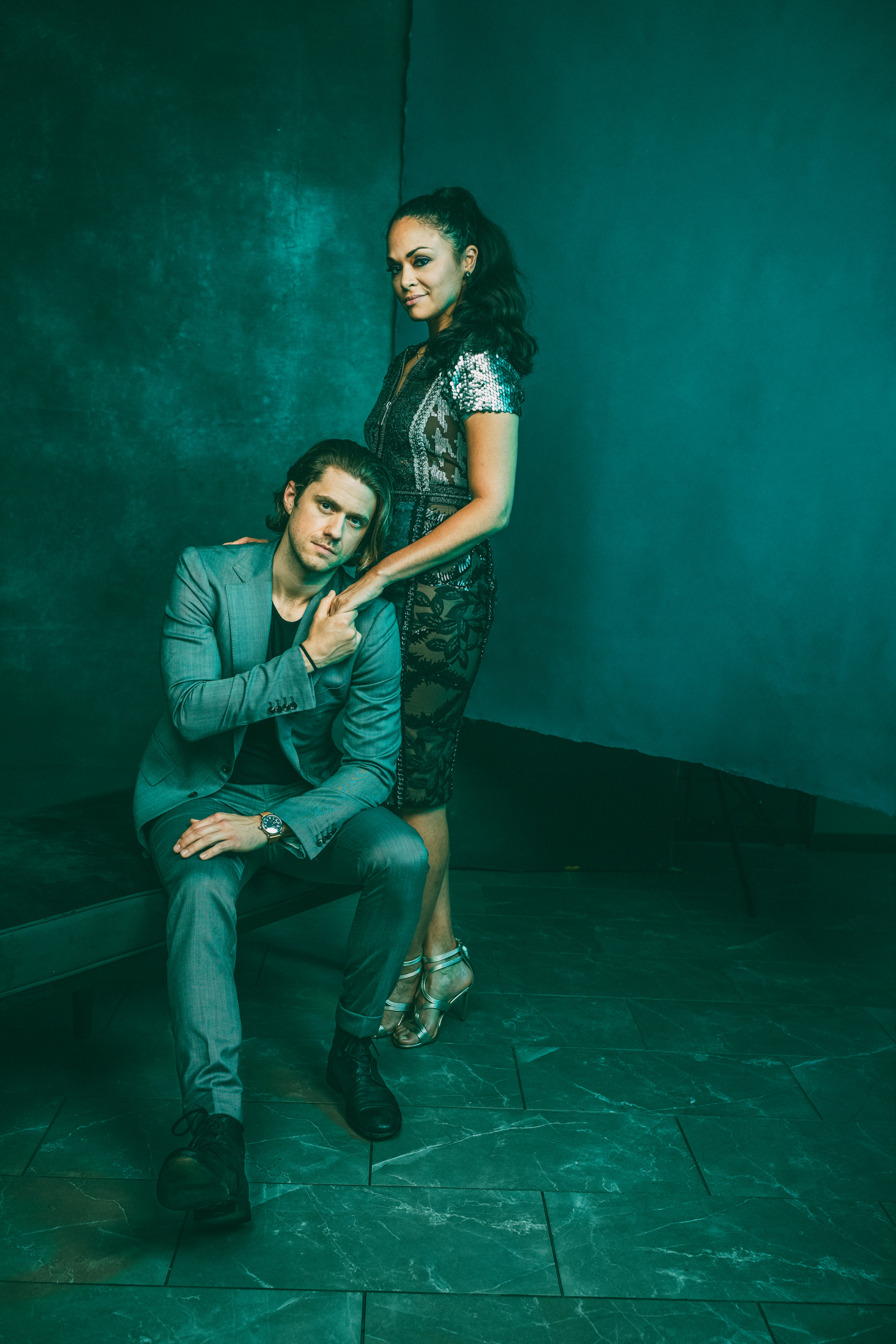 ---

And you're serving high drama.

AARON: Yep.

KAREN: Of course. I mean it's Moulin Rouge!

AARON: High drama, high comedy. It's everything you want.

KAREN: It's super funny.

AARON: We hope it's funny.

KAREN: I think you're funny.

AARON: Well, thanks. I hope that people think I'm funny. Other people are really funny. I'm like trying to be funny, but they're like for real funny. You're really funny, too.

KAREN: Thanks! [Laughs.] I'm usually pretty dramatic, so this is good!

Moulin Rouge! The Musical plays a pre-Broadway run at the Emerson Colonial Theatre in Boston through August 19.

Photos by Caitlin McNaney for Broadway.com
Styling by Carlton Jones
Makeup by Morgan Blaul and Kat Nejat