While TV mastermind Ryan Murphy made his Broadway producing debut with The Boys in the Band and the just-closed Angels in America revival took audiences back to the tragic heart of the AIDS epidemic, a groundbreaking new LGBTQ story has been unfolding on TV this summer. With his FX series Pose, Murphy has given a powerful voice to the gay men and transgender women of color of late-80s New York City, collaborating with gay and trans actors, directors and writers who lend stirring authenticity to the show.
Two of these artists are no strangers to theater fans. Billy Porter, who plays Pray Tell, an aspiring fashion designer and outspoken MC of the house balls that serve as Pose's colorful centerpiece, is a director, playwright and Tony Award winner for Kinky Boots. Mj Rodriguez is a young powerhouse who came out as transgender after her acclaimed turn as Angel in the off-Broadway revival of Rent; on Pose, she plays Blanca Rodriguez, the headstrong, upstart mother of a house. In the hands of Porter and Rodriguez, the characters share rich dramatic scenes as both Pray Tell and Blanca find their lives upturned by the AIDS crisis.
Both stage stars are stunning, delivering award-worthy TV turns that have only grown stronger as each episode of the first season (which ends on Sunday, July 22) has been unveiled. Just days after the announcement that Pose will return for season two in 2019, Broadway.com brought them together for a runway-worthy fashion shoot and double interview about the power of Pose.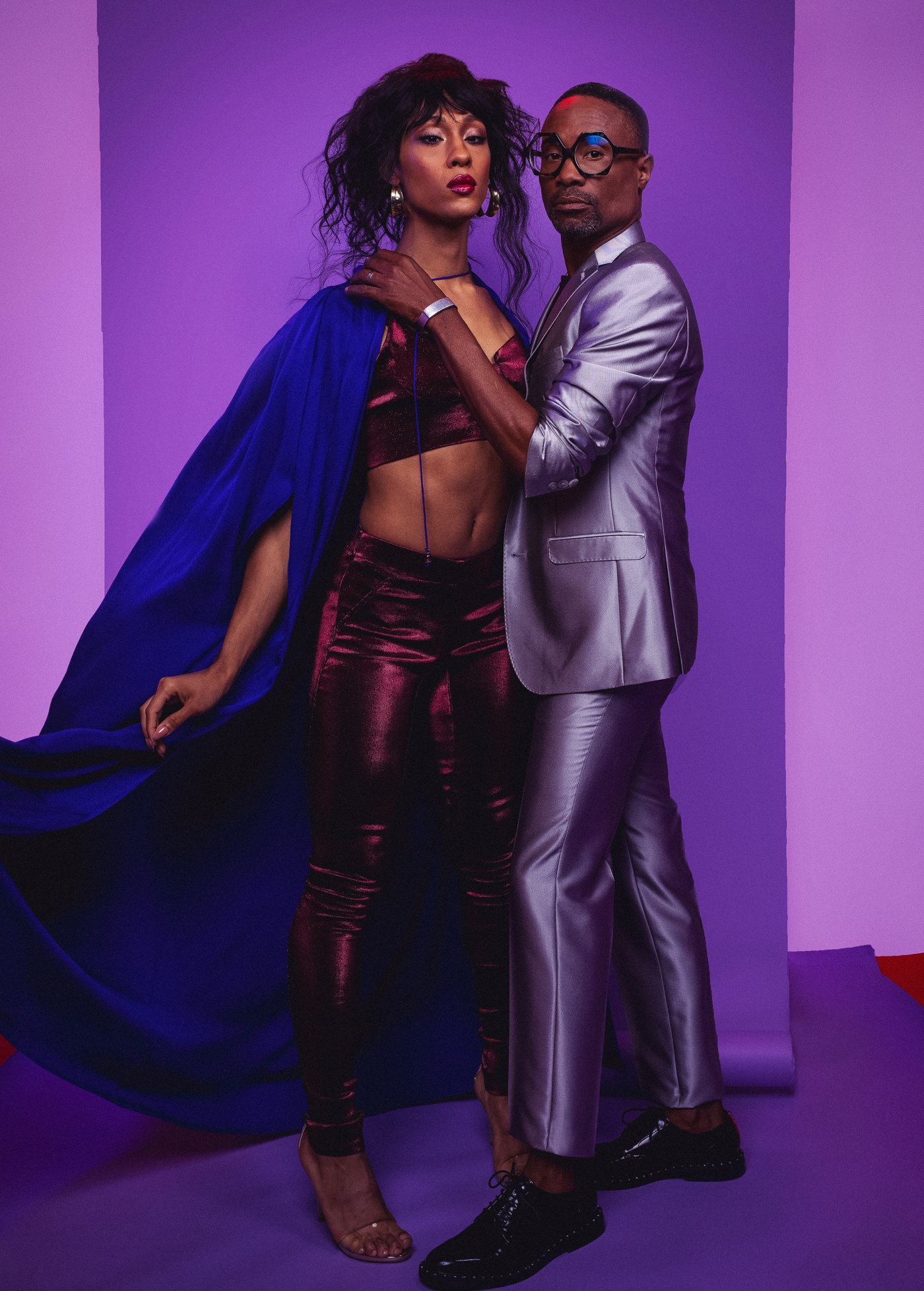 Happy season two to you two!

BILLY PORTER: Happy season two!

MJ RODRIGUEZ: Woo woo! [Laughs.] OK, sorry.

I feel like both of you, and everyone behind this show, are making TV history.

PORTER: Yeah. I feel like art plays a very significant part in culture and in history. We, as storytellers, have the power to change hearts and minds by telling stories. And this is a perfect example of that. You know, five transgender actresses as series regulars, the largest LGBTQ cast of color... As a black, out, gay man in this business, I'm so grateful to have been able to live long enough to see this day.

---

"As a black, out, gay man in this business, I'm so grateful to have been able to live long enough to see this day."

---

What was it like on the set of the show? When you gather a group like that, does it feel like a team on a mission, or was it just work as usual?

RODRIGUEZ: For me, being in an atmosphere like that, and being surrounded by people that you pretty much know... Like, I've known Billy forever and Billy's known me forever. Just being in a space where you feel like you're making a change, and also you're working as a family, and you know that everybody's motive is pretty much the same…

PORTER: Intention. It's intentional service through art. And that sort of just lifts the energy and it really makes it feel like you're there for a reason. I dedicated my life to service years ago. My question was, how can one be of service in an industry that's inherently narcissistic? And it hit me like a ton of bricks: Authenticity. But it's easy to be who you are when what you are is what's popular. Black, out, gay… [Indicates MJ] Transgender woman... This is our truth, but nobody cared! Nobody [wanted] to hear it! You know, so the divas want to hear it, now. And we're telling it.

RODRIGUEZ: Yep!
Amen! When did you two first meet each other?

RODRIGUEZ: We met each other at Rent. I was 19 years old.

PORTER: I was the associate director with Michael Greif on the [2011] revival of Rent. And [looks at MJ] this one walked in at 19, pre-transition. And it was the most authentic version of Angel that I personally had ever seen. For the first time, I understood who that person was through this lens. And it was really astonishing to then be reunited this way. And you know, I'm a little older, so I take on Mama, or Daddy qualities. To be able to sort of share that dynamic on screen is amazing.

As a fan of both of you, it's exciting to watch the show because Blanca and Pray Tell feel very crafted to your personalities.
PORTER: I originally went in for the role that Charlayne Woodard now plays, the dance teacher. And I wasn't really having that. I was like, "Really? Y'all going to do something about the ball culture, and you're gonna to call me in for a dance teacher?" So I spoke up because you can do that when you're in your late 40s and people don't get offended. And I made some suggestions to [casting director] Alexa Fogle, God bless her for listening and not punishing me for having an opinion, which is what usually happens. She presented the idea of me being in the ball world to Ryan Murphy, and he thought, "Yeah, we need a male energy over there, too." Isn't it ironic after all these years of people calling me f*ggot and sissy and, you know, not being masculine enough that that's the slot I get to take on in this world? Authenticity. Be true to yourself to the end.

RODRIGUEZ: I was happy that it was Billy, more so than anyone else. [To Billy.] I couldn't imagine myself not doing it with you. We had such a magical moment when we met when I was younger. He was there helping me out. And, you know, I always took everything from him as a way of learning and moving forward and growing. And at that time, that was like the precipice of my transition. And I didn't say anything to anyone because I was scared of what the world was going to think. But I think Billy saw a glimpse of that, and that's what made me grow closer and fonder of him. I mean, I was always fond of him because I had already known him!

PORTER: [Laughs.]

RODRIGUEZ: You know! But I'm just saying I couldn't have imagined [doing Pose] with any other person.

Blanca and Pray Tell have unforgettable scenes together. Your connection must have really helped in those moments on set. What was it like to dig into it together?

RODRIGUEZ: Heavy. I mean, I've had people in my life… My house father was somebody I went to when I didn't have anyone else to go to. My mom was there and my father was there, but they didn't understand the language of the LGBT community at the time, like how my house father would. And I feel like when I'm with Billy, he's an extension of that. It's easy for me to dig in and do that with him.

PORTER: The brilliant thing about [Pose creators] Ryan Murphy and Steven Canals and [director] Janet Mock and [writer] Our Lady J and all of the creators is that they really take their cue from the energy that's in the room. We didn't say anything about our history. It was just there. They could just see it. And then they started writing toward that. And the fact that we get to be the people that carry the HIV/AIDS storyline, in the historical retelling of this community is really important, because I lost a lot of people. [Tearing up.] And they have been with me. I feel them with me. I feel them supporting me. I feel them pushing us forward—"Tell it, tell it, tell it, tell it, tell it without apology. Just tell it." You know, it's such a gift. It really is.
---

"I'm proud of 'Pose' showing these lives in their true forms, and how we bleed and fall just like anybody else."

---
Billy, you were a very memorable Belize in Angels in America on the New York stage. Some of Pray Tell's hospital scenes with his sick boyfriend feel like they could be happening down the hall from Belize and Roy Cohn.

PORTER: [Laughs.] Right? But now, the narrative is in the hands of the people of color. That's the real difference. We are the leads. We're the ones in the front, we're not on the side. We're not the magical negro queen coming in to save all the white people. We're trying to figure out how to save ourselves. Imagine that! It's beautiful.

MJ, is there anything you're most proud of in terms of the story that's been told so far in season one?

RODRIGUEZ: There are a lot of things that make me proud to be a part of this. One of the most important ones was being able to let people see that [trans people] have hearts and that we're human. And I'm glad that there are an array of African-American trans women playing these parts. Because we don't have one structured way of life. There are many journeys. And I think I'm proud of Pose showing these lives in their true forms, and how we bleed and fall just like anybody else. And I'm proud that people who are not of a specific demographic can actually just like dig in and get to understand that. All we're trying to do is bridge the gap between different communities so that we can find the bigger picture, you know? That's all. So I'm proud of that.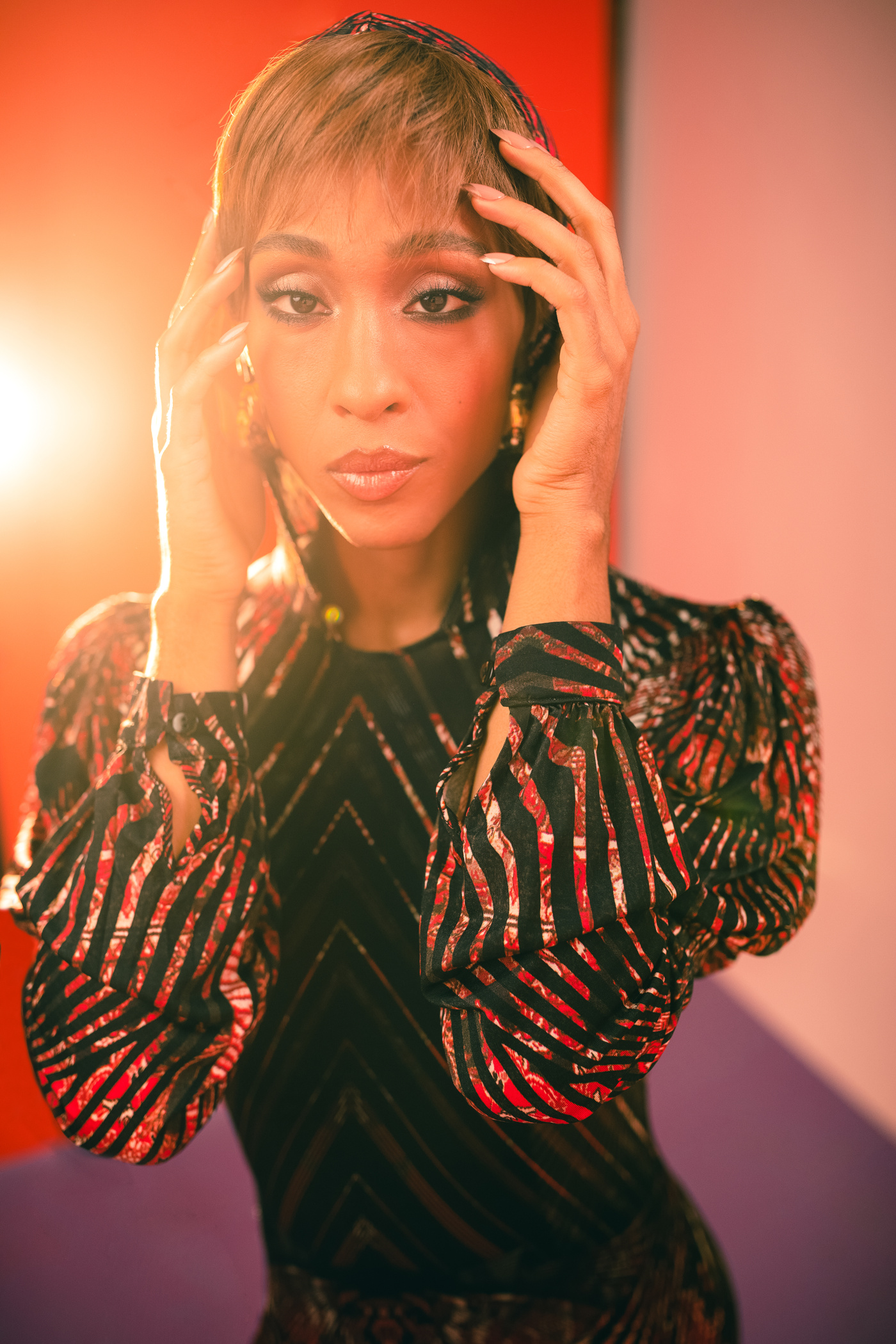 Any favorite moments, Billy? Viewers have loved seeing you MC all the fabulous categories at the balls.

PORTER: You know, there was a pigeonholing for me that happened early on in my career. And over 20 years ago, I recognized this and made the decision to change that. And in the theater world I have. And this show now allows for me to do that on a larger platform. I get to be a real three dimensional human being, not just a clown for your entertainment, but like a real true person. You know, at what cost? I think that's the part that I'm the proudest of is that we get to show the "at what cost." Yes, the fabulousness. Yes, the balls. Yes, the reading. Yes, all of it. Yes, fun, fun, fabulous. All of that. And then, at what cost? We get to show all of those things. It takes my breath away. It really does.

The writing on this show is so good. Any dreams for what will happen in season two?

RODRIGUEZ: There are so many more stories to the trans narrative to tell. There's so much more that happens to us, so many more positive things that we live and experience, so I can't wait to see the writers and the people behind the scenes dive a little deeper. You'll see new people, possibly, you'll see new storylines, and you'll see different types of balls… Different categories! You know…

PORTER: And how do we learn? How do we love? I think for Pray Tell, in particular— for all of the characters, actually. What does love look like for people like us—for real? I really would love to explore that more.

Well, get to it! The fans need more Pose!

PORTER: Yes, henny!

RODRIGUEZ: Listen, it's happening!
---
The season finale of Pose airs on FX on Sunday, July 20. Look for season two in 2019.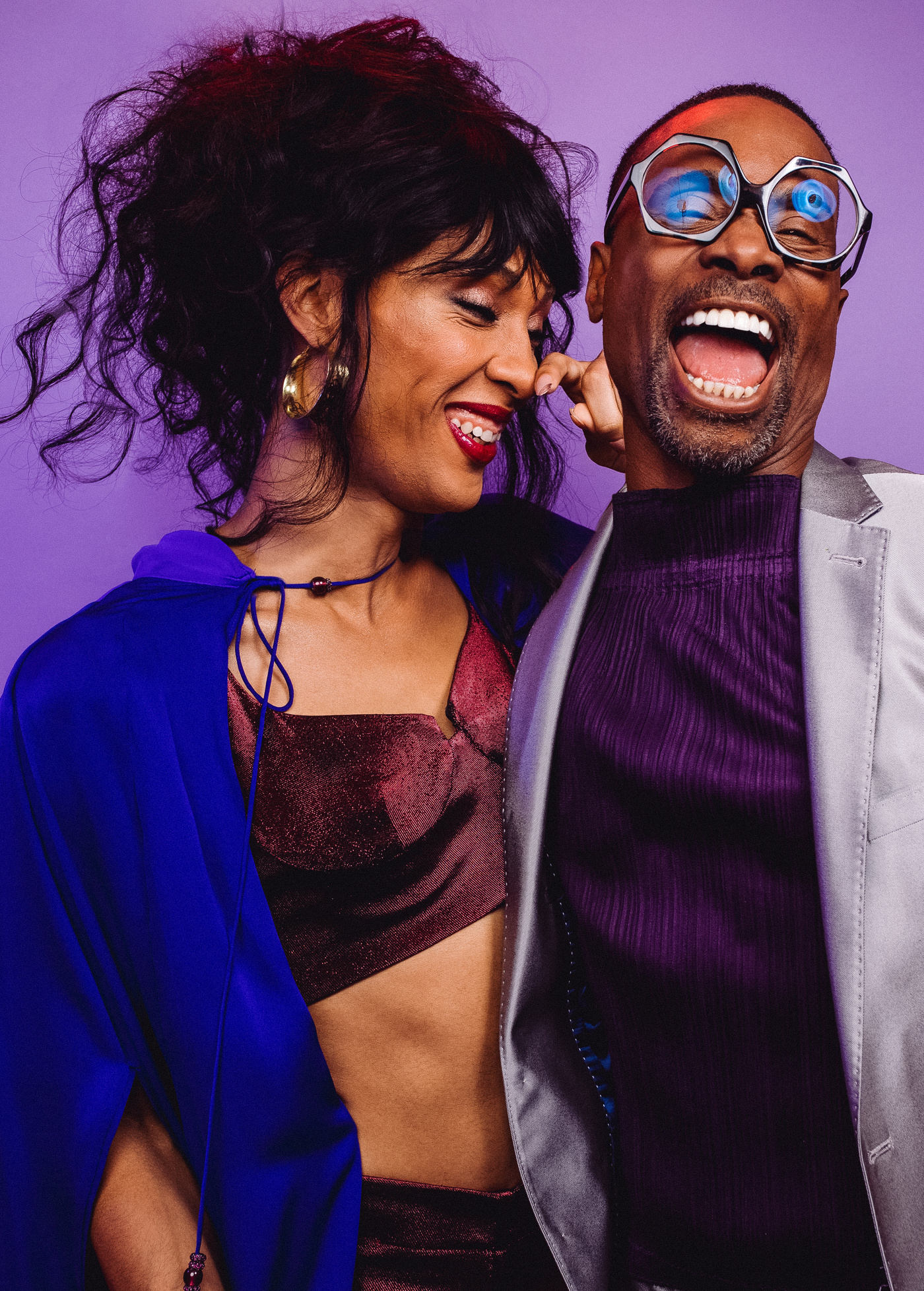 ---

Photographed by Caitlin McNaney at Broadway.com Studios | Mj Rodriguez styling by Carlton Jones | Mj Rodriguez hair by Kira Stuger | MJ Rodriguez makeup by Regan Rabanal | Billy Porter styling by Sam Ratelle | Billy Porter grooming by LaSonya Gunter | Video produced by Paul Wontorek | Video shot and edited by Mark Hayes

Interview has been edited and condensed for clarity.