It's been a year of firsts and lasts for Katie Lowes and Adam Shapiro. Last October, the couple, who were married in 2012, had their first child, Albee Quinn. In April, the final episode of Scandal, the ABC drama on which Lowes stars, aired. And on July 17, both of the actors made their Broadway debuts in the hit musical Waitress as the adorkable couple of Dawn and Ogie. Broadway.com chatted with the pair to hear about their other significant "firsts," like their first time on stage together, the first time meeting Waitress composer and longtime pal Sara Bareilles, and the first thing they'll do when they leave the show on October 7. Hint: It involves screaming.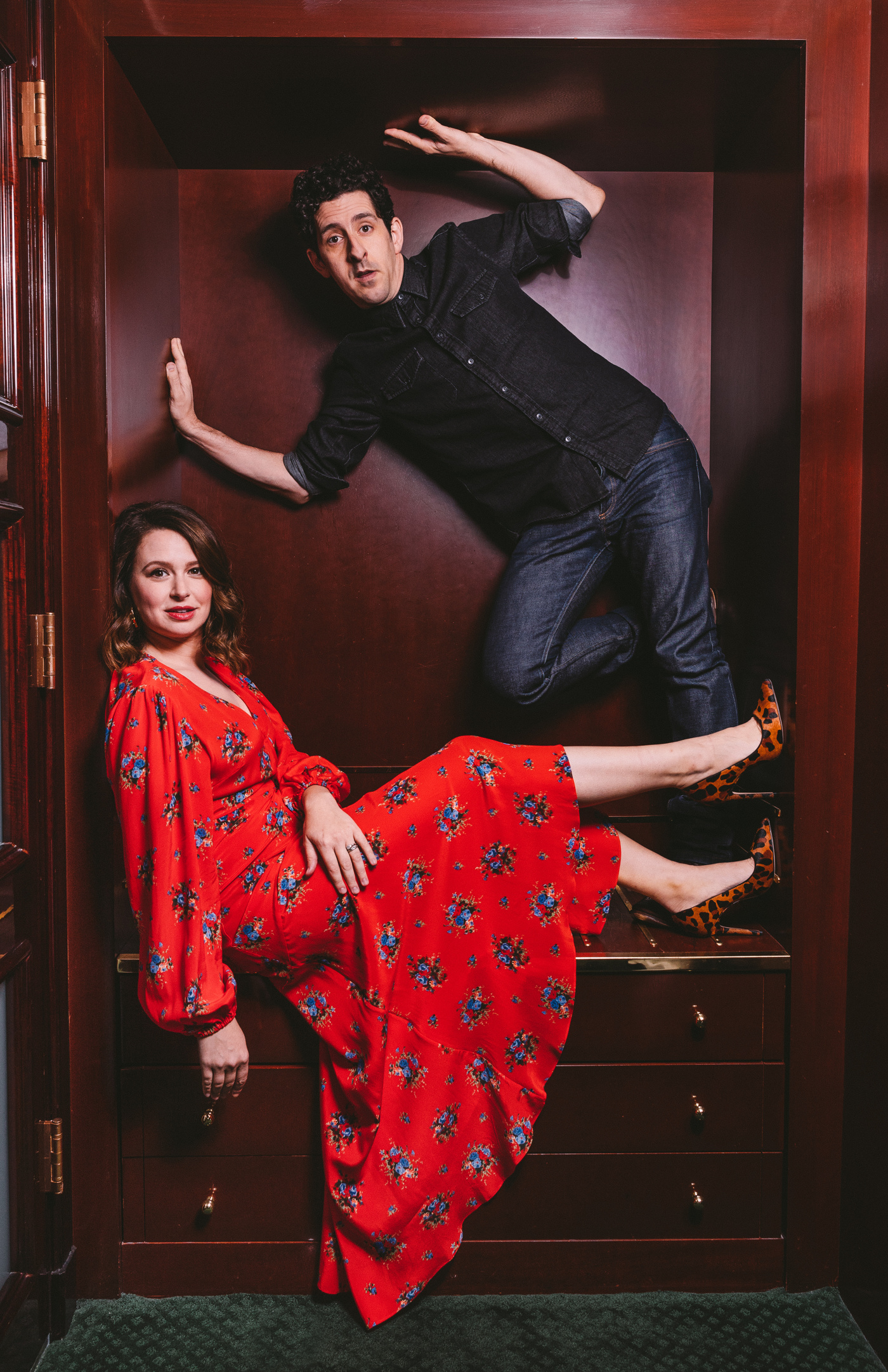 FIRST MEETING

ADAM SHAPIRO: The first time we met, we were at a birthday party of a mutual friend at this bar in L.A. And they were like, "You gotta meet this girl." Our friend Lindsay Craft, who is an actress, she said, "If you meet this girl Katie, you guys are gonna get married." Then we met really briefly at a party, and that was it. Katie, you like ran off to go hang out with your friend who said she was on Grey's Anatomy. She was all fancy.

KATIE LOWES: She was my best friend from college, but OK.

FIRST DATE

KATIE: Our first date, I duped him. He thought it was like a proper first date, but really I was just inviting him to like this photography show where I had 20 friends already there. It really ended up working out in Adam's favor. He was a little bit disappointed that it wasn't like a private first date. What ended up happening is that after a couple hours, all my friends were like, "We're obsessed with this guy! We're in love with him! This is like the best dude you've ever brought around!"

ADAM: Kind of my sweet spot.

KATIE: And I looked at him like, "Oh my God, you're right. He is!" Then Adam kind of pulled me aside and was like, "You want to get out of here?"

ADAM: So, then we went to another bar, but Katie said, "Listen, I want to stay out late, but I have this big audition tomorrow for this pilot. Can we just run these lines?" And the pilot was Californication, and the lines were super sexual.

KATIE: And super dirty!

ADAM: We'd like to think that those sexy, naughty, Californication scenes really helped turn up the mood.

KATIE: They did crank it up a notch.




FIRST TIME MEETING SARA BAREILLES

ADAM: I first met Sara in Santa Monica at a little bar where she was singing at an open mic night.

KATIE: I'm the lucky one that I got to befriend Sara through my relationship with Adam. What a win for me. We were seated at the same table at a wedding, and it was just like love at first wedding table.

FIRST TIME ON THE SET OF SCANDAL

KATIE: My first day on set on Scandal was so intimidating because the first shooting day of Scandal ever. It was the pilot, and it was shot on a Grey's Anatomy set. It was in a hospital, so the pressure was on. I barely remember it, but it was really because I was just scared, nervous, excited, shocked. All of the things.

ADAM: My first day on Scandal was really disappointing because they shoot like five episodes ahead of what's on TV. And I'm a big Scandal fan. The president had just been shot in the last episode I saw, but then the episode I was shooting the next day, he was fine with like a Band-Aid on his head. I was like, "Spoiler alert, Tony Goldwyn! Don't come in the makeup trailer while I'm in here!"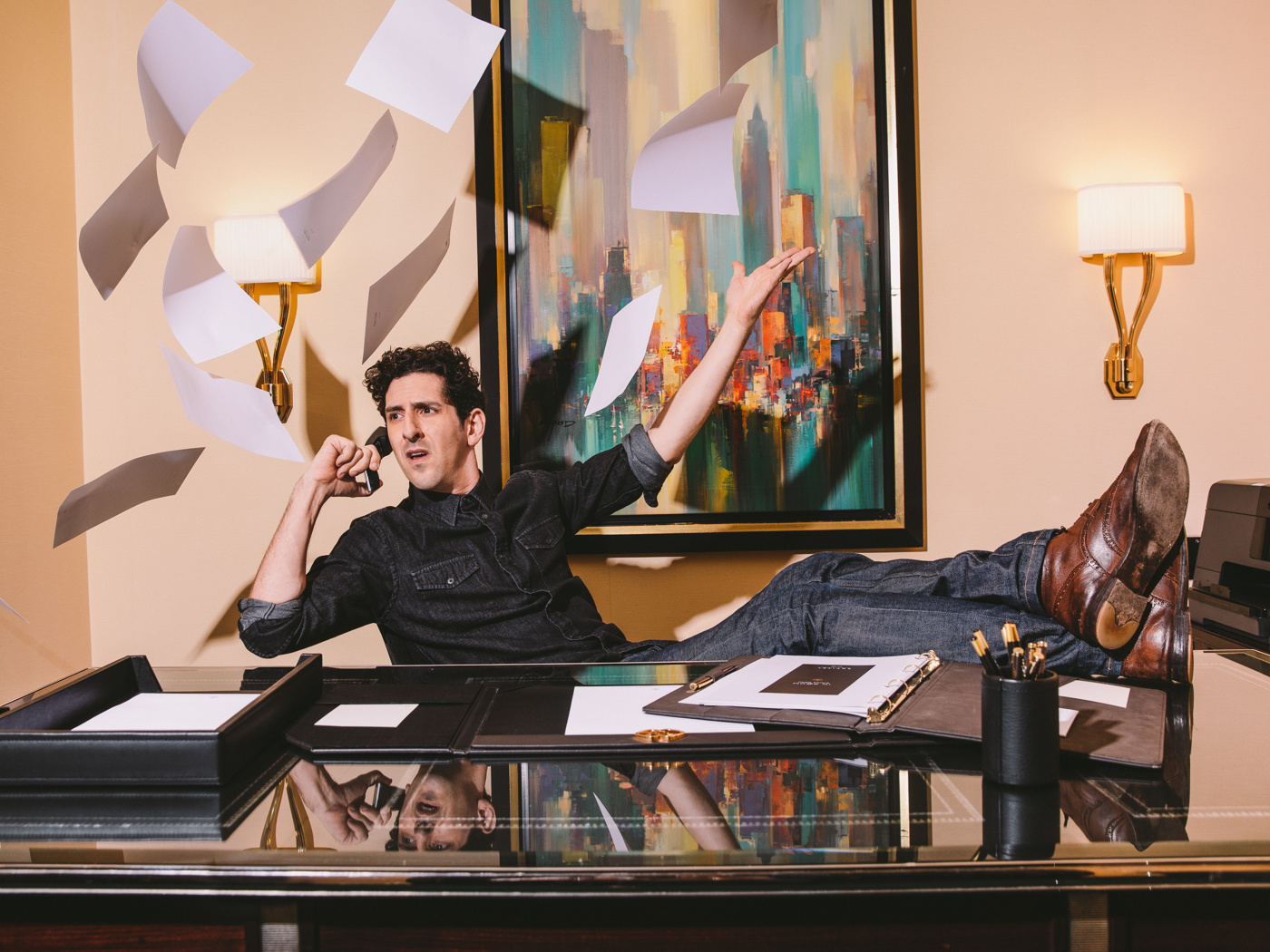 FIRST TIME WORKING TOGETHER
KATIE: The first time we worked together was right off the bat when we started dating, we started a theater company called IAMA Theater Company.

ADAM: [The play] was called You Are Here.

KATIE: It was terrible. It was really, really bad. It was a play in L.A. that is about the New York subway system. So not good. Already, it's a terrible premise.

ADAM: We never interacted in that play. We were on stage the whole time together, but we you know we were strangers and we never said anything to each other.

KATIE: But he designed one hell of a website for that show. And let me tell you something, that really got me interested.

FIRST BROADWAY BOW

KATIE: It's a lot to me like childbirth, meaning it's the best day of your life and the scariest day of your life all combined. When I look back, and I look back at the hardest things I've done in my life, it's giving birth to my son and opening Waitress on Broadway.

ADAM: We had nine months to wrap our heads around having the baby, but we only had eight days to wrap our heads around doing the show.
KATIE: And similar to childbirth, it is such a blur. I think I was in a full-blown shock. I see photos of me taking my first bow, and there are tears streaming down my face. I do remember Nadia, our conductor, walking back into my dressing room after I had done the show. And I remember literally my knees buckling and having like ugly crying sobs, like almost to the floor. Because it was such a release. It was so intense.

ADAM: My character doesn't actually enter the play until the end of the first act, which is about 45 minutes into the show. And now I like eat dinner, shave, hang out, talk, joke around and then enter. But on night one, I was on stage, at places, in costume, with my microphone on, ready to go. It was funny because I was standing off stage waiting for my entrance, which was in 45 minutes. And finally, all the stage hand guys were like, "You're in the way, bro. You don't enter for like nine scenes." And I'm like, "OK, OK. Of course. Yeah, Broadway. Yeah, I get it. I get it."




FIRST PROFESSIONAL AUDITIONS

KATIE: For years they were horrible! My first audition was here in New York. I graduated from NYU, and I remember it was one of my first pilot auditions. I don't remember what the show was, but I remember reading all the lines and looking directly into camera. The casting director stopping me being like, "You're supposed to like look at the reader, and the camera's just supposed to be the fourth wall, voyeuristically looking at the scene." No idea what I was doing.

ADAM: My naïveté actually helped because I booked my first audition, which was for a T-Mobile commercial. But I didn't know any better and like my character is like, on his phone, and I used my wallet as my phone, which is like a little joke I used to do in college.

KATIE: You had such beginner's luck. And you said your real name.

ADAM: Oh, yeah. I didn't even know to read the side, so I was like, "Hey! It's Adam Shapiro and I'm on the road trip..." And I booked the commercial. That was my first time on TV.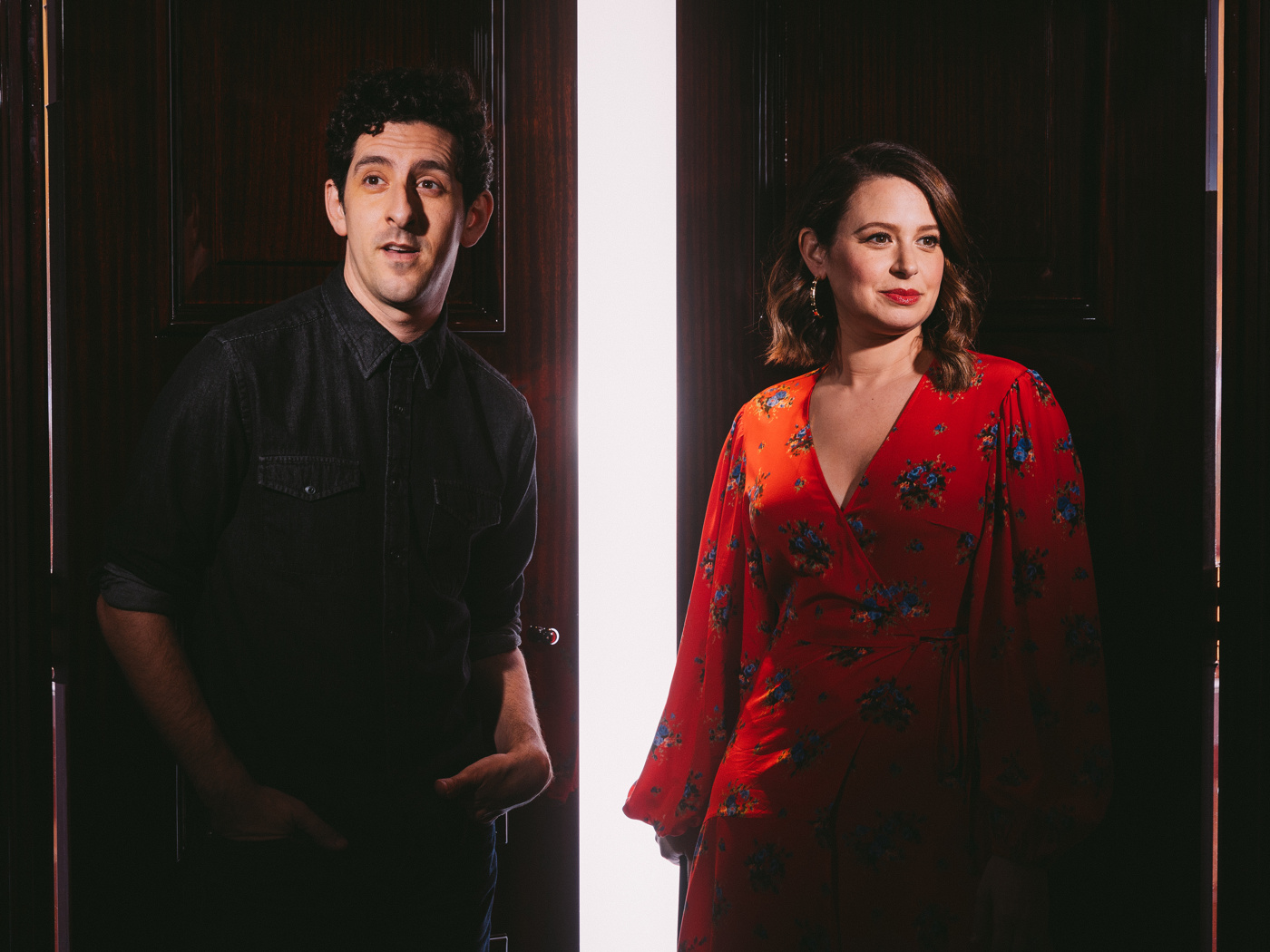 FIRST THING THEY'LL DO AFTER LEAVING WAITRESS

KATIE: We're going to New Orleans, and I'm gonna drink so much and scream. I'll be the person in the middle of Bourbon Street screaming because you know what? [singing] "I don't need to save my voice! I don't need to save my voice!"

ADAM: I'm going to be helping Katie navigate Bourbon Street while she screams.

FIRST THING THEY DO IN THE MORNING

ADAM: The first thing we do in the morning is vocal exercises. We both start every day thinking we're gonna call out.

KATIE: We don't have a voice.

ADAM: Then, by the time show comes around, we're like, "Let's do this!" Every day, it's just a battle.




This interview has been condensed and edited for clarity.