Nicolette Robinson is living her dream: the actress is making her Broadway debut in Sara Bareilles' Waitress, and she is proud to be the first performer of color to take on the leading role of Jenna. Robinson is also the first mother to play the role of the pregnant diner waitress and pie maker extraordinaire. The actress and her husband, Hamilton Tony winner Leslie Odom Jr., welcomed their daughter, Lucille Ruby in the spring of 2017. Robinson stopped by on Show People with Paul Wontorek to talk about her daughter, gush about her husband and rave about her first experience on the Great White Way.
1. SHE'S A SARA BAREILLES SUPER FAN
"Sara Bareilles is a goddess. She has such a gift with writing music. She's not a mom, but the songs that she wrote for this woman that gives birth to a baby for the first time—I couldn't have said it better myself. It's everything you would hope you would be able to do as a performer."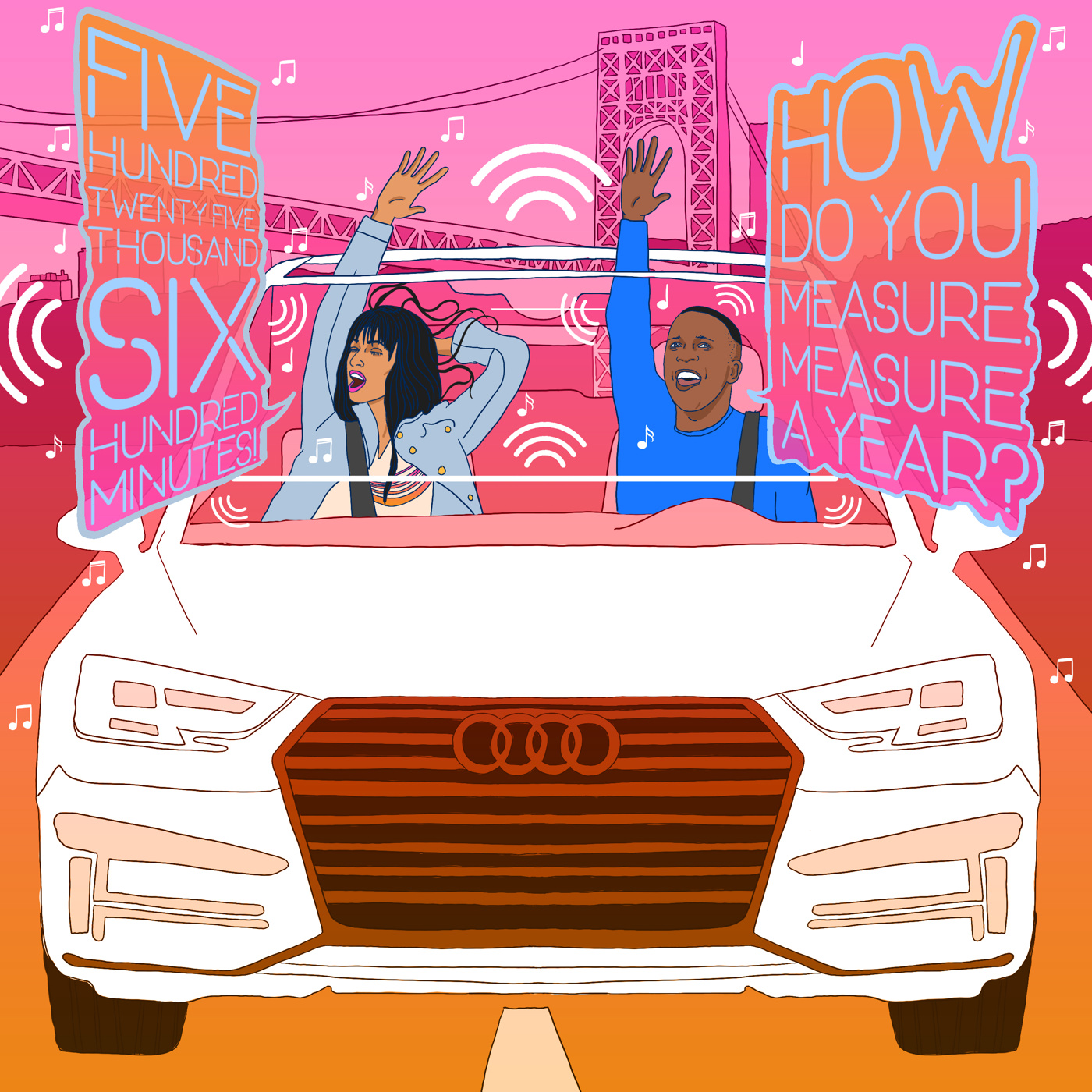 2. HERE'S WHAT SHE AND LESLIE ODOM JR. BELT OUT IN THE CAR
"We sing Rent together in the car. We sing random songs: Dixie Chicks, that kind of stuff."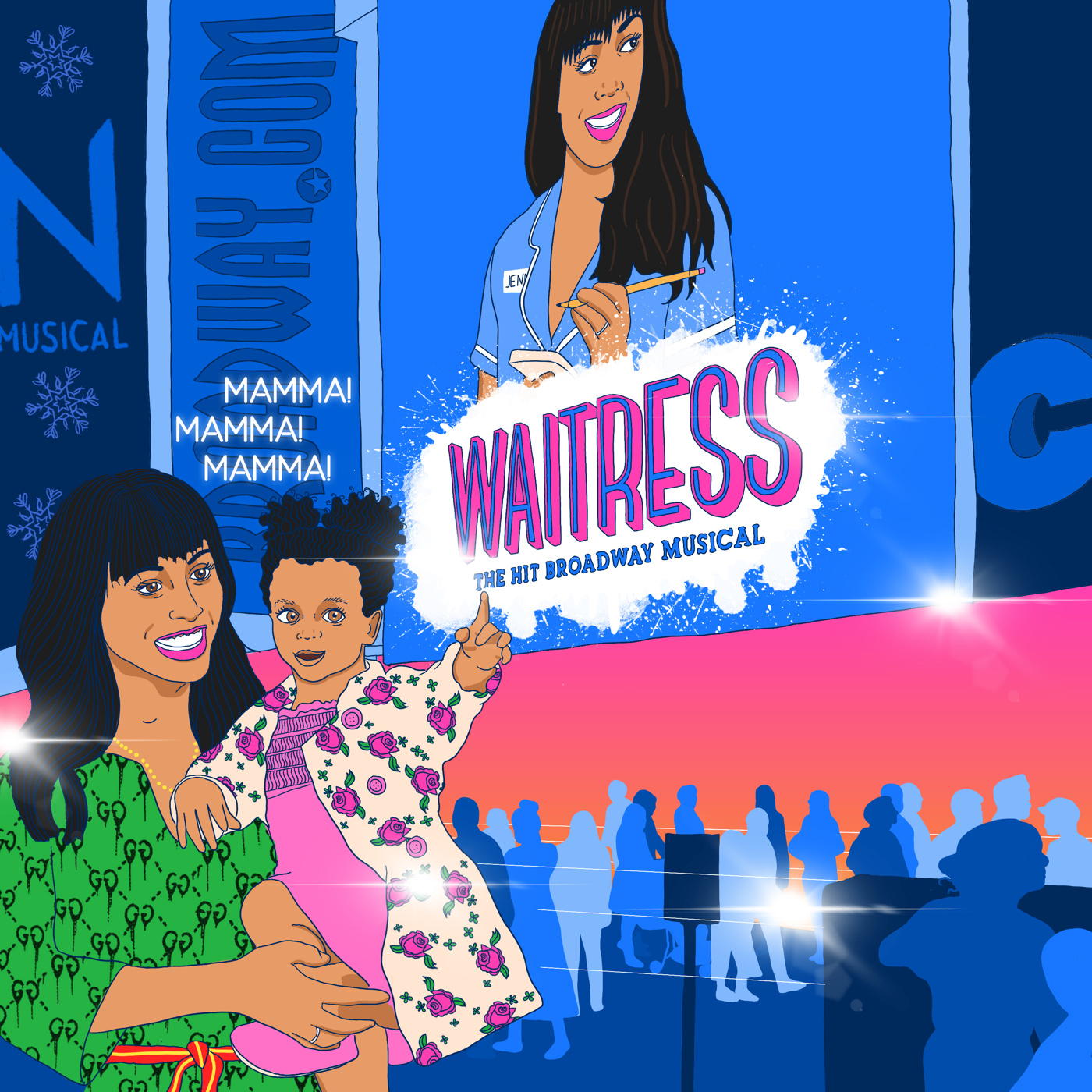 3. SHE'S INSPIRING THE NEXT GENERATION
"This is the first full-time job I've had since I was pregnant with Lucy. I miss her all the time. It's challenging, but it also feels like something I needed to do for myself. Motherhood has taught me about discovering the balance of being with your child but also fulfilling that need that you have. I hope that she sees that I'm doing what I really love to do. Hopefully that'll push her to do the things that she wants too. When she comes to the theater, there's a giant picture of me outside the door, and she goes, 'Mamma!'"
---
Other must-read highlights:
ON MAKING HER BROADWAY DEBUT IN WAITRESS
"This feels like the biggest milestone of my career. Every day I'm pinching myself. I've loved this show since it opened on Broadway, and I've connected with Jenna in such a deep way. I've loved this music. I was just a big, big fan, and in the back of my mind, Jenna was always a dream role of mine. But it never even occurred to me that I could play her. If you had asked me what my dream role was, I would have never said Jenna even though it 100 percent is a dream role. It's just kind of how it's been. It was a noble and smart and important decision for this creative team to make to open that up. The people I've met at the stage door, the messages I've been getting on Instagram—it's really touching a lot of people, and it really opens up a window of opportunity. I'm excited to see who comes next after me."
ON BIRTHING A HUMAN BEING
"I've never experienced anything like pregnancy, childbirth and motherhood. It's a whole other ballgame. I don't think anything has changed me more than the experience of going through 10 months of carrying a human being and then birthing a human being and then figuring out how in the world to raise a human being."
ON HER FIRST THEATRICAL OBSESSION
"I remember seeing Aida for the first time and seeing a strong black woman in that role. I was floored. I learned to sing off of Heather Headley's voice on that cast album. But I saw Toni Braxton [as Aida on Broadway.] I was 13, and I loved it so much that I bought a ticket the next day and went by myself to see the show again."
ON HER DREAM CO-STAR
"A dream of mine is to play Stella in A Streetcar Named Desire. I have a dream Blanche: Zainab Jah from Eclipsed on Broadway. I am such a fan of hers."
ON CASTING PAL PHILLIPA SOO
"She'd be amazing [as Jenna.] I'll watch her do anything. I'd watch her read the dictionary."
ON HER SUPPORTIVE HUSBAND LESLIE ODOM JR.
"Before Hamilton, we had to borrow money from my parents to make our rent in time. It's just a crazy journey. It's a tough business. When he did his first workshop for Hamilton, he just knew it was something he had to do everything he could to be a part of it. He's the best dad, and he's been the most supportive husband during this whole process. This is something that we talk about all the time: if you love something enough, if you put your heart towards it and you really love it and digest it and surround yourself with it, you'll get that thing that you love. I believe that that's what happened with Waitress. He's been so great in keeping me lifted during this whole process."
ON THEIR ONCE ON THIS ISLAND LOVE STORY
"It was down to me and Kristolyn Lloyd [for the role of Ti Moune]. I didn't get it. But then someone in the cast got very sick; she had to pull out of the show. So they switched roles around and called me in to quickly learn the role of Andrea in tech. Les was responsible for helping me figure out all of my blocking. It was not a romantic thing at first. It was really just a human connection like, 'Wow, I need to be around this person all the time.' We stayed in touch after the show and started dating pretty soon afterwards. We didn't know if the first date was the first date, but it ended up being the first date. None of us were saying that it was a date, but then it for sure was a date when he kissed me at the end of the night."
ON ADVICE TO LIVE BY
Just hang tight. Just be present. Be grateful and find the joy in all these moments even in the downtime. Find the beauty in being able to binge-watch your favorite show. You have to trust that this journey is completely tailor-made for you. You can't compare yourself to other people's journeys. I would have told myself years ago, 'Just trust. You're going to be able to do all of the things you want to do. God willing, life is very long. Just stay on that journey and enjoy it.' Life is more about the connections you make with people and the experience than it is about the successes and the things you have to show for it.' I try to remind myself of that as much as I can."
Watch the full episode of Show People with Paul Wontorek below!

Interview has been edited and condensed for clarity.

Did you know Show People is available as a podcast? Listen to your favorite stars talk Broadway and beyond on your way to work, the gym, the theater and more on iTunes and Spotify.