Gavin Creel has both Tony and Olivier Awards to show for his effervescent talent, so it makes sense that the New York-based Ohioan should continue crossing the Atlantic to work in the West End. He can currently be found at the Adelphi Theatre opposite his dear friend Sara Bareilles, who in turn is starring for a must-see limited engagement in her own show Waitress—the pair repeating their Broadway double act in a knockout pairing that has revitalized the show in London. What keeps him returning to the London stage? Broadway.com rang the thoroughly charming Creel to find out.
How have you managed four shows over the years in London—from Mary Poppins through to Hair, The Book of Mormon and now Waitress?
There's no logic! It's just dumb, wonderful luck that I keep getting invited back. The first time I was auditioning for the Broadway Mary Poppins and didn't get it but got London instead. With Hair, I went in for a meeting in New York about marriage equality during which they mentioned Hair in London and I said, "Amazing!"
And the latter two?
The Book of Mormon was a total surprise: that came about when they told [co-star Jared Gertner] and me that they wanted us to open the show here. On Waitress, Sara [Bareilles, the musical's composer] had wanted to do one more stint in the show and had always wanted to go to the West End , so asked me whether I would be willing to do it again.
Was that a no-brainer?
It's the reason I said yes to the show on Broadway the first time! I love this musical and I love [Sara] so much. It's a privilege to get to be here.
When Waitress first opened on Broadway with Jessie Mueller, were you eyeing the role of Dr. Pomatter?
At the time, I was watching from the sidelines and cheering; the role wasn't something I had ever thought about doing. I just remember sitting in the audience and looking at Sara between numbers and thinking, "How did you do this?" When we did do it together in New York it was this tiny, tiny thing—only four weeks—so it feels really exciting to be able to pick it up again; I wasn't ready to be done with it.
Are you a pie-eating kinda guy?
I'm not a huge pie person. My character has a line about being "off sugar," and I'm also trying to get off refined sugar at the moment, so I'm very method that way [laughs].
Do you like diners?
I'm a huge diner person. There's one on Broadway in the 100s that has duct tape on the booths and hasn't been renovated in 40 years and there's something about just going and having a crusty beautiful English muffin with avocado and smoked salmon on a plate with eggs over-easy!
Given your extensive career in musicals, were you at all apprehensive about Sara's comparative lack of experience?
I was nervous at first because I love her so much and we are such good friends and I did think, "How is this going to work? No offense, but am I going to respect what she does?" And you know what? Not only is she an actress but she's an actress who has the gift of not showing what they do. I don't know anyone besides Lin-Manuel Miranda who's done this so well: the two of them are the crown jewels when it comes to writing shows for themselves to step into.
Does the West End now feel like a second home?
It feels exactly that, and I don't feel like a poseur saying so! From my four months here during college and 19 months in Mary Poppins, six months in Hair, and 19 months in Mormon, this has been like four years of my life. I've only been in New York for 20 years, so almost a fifth of that time has been here.
Was Mormon especially sweet insofar as it resulted in an Olivier Award?
That felt like an especially lucky time because I was recognized in such a beautiful way. The relationship that people in this city have to theater is so intense, and it's really neat to feel connected to that.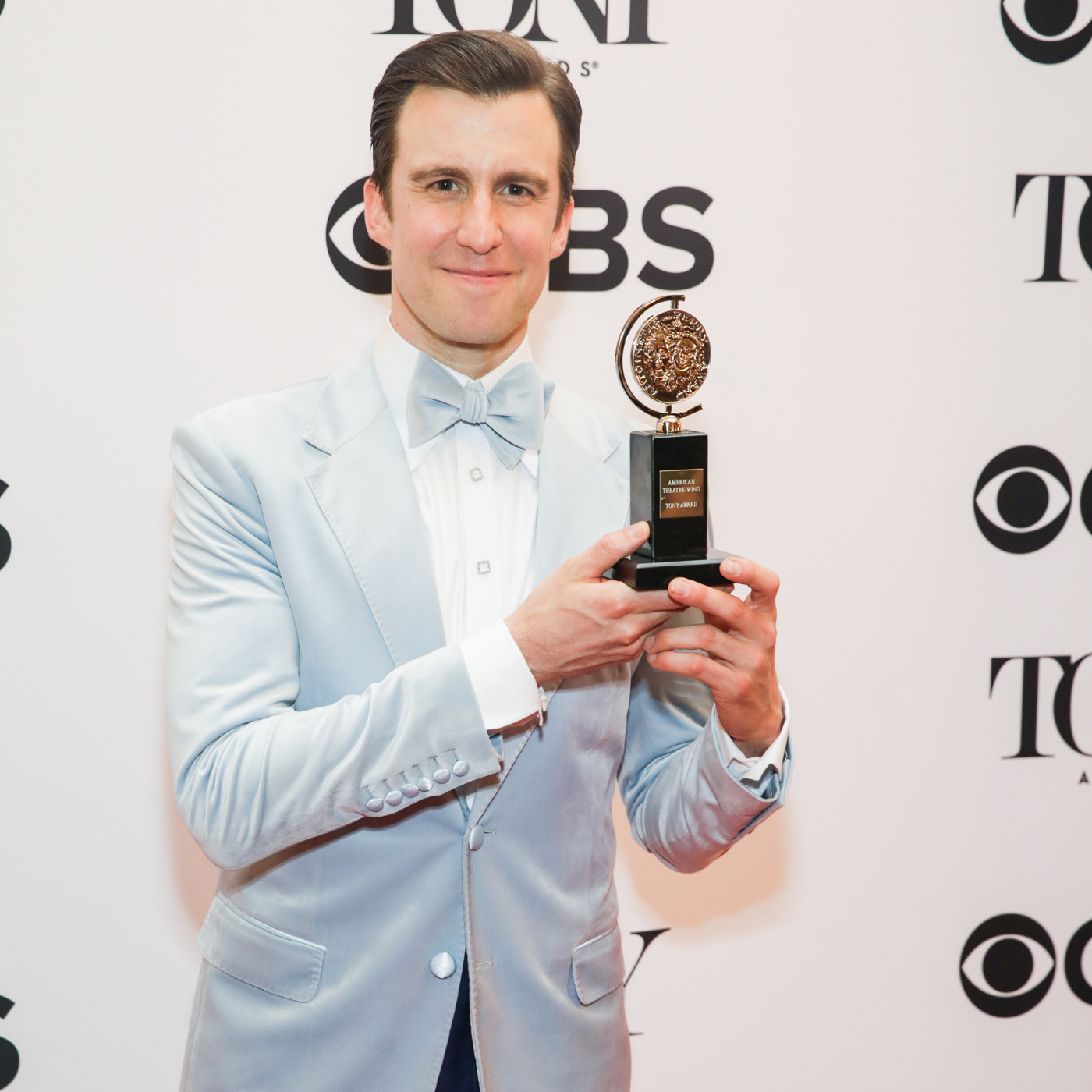 Might you repeat your Tony-winning turn as Cornelius when Hello, Dolly! is revived in the West End in the late summer, in a separate production here starring Imelda Staunton?
No one's asked me that! But I've got a big project coming up in the summer so the answer is no. But do tell whoever does the part to call me and I can tell them all the fun bits.
How does your Tony win feel in retrospect two and half-years after the event?
I won't lie: I did spend a long time reliving the moment because I couldn't believe that it had happened. I'm proud of myself not because I won because I've been proud of myself when I've been nominated and not won. I'm proud that I was able to take in every moment of that night and enjoy myself the whole time.
Had it not been that way at Tony ceremonies before?
With Thoroughly Modern Millie, I felt anxious and as if I didn't belong and like people didn't want to talk to me. With Hair, I was stressed out because I had to perform during the show and was sick and on steroids and wasn't well. By the time I got to Dolly, I was totally ready: it was as if those previous experiences had prepared me in such a beautiful way.
What can you tell us about your "big project" coming up?
It's a concert of my own material that we're calling a "concercal"—or maybe it should be a "concertcal"? Anyway, it's a commission from the Metropolitan Museum of Art's MetLiveArt series. We're doing two shows on June 22: the idea is that I'm trying to find myself within the great works of art within that building and within the world at large. It's still early days but the goal is a self-retrospective in which I pair up 10 or 12 of my songs with the art to match.
Does this represent a longer commitment than just a couple of performances in June?
Absolutely. I see this as something that could take three or four years and I could take it out of town to different artistic centers and to London and Berlin and talk to people about a life in the arts and about human kindness. It's time, I think, to focus on what I want to do as opposed to what other people think maybe I should do.
Am I right therefore to assume that Waitress in London falls in the "must do" column?
I feel as if I've earned the right to not do something that I don't want to do. But if I like the part, or the opportunity excites me in some way, then great: I want to be able to say the words and sing the songs, and I know this may not make career sense but it makes complete life sense. I'm passionate about this part, this show, this city, and this community. Obviously, Sara is the draw and I'm just so happy to be here with her.