Adam Dannheisser
(Photos by Caitlin McNaney for Broadway.com)
The Beetlejuice cast album has just hit 200 million streams in the United States and 350 million streams globally, making it the most streamed cast album of the 2018-19 season. When Beetlejuice cast member Adam Dannheisser was told that factoid on a recent #LiveAtFive episode, he could only react with humility. "I forget that this is out there like that," he told Broadway.com's Ryan Lee Gilbert. "Cause we go to work, we do our job, we love our job, and then we go home and we eat some muffins. To hear things like that just blows my mind, that it's reached this kind of audience."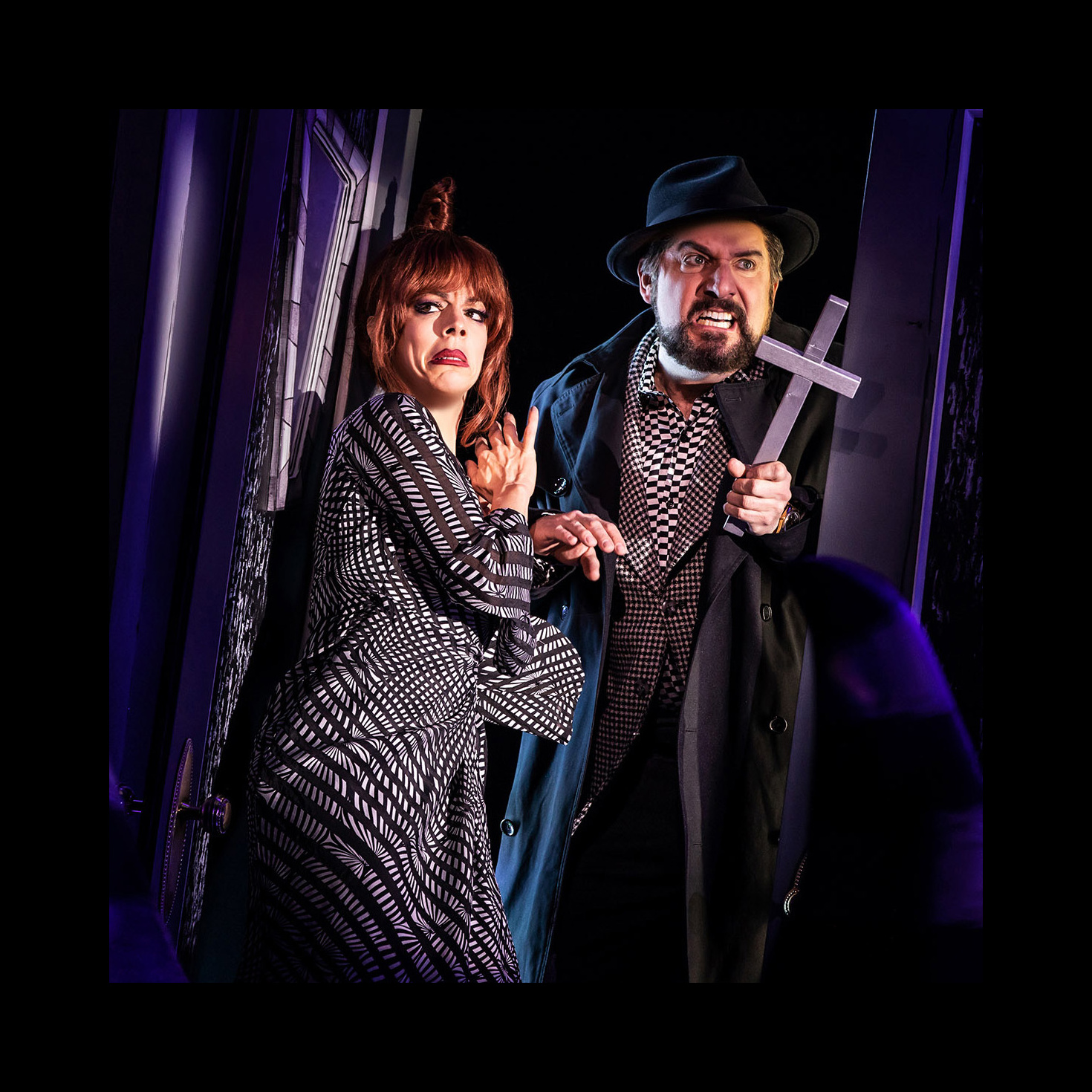 Dannheisser currently plays a dad on Beetlejuice, the musical by Eddie Perfect, Scott Brown and Anthony King based on the hit film. He plays Charles Deetz, the father of the main character Lydia (played by Sophia Anne Caruso). Through the musical, the two characters figure out how to reconnect following the death of Lydia's mother. Dannheisser believes that human connection, in conjunction with the show's supernatural elements, is what made Beetlejuice appeal to audiences. "It's not just a show about cats flying through the air," he remarked. "It has real heart to it so people leave having experienced more than just spectacle."
The actor has had a long career on the Great White Way. He was in the original Broadway cast of Rock of Ages and has done a number of Shakespeare plays. His first Broadway credit was in 1995 when he was just 24 years old. It was The Tempest, starring Patrick Stewart as Prospero. Dannheisser was one of the side characters and he also understudied the character of Alonso. One night, he was told he was going to go on stage; it was his first professional dad role. "They put a fat suit on me and put a polish in my beard," he recalled. "I got to go on opposite Patrick Stewart and play these scenes with him. And I was in the fifth-floor dressing room and the next day he came up to the fifth floor, and he said that was best first-night understudy performance I've ever experienced."
Dannheisser is now a dad in real life and he even has an Instagram series with costar David Josefsberg that they're calling the Real Broadway Dads of New Jersey, since they both take care of their kids during the day and then perform Beetlejuice at night.
"We're totally connected at the hip and love to sort of just make these little videos to make people laugh, but also give them a little insight into what a strange life we have," explained Dannheisser. "Literally I'm coaching soccer in the morning. And then we race in the car to hopefully find a parking spot, to get in, to put on makeup to do the show and so that's what it is, #RealBroadwayDadsOfNJ." He then added, "I just promoted it now; I'm not even sure what it is."
Watch the rest of Dannheisser's #LiveAtFive interview below.