Jeremy Strong has signed on to star on Broadway in a new adaptation of Henrik Ibsen's An Enemy of the People. The production is set to open in early 2024 at a theater to be announced.
Pulitzer Prize finalist Amy Herzog, currently represented on Broadway with her adaptation of A Doll's House, will pen a new script for the revival, to be directed by Tony Award winner Sam Gold.
An Enemy of the People takes place in a Norwegian spa town, where the water is not only life-giving, but it's a tourist draw. When Doctor Thomas Stockmann discovers the water is poisoned, he alerts the mayor to the problem — but the mayor may not be as quick to act as Stockmann assumed. Stockmann becomes an unlikely whistleblower.
There have been 10 previous productions of the Ibsen work on Broadway. In 2021, Ann Dowd starred in a solo version of the work, adapted and directed by Robert Icke, at New York City's Park Avenue Armory. A new adaptation from Florian Borchmeyer, Thomas Ostermeier and Pulitzer finalist Branden Jacobs-Jenkins was announced for Broadway in 2017 but has not come to fruition.
Strong made his Broadway debut in 2008 as Richard Rich in a revival of A Man for All Seasons. He currently stars as Kendall Roy on the HBO series Succession, a performance that won him an Emmy Award in 2020. Strong has appeared in feature films such as Aaron Sorkin's The Trial of the Chicago 7 and Steven Spielberg's Lincoln. Strong is set to star in and executive produce Tobias Lindholm's series The Best of Us, about first responders on 9/11. He is also expected to star in and executive produce a limited series about the controversial 737 Max planes, a project that is in development at Amazon Studios with Plan B executive producing.
Further casting, creative team, exact production dates and a venue will be announced.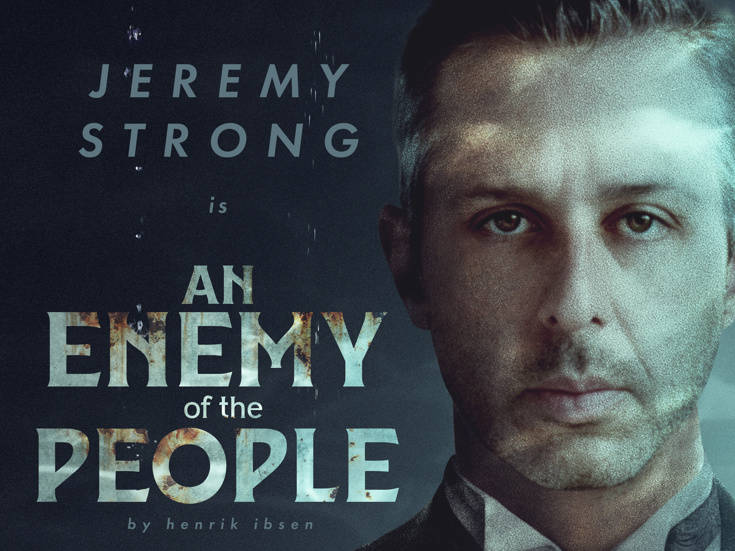 Jeremy Strong in "An Enemy of the People" (Courtesy of Polk and Co)