Warren Carlyle, director-choreographer of Harmony on Broadway
(Photo: Emilio Madrid-Kuser)
There's something about Harmony that breeds relentless commitment. Barry Manilow and Bruce Sussman, the musical's co-authors, have been working for nearly 30 years to get the piece to Broadway. And in his comparatively brief four-year tenure, Warren Carlyle—the British director-choreographer who's finally brought Harmony across the Broadway finish line—has succumbed to that same inexplicable gravitational force.
"I have to say, this has been full Broadway obsession from the first time I read it," Carlyle says in an interview with Broadway.com Editor-in-Chief Paul Wontorek for The Broadway Show. Awaiting Harmony's official Broadway opening on November 13, he uses the word "obsession" without a hint of hyperbole. "From the first time," he insists. "So much so that Music Man opened— the next morning I was in rehearsal for this."
Carlyle choreographed the 2022 Broadway revival of The Music Man starring Sutton Foster and Hugh Jackman—a production that had been on sale since before the Broadway shutdown, and was packing in audiences at the Winter Garden Theatre at premium prices. Carlyle could have taken a beat to relish the experience of being at the top of the Broadway food chain. Instead, his head was engrossed in Harmony, a notorious underdog musical about the Comedian Harmonists—a German sextet whose rise to fame tragically coincided with the Nazi party's ascension to power. "I don't know why it's personal, but this one feels very, very personal to me," he explains. "I feel very connected to Barry and Bruce. I feel very connected to this extraordinary cast. Really, this is an obsession."
---
"I don't know why it's personal, but this one feels very, very personal to me."
–Warren Carlyle
---
There's naturally a double investment when you're performing the dual role of director-choreographer—a rare class occupied by Broadway legends like Jerome Robbins, Bob Fosse, Tommy Tune, and one of Carlyle's mentors, Susan Stroman (Carlyle's Broadway debut was as Stroman's assistant on her legendary production of The Producers). Even so, he's held that twin position on Broadway before—earning Tony nominations as both Director and Choreographer for the 2014 Cotton Club-inspired musical revue After Midnight (he won for his choreography), and just a year before that, serving as director-choreographer for the original musical Chaplin, starring then-newcomer Rob McClure (Harmony brings Carlyle back to the Ethel Barrymore Theatre where Chaplin also made its Broadway debut).
Perhaps the singular bond Carlyle feels with Harmony has more to do with its subtle ties to his own theatrical history. "I was a dancer in my previous life," Carlyle says, humbly prefacing the lesser-known fact that he played the role of Bolero Dancer in the West End production of Manilow and Sussman's 1994 musical Copacabana (the musical was based on Manilow's 1978 hit song, which was initially made into a musical TV film in 1985). "I find myself 30 years later with two guys who I've been friends with," he says about the writing duo. "So the collaboration was very easy. The getting-to-know-you part didn't need to happen."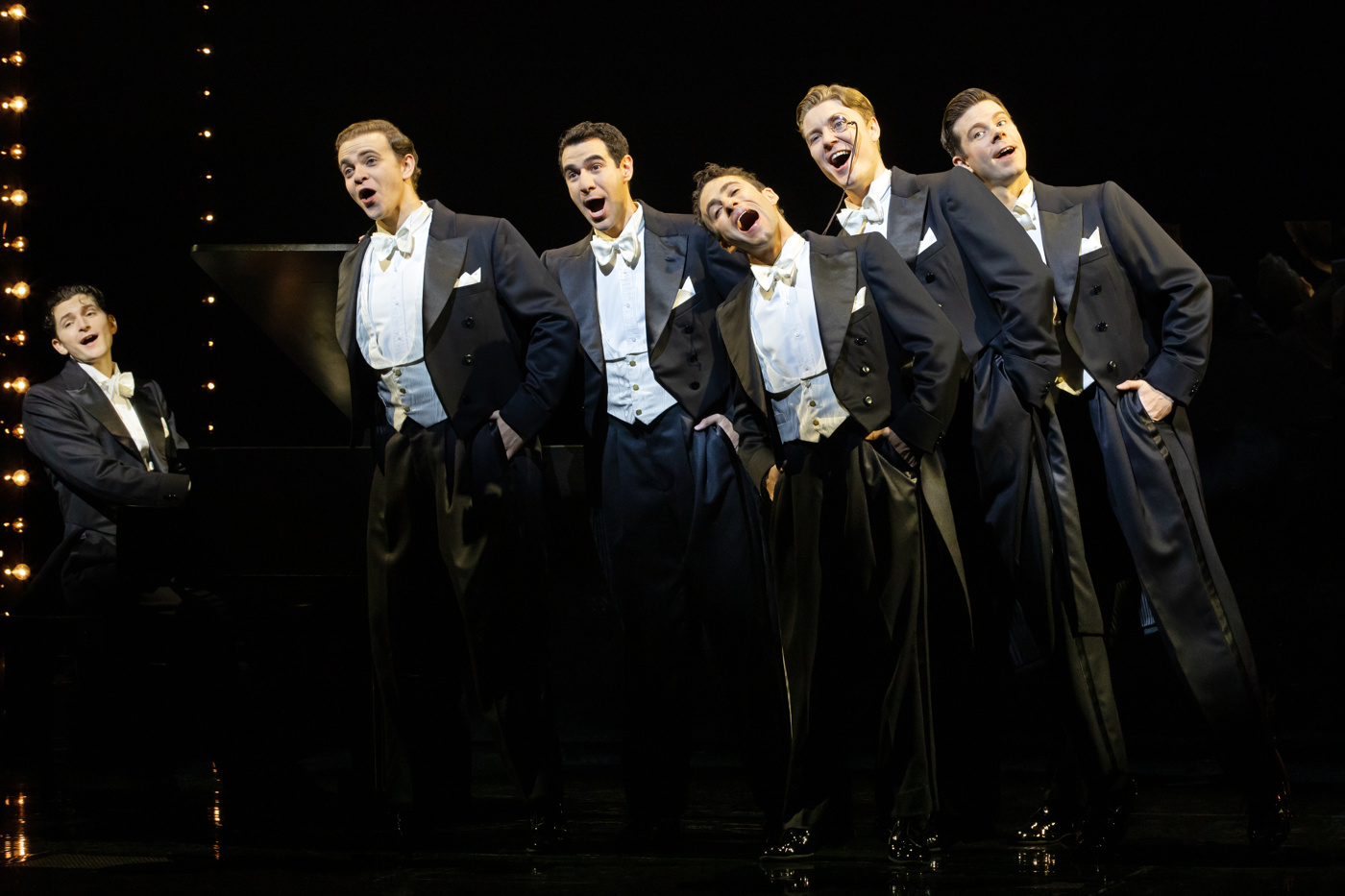 Carlyle's attachment to Harmony, however, is more than just an affinity to a comfortable workflow. Beyond the ease of collaborating with artists from his "previous life," Harmony itself is a musical about the beauty of being young and making art with your pals—a personal experience for Carlyle that this production uniquely evokes.
"I love actors," Carlyle says, reflecting on the breadth of his theatrical career on and offstage. "What an impossible job to stand on a stage in front of a thousand people and tell a story. I also was an actor for many years," he tacks on like an afterthought. "So I haven't forgotten."
Carlyle's mix of nostalgia and wonder in the presence of these "magical creatures" (as he describes them) might just explain the elusive hold Harmony has on him. The piece certainly explores tragic themes of fascism and antisemitism—two subjects that have once again become painfully relevant—but these darker shades are ancillary to the light that takes center stage at the Barrymore Theatre. At its core, the story of the Comedian Harmonists is not a tragedy, but a celebration of comedy, music, and the artists that manage to make harmony amid chaos.
What better defines a life in the theater than that?