Ring of Fire has set its Broadway dates. The Johnny Cash tuner, directed by Richard Maltby Jr., will begin performances at the Ethel Barrymore Theatre on February 8 in preparation for a March 12 opening.
Through words and music, Ring of Fire brings to life the stories made famous in Johnny Cash's songs. It does not have a through storyline, but rather is like a theatrical concert of his songs. The show features 38 of the music legend's tunes, including "Country Boy," "A Thing Called Love," "Five Feet High and Rising," "Daddy Sang Bass," "Ring of Fire," "I Walk the Line," "I've Been Everywhere," "The Man in Black," and "Hurt."
Ring of Fire was created by Maltby Jr. and William Meade. The cast of the musical includes Eric Anthony, Jeb Brown, Laurie Canaan, Jason Edwards, Tony Award winner Jarrod Emick, Dan Immel, Ron Krasinski, Jeff Lisenby, David M. Lutken, Beth Malone, Cass Morgan, Brent Moyer, Randy Redd and two-time Grammy Award winner Lari White.
The production had its world premiere at the Studio Arena Theatre in Buffalo, New York where it closed on October 9. Its engagement there has garnered warm reviews. Richard Ouzounian of Variety wrote of the show: "Surprise, everybody! The jukebox musical is alive and well, thanks to some fresh thinking from the man who virtually invented the form nearly 30 years ago--Richard Maltby Jr. Part of Maltby's savvy is that he just doesn't offer up the Cash hits… Aside from content, Maltby shows his skill in the staging of the show, giving it a look quite unlike any other revue… Despite the overwhelmingly positive impression the show leaves, there are some issues to be addressed here and during the next stop at the Curran Theater in San Francisco. Too many numbers finish without a satisfactory 'button'… There's also a stretch midway through Act I where the normally clear focus gets fuzzy... And finally, the first act could use a much stronger ending… But even as it plays right now, Ring of Fire is hot."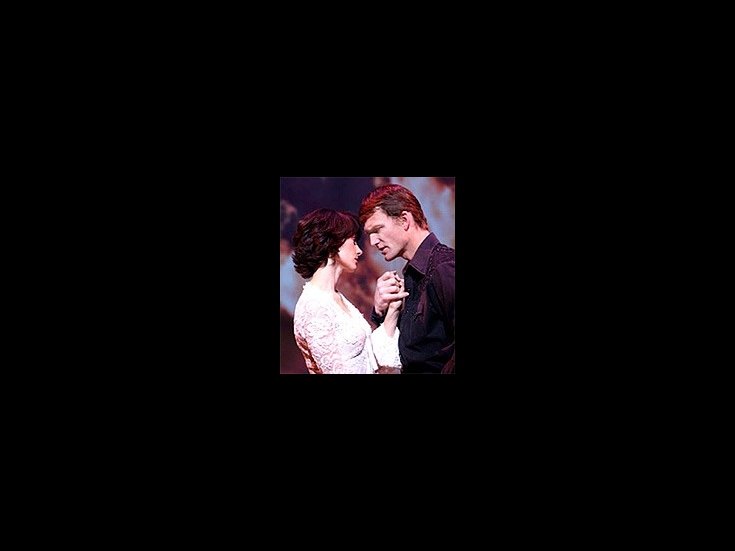 Beth Malone & Jarrod Emick in "Ring of Fire"