One of New York's most acclaimed actresses, Linda Emond has tackled tough roles in Tony Kushner's Homebody/Kabul and The Intelligent Homosexual's Guide, received a Tony nomination for her featured role in Life (x) 3 and won two Jefferson awards for her work in Chicago productions of Pygmalion and The Winter's Tale. Now, at age 52, Emond is nominated for her second Tony Award for portrayal of the loyal and determined wife Linda Loman in Arthur Miller's classic drama Death of a Salesman. Broadway.com caught up with Emond to chat about sharing a stage and a marquee with Philip Seymour Hoffman and Andrew Garfield as well as work with Kushner and her surprising TV faves. (RuPaul, anyone?)
How did the role of Linda Loman come about for you? Did you have to audition with Philip Seymour Hoffman?
No, Mike [Nichols] called me in July of 2010 on a random day and said they were going to do this production, and Phil was going to play Willy and would I play Linda. To get that phone call was nice! I had first met him through Tony Kushner. We were doing one of the first productions of Homebody/Kabul when Tony and Mike were working on Angels in America for HBO, and I met [Mike] and loved him from the beginning. He has been incredibly supportive of my work from that time on.
Hoffman has an intimidating persona. What's it like to work with him so intimately?
It's a rare and beautiful thing. Working with all of them, but especially Phil, is very intimate, but it was never uncomfortable; it was always great. It was very moving, really, because it ends up that Phil and I work very similarly. That isn't a necessity, but there was a kind of deep, profound comfort working with someone with whom I felt such a creative bond.

How would you describe the way you two work?
The way we process, the willingness to have it raw and messy for a long time, the way we think even. It's hard to describe—part of the creative process is mysterious to me still.

Did seeing your name on the marquee alongside Philip Seymour Hoffman and Andrew Garfield put added pressure on you?
There is something sort of…weird, frankly. Andrew, Phil and I went to the theater one day after rehearsal, and I remember us standing there for a few minutes staring. There is something so private about the rehearsal process, and it was like, "Wow, okay this is going to be really public—look at how big those names are!"
What was the process like for you to find Linda Loman? Was it hard to get into her mindset and the mindset of that time period?
It really is a process for me of digging and saying those words and trying to find out who that person is that would use those words in that way. It was a complex thing, certainly, given the dynamic of that family and the time period. There's nothing in [the script] about the term that is often attributed to her: "long-suffering." [Original director Elia] Kazan called her "terrifyingly tough," and I agree. I was struck by the number of things she says that are really wise, and there's also a lot she says that, frankly, is bullshit because it's caught up in Willy's dreams and ideas. But boy, it's evident that there is a strong amount of love for Willy and those boys! Frankly, when you are going into a play like this with a long and extraordinary history, there are given opinions of what a part is, and you have to work hard to shed all of that and say, "I have to find my connection to it, with these people in this room, with Mike Nichols at the helm, on this set."
You and Philip Seymour Hoffman are obviously a good bit younger than the parts as written. Did that feel like an issue for either of you?
We are not really younger than the parts, because the play takes place in two time periods. Everybody always thinks the characters are the older age, but the truth is that they are two different ages. You really want actors in the middle, who can play both. My age range in the play is 41 to 58ish, and I'm in the middle of that, so it's perfect.

What would people find most surprising about life backstage at Death of a Salesman?
It's really great having a curtain for this show, because [the four Lomans] are all down there 15 minutes before the show, quietly milling about—touching pieces of the set, getting in the space—and that's a real luxury. It really gives us a chance to be there, which is important because the play starts in a place of real emergency.

Your first Broadway credit was the musical revival of 1776. Any plans or interest in returning to a musical?
My friends think it's hysterical that I made my Broadway debut in a musical. It's not my usual domain, and I've got to tell you: Being out there in 1776 and having that orchestra behind you is like flying—it's really thrilling. I loved it, and I would love doing it again.

What has it been like to work closely with Tony Kushner on two very challenging plays [Homebody/Kabul and The Intelligent Homosexual's Guide to Capitalism and Socialism with a Key to the Scriptures]?
It feels like I've worked with Tony Kushner on 20 challenging plays because of the length of time [laughs], but it's been a high point of my life. He has also become one of my best friends, and he is an extraordinary friend to have. He is an amazing person, so deeply loving but also really funny and silly. I love him and Mark [Harris, his husband] immensely.

Why is Kushner's writing such a good match for you?
I love it because it's hard—it's really hard, but the challenge of it is the best kind of challenge. I think he digs and touches on primal things, but the complexity of it is both challenging and thrilling. It's hard to believe I will ever say a piece of text as purely thrilling as the Homebody.

What are your plans for Tony night? Are you gown shopping yet?
No, it's hard enough to find the hours in the day to prepare for and do this play. We have the benefit that our show closes on June 2, so I am dreamily hoping that I can whip everything up in a week and not have to worry about it now.

Will you have a speech ready?
Yeah, I think it would be dumb not to, right? Only because you don't want, in the event of that happening, to be stupid up there [laughs]. I am certainly not thinking about that until later though.

What's next after this limited run?
There are a couple things in the works, but immediately after I am going to be recording a couple of books.

You've lent your voice to several audio books. Are you avid reader?
I read a lot, and right now to counter the sadness involved with Death of a Salesman, I am reading something as far away from it as I can get, which is this great writer named Angela Thirkell. She's a writer from the 30s and 40s. She writes novels that take place in the British countryside and they are stupendous, light and delightful.

What are some hobbies and interests of yours outside theater?
Love RuPaul's Drag Race; love Deadliest Catch—that show just kills me. The ocean is a scary motherf*cker! I sit there and watch the show with my mouth agape. I really feel so lucky to live here in New York City because you step out the door and it's an event. I live right near Central Park and I get to the park a lot. I do yoga, and I have great friends and a great boyfriend [actor Matte Osian] who I adore.

Speaking of Matte, do you find there is an ease to being in a relationship with another actor?
It is for us. He's a great guy. He's an actor and an artist—he does beautiful work. For me, it's great to have someone who really gets what you do. There's a comfort in that.

New York Times chief critic Ben Brantley called you "one of the essential treasures of the New York theater," but was there ever a thought or temptation to leave theater behind? What keeps you coming back?
For me to stay creative and present with the work I'm doing, I regularly question: Why am I doing this? What is its value in my life and the lives of others? Is it time for me to do something else? Is it still fulfilling? I ask it with a purpose of gaining my bearings about why I'm actually still doing it now.

You've worked with Helen Hunt, Philip Seymour Hoffman, Meryl Streep and many more. Are there any actors who are still on your bucket list to work with?
Oh, hundreds, are you kidding? There are so many, many gifted, talented, interesting people out there. The list is as long as my arm!

See Linda Emond in Death of a Salesman at the Ethel Barrymore Theatre.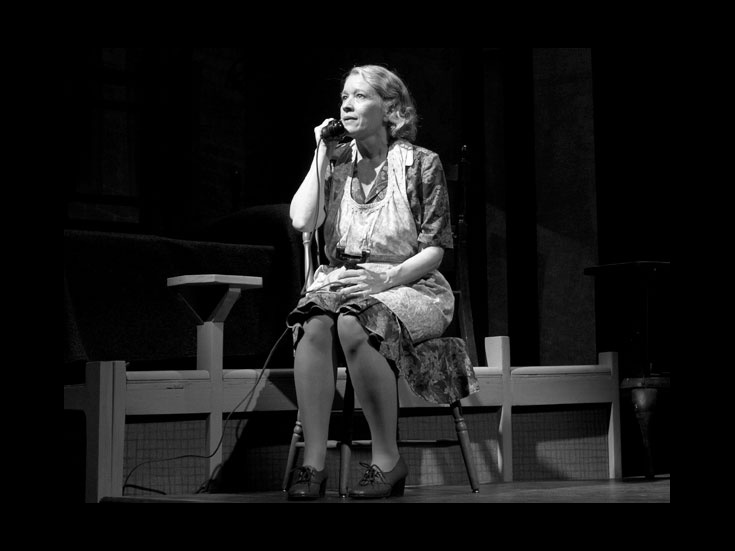 Linda Emond in 'Death of a Salesman'