When Ashley Spencer appeared as a contestant on the Grease reality TV show You're the One That I Want, the aspiring actress was dubbed "Ballerina Sandy" for her pirouetting experience and wholesome appearance. Though she came in second to Laura Osnes, Spencer went on to star as Sandy on Broadway when Osnes departed from Grease. After turns as the spoiled Amber Von Tussle in Hairspray and a disco diva in Priscilla Queen of the Desert, Spencer is unleashing her inner rock star as Sherrie in the hit '80s jukebox musical Rock of Ages. Broadway.com recently chatted with Spencer about schooling herself in pole dancing on YouTube, the injury that nearly put her on the Broadway sidelines, and spending the summer by the pool with her fiance, Newsies star Jeremy Jordan.

When did Rock of Ages hit your radar?
I started auditioning for the show back when it was [transferring] to Broadway, and I really wanted to be a part of it. I auditioned for a long time, but it was definitely worth it, because I'm having the best time. This is, hands down, the most fun I've ever had in a show. It's hard not to have fun because the cast and crew are amazing and they make it so easy to come to work every day.

Did your family play these '80s tunes at home when you were growing up?
Oh, totally, driving in the car. Every song in Rock of Ages is a hit, as far as I'm concerned, and I still hear them played on the radio all the time. I'll be in the grocery store and hear "Oh Sherrie." It's such an honor and really cool to get to sing these famous songs every night and feel like a rock star for two-and-a-half hours.

Does your ballet training come in handy for the sexy dancing you do in this show?
Ballet is the basis of all dance, and if you have that kind of training you can do everything, even pole dancing. I'm not an expert, but it's about total body strength and being healthy. When I first started doing it, I YouTubed "how to dance on a stripper pole" and I watched some videos. I'd come to rehearsal a little bit early when no one was there, and I still work on it, and have the girls [in the cast] help me, just to make sure I don't make a fool of myself!

On You're the One That I Want, the judges commented about wanting to see your sexy side. You're showing it to them now!
My mom and dad and godmother were at the show last night, and to be honest, I was a little nervous having my father there [laughs]. It's certainly the most skin I've ever shown onstage. It took some getting used to, but I just make sure I take care of my body, 'cause everybody's looking at it every night.

Did you know your co-star Justin Matthew Sargent [Jeremy Jordan's understudy in Bonnie & Clyde] before Rock of Ages?
Justin and I auditioned for the Rock of Ages tour together a few years ago. That was the first time he had ever auditioned, and now we're doing the show together, which is awesome. He's the sweetest person to work with, and uber talented. I don't know how anybody can scream and growl and sing like that eight times a week; it's unheard of. I don't know where he gets his voice from. He's like an alien! [Laughs.]

If not for Rock of Ages, you wouldn't have met your fiance, who was a swing in the show when you auditioned.
I saw Jeremy singing [in an online video] while I was auditioning for Rock of Ages, and I was like, "Wow, he can really sing." It's a huge turn-on! So we started messaging each other on Facebook about Rock of Ages, and he was really helpful. The best advice he gave me is that you have to stay true to the script, because it's so smart and so funny—it's just brilliantly written—that it doesn't have to be over the top. As simple and as honest as you can play it is the best thing.

Did you get to see Jeremy perform in Rock of Ages?
I got to see him do Drew a couple times, Franz and one of the ensemble tracks. I saw the show a lot in the very beginning because we had just started dating.

Where did you go on your first date?
We went to Trattoria Trecolori, which is now our favorite restaurant. It's on 47th Street, and I used to go there a lot because Grease was [next door]. I've actually worked there between jobs on Broadway. We decided to meet there one night, after he got out of Rock of Ages, and it was history. Now we're getting married!

We're dying to hear more about the wedding!
We're getting married in September, and everything is in place. There are a few last-minute details, but all of the big things are taken care of. Our colors are purple and green, they're my two faves. We're getting married in my hometown, Canton, Ohio. We just moved into a new apartment, and my family was nice enough to come and help us get everything set up, and enjoy the fireworks for the 4th of July. Now Jeremy's about to start Smash, which is so exciting, so we had to move before he starts shooting.

Would you ever do another reality show?
[Laughs] No. People have asked me, "Would you do it again?" I would never take it back for anything in the world, I think it was a good thing for me, and it got me out there. I'm lucky to be working on my fourth Broadway show, and that comes with a lot of work and dedication. But I think I'm done with the reality TV thing.

What about Dancing With the Stars?
That would be a blast. I've always wanted to get into ballroom dancing, and really learn how to do that. It looks like so much fun. They always look like they're having a ball…ballroom dancing! [Laughs.] I don't think I could get Jeremy to come take classes with me, but maybe I'll take some.

You left Priscilla Queen of the Desert last year to get foot surgery. How are you feeling now?
It's a bone structure issue that I've had since I was 13, and dancing on it caused a lot of problems. I was in a lot of pain and I made a decision to finally take care of it because I wanted to be able to continue to work. It was holding me back from wearing fabulous shoes.

You're wearing some great ones in Rock of Ages.
I'm used to wearing the three-inch boots now and they're pretty massive. I never would've been able to wear those shoes before my surgery. My feet were so bad, but now I'm in a lot less pain. I work my butt off and go to physical therapy. It's been great. I wanna have these feet for a long time!

Do you and Jeremy sing around the house together?
We both like the same music, like Sara Bareilles and Gavin DeGraw. We'll sing in the shower or whatever, but we try to be as quiet as we can in the vocal department. We have so much singing to do in our shows, so we try to preserve our voices. But Jeremy was singing this morning in the living room! He was just putting some stuff away and I heard him singing.

Have you guys had any time to relax after the Tonys?
Today was the first day. We had a two-hour window where we went outside and took a break from unpacking—we have a pool deck that overlooks New York City. We don't get the same day off, he's got Thursdays and I have Wednesdays off, so that stinks. But we're about to go to the grocery store and get some corn on the cob and some chicken, and sit down and eat together. We're trying to do stuff like that as much as we can before he starts Smash. I always joke with him—when he booked Smash I said, "I'll see you at the wedding!" [Laughs.]

What's the secret to starring on Broadway and maintaining a successful relationship?
We're very supportive of each other. There are so many ups and downs in this business. He and I have been together for three years, and I certainly haven't been working consistently for three years, and he's had months where he hasn't been working. But we're huge support systems for each other and we find a really nice balance. When we come home, we shut work off and try to get out and do things together. He's an amazing man, and he's my best friend.
See Ashley Spencer in Rock of Ages at the Helen Hayes Theatre.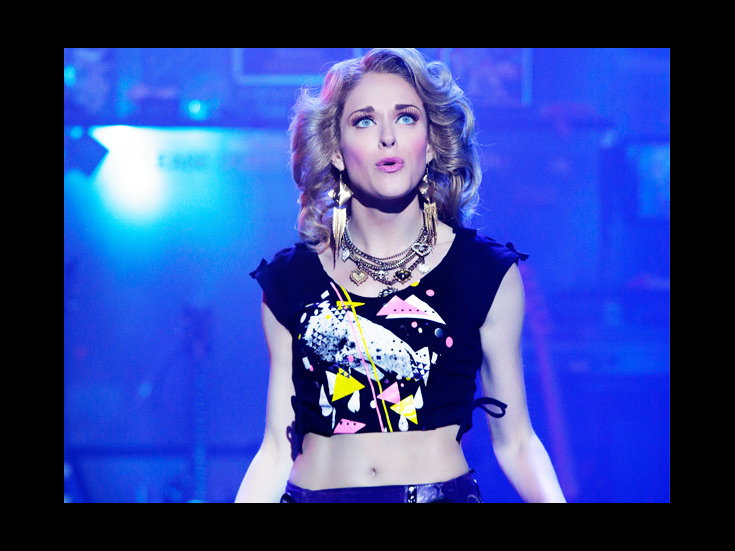 Ashley Spencer in 'Rock of Ages'