In the corporate world, employees leaving a job are often asked to sit through a sometimes grueling "exit interview" about their time at the company. Although that concept doesn't exist for Broadway performers, we think it's fun to check in with stars as they finish up a successful run. Below, Spider-Man, Turn Off the Dark star Patrick Page, who will play his final performance on August 5, looks back on the nearly two years he spent playing the dual role of Norman Osborn and the villainous Green Goblin in the high-flying comic book inspired musical adventure.

Employee Name:
Patrick Page

Job You're Leaving:
Green Goblin in Spider-Man, Turn Off the Dark
Why are you leaving?
I'm doing another Broadway show, Cyrano de Bergerac, at the Roundabout.
Date of departure:
August 5

Looking back, how did you feel when you first got the job?

Elated, mystified and grateful.

And how do you feel now that you're leaving?

Grateful, sad, hopeful and happy.

What are three words you would use to describe your experience at the job?
The best ever!

What was the easiest thing about the job?

Loving my company.

What was the hardest thing?

Eight shows a week in full prosthetics.

What was the highlight of your time at the job?

Working with Julie Taymor and Phil McKinley.

What skills do you think are required for future job applicants?
Vocal chords of steel and a good attitude.
What advice would you give to future employees in your job position?
Have the time of your life!

How do you think you've grown during your time at the job?
Immeasurably.
What will you miss most about the job?
I will miss seeing my Spidey mates everyday, singing Bono and the Edge's music, playing with the audience, watching the joy in the eyes of the kids in the house and feeling part of something unique and historic.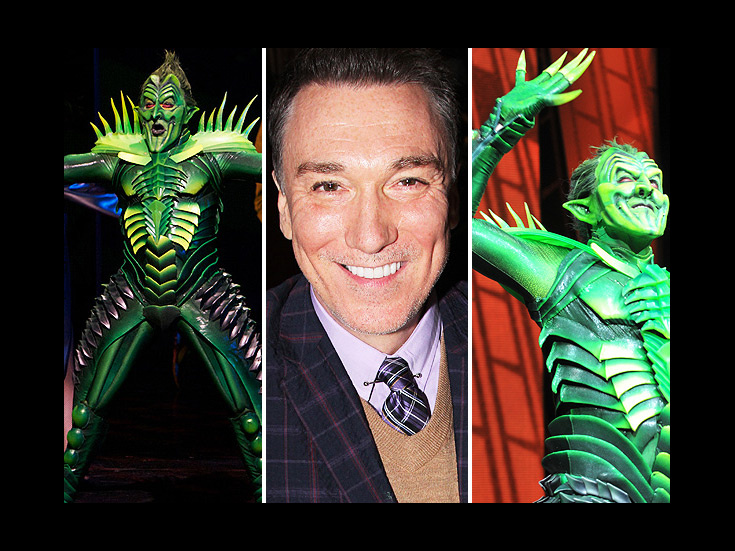 Patrick Page in 'Spider-Man,' being honored at Sardi's and at the opening night curtain call