Even the greatest sleuths can't get to the bottom of Charles Dickens' The Mystery of Edwin Drood, a novel that was left unfinished when the author died suddenly halfway through writing it. A century later, Dickens' fragmentary story inspired a zany 1985 Broadway musical, which is back on Broadway this fall in its first major revival. Before cracking the case, we dug up the Dickensian dirt on this infamously incomplete mystery.



Death, Dickens and Drood
British author Charles Dickens created a host of famous literary characters who meet their demise by the turn of the last page: Miss Havisham went up in flames; Sydney Carton lost his head; even Jacob Marley was already dead on page one. But the fate of one famous Dickens character—young Edwin Drood—remains entirely unknown, almost 150 years after the author's death. Why? Well, he never finished the book.

Dickens began writing what would become his final novel, The Mystery of Edwin Drood, in 1870, with the plan of releasing a new installment every month for a year. The story follows the title character, an ordinary man whose sudden disappearance throws the fictional townspeople of Cloisterham into a panic. Suspicions arise about who may be responsible for Drood's vanishing, and the cast of potential culprits includes Edwin's fiancée, Rosa Bud; his jealous uncle, John Jasper; and vengeful twins Neville and Helena Landless.

On June 8, 1870, Dickens suffered a stroke in his home while working on the 23rd chapter. He died a day later, thus leaving the ending of The Mystery of Edwin Drood…well, a mystery. Of the 12 installments planned for the story, Dickens had published only three and penned three others. In a curious irregularity, Dickens did not leave behind any notes for the remaining chapters, and so the story's biggest question—the fate of the disappeared Edwin Drood and the identity of his ostensible murderer—was left unanswered.



The Mystery of the Mystery
The unfinished ending of The Mystery of Edwin Drood is as much a part of the Dickensian oeuvre as any of his completed works, and the Mystery's mystery has puzzled literary experts through the ages. The novel's ambiguous non-conclusion begs three questions: Was Edwin Drood murdered? If so, who did it? And which character goes undercover as Dick Datchery, the shadowy detective who appears on the case six months after Drood's disappearance?

In a biography of the author, John Forster wrote that Dickens had revealed to him that "the story…was to be that of the murder of a nephew by his uncle." Additional evidence unearthed over the years, including testimony from Drood's illustrator, Luke Fildes, and Dickens' son, Charles Jr., supported the idea that Edwin was in fact killed by his uncle, Jasper. This deduction is generally agreed upon, but nevertheless, no theory about Drood, Jasper or Datchery has received the happy honor of being unanimously accepted.
No wonder the story of poor Edwin Drood remained fascinating over the next hundred years to writers of all kinds—not to mention a 20th century composer who first found fame with the pop hit "Escape (The Pina Colada Song)."



Pick An Ending, Any Ending!
Almost immediately after Dickens' death, some Droodians chose to tackle the story themselves. Henry Morford published a series continuation that found Edwin Drood alive and revealed two identities of detective Datchery. Morford's entry, titled John Jasper's Secret: Sequel to Charles Dickens' Mystery of Edwin Drood, was even rumored to have been authored by Charles Dickens Jr. Other adaptations, including one by an author who claimed that Dickens' spirit had actually possessed him, did not receive such high praise.

Thus, the enigma of Dickens' incomplete text has been left to those who interpret the novel in other media. There have been Drood radio programs, television miniseries, big-budget movies and even a mock trial for John Jasper, staged in London in 1914 and featuring George Bernard Shaw as a wisecracking jury foreman. (The verdict? Everyone was guilty.)

Because a successful movie hinges upon having an ending, filmmakers who adapted The Mystery of Edwin Drood for the screen were forced to fill in the blanks. Universal Pictures' 1935 film adaptation revealed John Jasper (played by Claude Rains, above left) as the killer and Neville Landless as Dick Datchery. A 2012 BBC miniseries also indicted Jasper (played by Matthew Rhys, above right), but elected town clerk Bazzard as Datchery. Despite continuing interest and variations from scholars, filmmakers and writers, arguably the most successful interpretation of the piece came in 1985, when Drood found musical life in a new home: Broadway.



A Most Distinguished Musical
Pop composer Rupert Holmes' musical version of Drood was inspired by his interest in British pantomimes and the Victorian-era music hall tradition, including garish costumes, cross-dressing leads and audience participation. Holmes had been urged to try his hand at a musical by Gail Merrifield (the wife of Public Theater head Joseph Papp), who had been impressed by the composer's performance of his own story-songs at a nightclub in 1983.

Because he felt Dickens' story was too dry for a Broadway musical, Holmes conceived the show as a play-within-a-play, with the actors playing dual roles as Drood characters and the fictional English music hall thespians portraying them. "[The musical] has the same relationship to Dickens that Kiss Me, Kate does to The Taming of the Shrew," Holmes explained to the Chicago Tribune. Also in keeping with music hall tradition, Holmes opted to have the lead character of Drood be played by a cross-dressing woman.

Holmes wrote the book, music, lyrics and orchestrations for the show—an impressive feat in itself—but the real draw of Drood was his groundbreaking choice to allow the audience, rather than himself, to finish the story. In the show's second act, the action abruptly stops where Dickens finished writing, and the audience is left to vote between eight potential detectives, seven possible murder suspects and six would-be lovers to give the story a decidedly happy ending.
The Mystery of Edwin Drood debuted in August 1985 at Central Park's Delacorte Theater, an ideal venue for such a rollicking show. Tony winner Betty Buckley played the title role and actress Alice Nutting in a cast that also included George Rose, Cleo Laine and Howard McGillin. Buoyed by good reviews, a revised version opened at Broadway's Imperial Theatre on December 2, 1985. Eventually renamed Drood, the show ran for 608 performances and received 11 Tony nominations, winning five awards, including Best Musical.



Edwin Drood Breathes New Life
In the spring of 2012, Roundabout Theatre Company announced that its fall season would include the first Broadway revival of The Mystery of Edwin Drood, with legendary Broadway star Chita Rivera taking on the role of opium den madame Princess Puffer. "This is all new for me," Rivera told Broadway.com of headlining the show's first major staging in more than 25 years. "We're discovering it every single day." Five-time Tony nominee Scott Ellis, who showed his talent for period musicals with Curtains, signed on to direct.

A host of Broadway stars joined Rivera in the cast, including Stephanie J. Block in the title role, Will Chase, Andy Karl, Jessie Mueller, Jim Norton, Gregg Edelman and Betsy Wolfe. Performances began on October 19, and early buzz among theatergoers made Drood one of the hottest tickets in town—and with almost 400 different variations, performances are rarely the same.

"This show hasn't been done in so long, and there are so many people that don't know the show at all," Wolfe, who plays frequent murderer choice Rosa Bud, told Broadway.com. "I think that people are going to be in for a real treat." A treat so good, in fact, it may be worth dying for!

Crack the case of The Mystery of Edwin Drood at Studio 54—and make your own decision about how the story should end!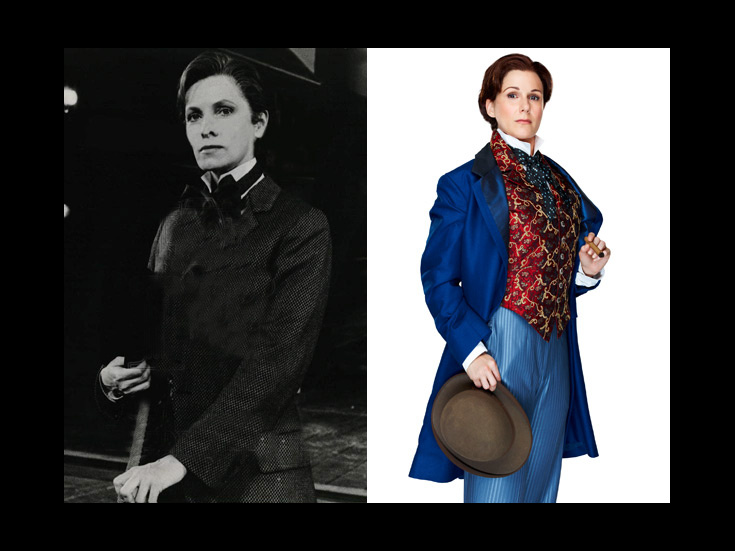 Betty Buckley & Stephanie J. Block in 'The Mystery of Edwin Drood'