Here's a quick roundup of stories you may have missed today.

Hang Out With Javier Muñoz at Hamilton
Want to be in the room where it happens with Javier Muñoz? Of course you do. The Hamilton headliner has teamed up with online giving platform Omaze for a competition to win a free trip to NYC to catch the Tony-winning tuner and have a backstage hangout with Muñoz himself. It's all part of this holiday season's SHOPATHON ​to support the global fight against AIDS and you can donate as little as a ten-dollar bill (naturally); check out the full details here.

Conga Into 2017 with Gloria Estefan and the Feet! Cast
Gloria Estefan and the On Your Feet! cast, led by stars Ana Villafañe and Ektor Rivera, will perform live in Times Square this New Year's Eve as part of Dick Clark's New Year's Rockin' Eve with Ryan Seacrest 2017. "It was Dick Clark himself who invited me to perform on the American Music Awards following my accident and recovery. And now, 25 years later, I am thrilled to be a part of their incredible New Year's Rockin' Eve with my sensational Broadway cast," said Estefan in a statement. The show airs on ABC.

Celebrate the Holidays With Jay Alan Zimmerman
Want to get into the seasonal spirit? Jay Alan Zimmerman's Naughty & Nice Holiday Songbook will play in the Bruno Walter Auditorium at the New York Public Library for the Performing Arts at Lincoln Center on December 10. Performers tapped for the concert include Tony Ramos, Stephanie Joiner, Doug Shapiro, Stephen Drabicki, Jonathan Fisher and Matt Case. Show time is scheduled for 2.30PM and admission to the event, hosted by John Znidarsic, is free.

Liev Schreiber on Playing 'the Cad'
Liev Schreiber is currently headlining Les Liaisons Dangereuses and on December 1 he stopped by LIVE with Kelly to chat about the Broadway revival. "I'm the cad," he helpfully explained about his role of Le Vicomte de Valmont. The Tony winner only met co-star Janet McTeer the day they did that sexy photo shoot, leading Schreiber to joke that when he assessed his career options back in the day, he went for: "this one where you make out with people as soon as you meet them, that looks like a good gig." The production is set to run through January 8, 2017 at the Booth Theatre.



P.S. Hairspray Live!'s Derek Hough appeared on The Ellen Show and chatted being Mark Ballas' best man, plus where he's afraid of flubbing his lines during a certain live telecast...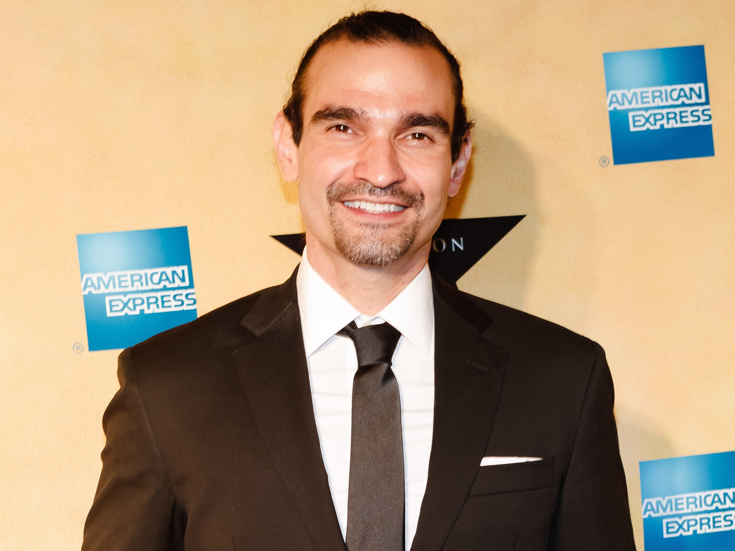 Javier Muñoz (Photo: Emilio Madrid-Kuser)