Seven years ago, it was announced that Lauren Ambrose would be playing the coveted role of Fanny Brice in the Bartlett Sher-directed Broadway revival of Funny Girl. Though the production never made it to the Great White Way, Ambrose is now starring in the Sher-helmed hit reincarnation of My Fair Lady at the Vivian Beaumont Theater and is having a loverly time doing so. She's earned a 2018 Tony nomination for her spunky, sparkling performance as Eliza Doolittle. Not unlike the iconic character's transformation, this musical theater milestone is truly a metamorphosis to witness, especially for those that know and love Ambrose from her Emmy-nominated time on HBO's Six Feet Under, the cult classic film Can't Hardly Wait and her past Broadway performances in the plays Awake and Sing! and Exit the King. The classically trained soprano stopped by on Show People with Paul Wontorek to talk about her least favorite haircut of her career, how she's been "threatening" to be in a musical forever and why My Fair Lady feels like the perfect first fit.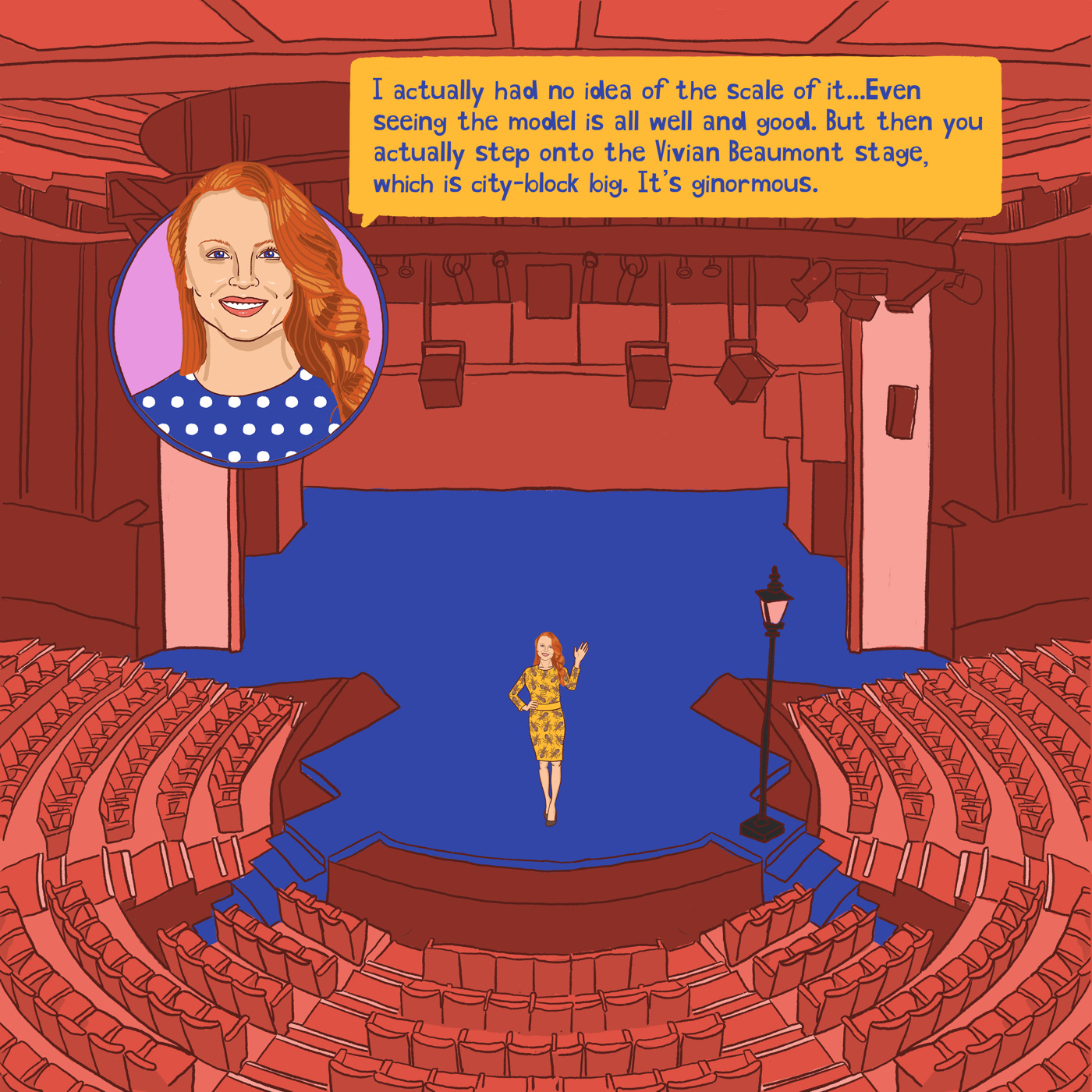 1. SHE FEELS LIKE AN ANT ON THE VIVIAN BEAUMONT STAGE
"I actually had no idea of the scale of it. It's one thing to get the part and learn the part and learn the songs. Even seeing the model is all well and good. But then you actually step onto the Vivian Beaumont stage, which is city-block big. It's ginormous. That actually quelled my nerves. I was like, 'No matter what I do out there, I'm like an ant compared to the set.' 80 percent of my job is done."
2. SHE THREW HER HAT IN THE RING FOR MY FAIR LADY VIA EMAIL
"I emailed Bart Sher and was like, 'Bart, I would like to throw my hat into the ring. My enormous, basket hat. I'd like to throw it into the ring. If it's possible, I'd love to come in and audition.' And he said, 'Alright.'"
3. SHE THOUGHT HER CAN'T HARDLY WAIT DO WAS A TOTAL DON'T
"That movie means a lot to people. It was a big part of their growing up it seems. My only problem was the haircut they gave me for that movie. I want to find that hairdresser and just ask her, 'What did you do to me?! Why?!' I went in really green, and they were like, 'We're going to give you a really cool haircut.' It was like they took a bowl, and put it on my head."
---
Other must-read highlights:
ON TAKING ON MY FAIR LADY AS HER FIRST MUSICAL
"Having the opportunity to do this musical is an incredible honor. This feels like a great responsibility because people care so deeply about this piece. It's woven into our culture. I feel a responsibility to Eliza and to doing my best for everybody. But I also feel like I'm in really great hands with this production. I really trust the people that I'm collaborating with. I feel like I really truly learn new things every night about this show. I can't imagine doing anything else. My total joy in life is to get to tell stories with others in this way. There's nothing like it. This is my first opportunity to work in this medium. It's tricky and it's nerve-wracking and it's glorious."
ON HER CO-STARS
"Harry Hadden-Paton is just a lovely actor and an incredible person. Allan Corduner has brought so much of his warmth to the character of Colonel Pickering. He's such a pro and such a veteran and does things with such wit and ease. Linda Mugleston is Mrs. Pearce, and she's amazing. Norbert Leo Butz is a master class in energy. We don't have that much to do together. I would sneak in and watch his rehearsals of 'Get Me to the Church on Time' and was astounded. And look, when Dame Diana Rigg asks you if you want a glass of prosecco, you take a glass of prosecco. I feel inspired by her ease and her presence. Both Lauren and Eliza are learning from her."
ON THE COVETED ROLE OF ELIZA DOOLITTLE
"This is one of the great parts for women. She has such an incredible journey. I feel like I'm still figuring it out. I'm still learning how far she goes. Every night, you just jump on a train. Sometimes I feel like the engineer of the train, and sometimes I feel like I'm holding on for dear life."
ON HER TEENY-TINY ENTOURAGE
"I have to be mindful of my voice and how often I use it when I'm not onstage. Fortunately, my five-year-old is learning sign language, so we practice at home. My kids know the whole score. I feel like both of them could go on for me at any minute. They know the whole backstage. They could give tours."
ON FUNNY GIRL FALLING THROUGH
"They were building the sets. I had seen the costume sketches. There were posters all around Los Angeles because we were going to do an out-of-town engagement there. Obviously it was a bummer, but as an actor, really, truly, it's easy come, easy go. These things come together and fall apart all the time. I've been threatening to be in a musical for what feels like hundreds of years. For whatever reason, it hasn't worked out until now. We were two weeks away from rehearsals. But here we are."
ON A SIX FEET UNDER REBOOT
"I remember shooting the scenes. It feels like a little bit of a document of my life. It would be fascinating [if they did a reboot]. You'd have to convince Alan Ball."
ON HER TONY AWARDS 'WORMHOLE'
"I was Googling past Tony performances. I got myself into a wormhole that I highly recommend everybody get themselves into. Patti LuPone in Evita! Jennifer Holliday in Dreamgirls. She was like 21 years old and doing that eight show a week with some sort of titanium vocal chords. How?! How, Jennifer Holliday?!"
ON HER LIFELONG THEATER LOVE
"I saw Anything Goes with Leslie Uggams at the Shubert Theatre in New Haven when I was six or seven. I really did always want to do theater. I auditioned for a lot of things and retrospectively, fortunately didn't get anything but these off-Broadway shows that introduced me to this world and this community of people that were working in the theater. I just thought, 'Look at this. Look at these grown-ups making their life this way. This is a way to make a life, and this is an amazing community.' I just thank my lucky stars that I get paid to do what I love. I love the process of working on a play. I love rehearsal so much. New York can be so tough, but the community in the theater is so warm and glorious. I'm just so grateful for every single person I'm working with right now."
Watch the full episode of Show People with Paul Wontorek below!

Interview has been edited and condensed for clarity.

Did you know Show People is available as a podcast? Listen to your favorite stars talk Broadway and beyond on your way to work, the gym, the theater and more on iTunes and Spotify.