Tony-nominated for bending and snapping as Paulette in Legally Blonde, Orfeh is now back on the boards as another beltress BFF: Kit De Luca, the wise and sassy working girl who's got Vivian Ward's back in Pretty Woman:The Musical. Her powerhouse stage presence and one-of-a-kind vocals have made her a Broadway favorite. Orfeh recently opened up about learning the ropes of the Great White Way during her Footloose days, how she sees the glass as half full after the end of Or-N-More, why her co-star and hubby Andy Karl's onstage lip locks don't bother her and so much more on Show People with Paul Wontorek.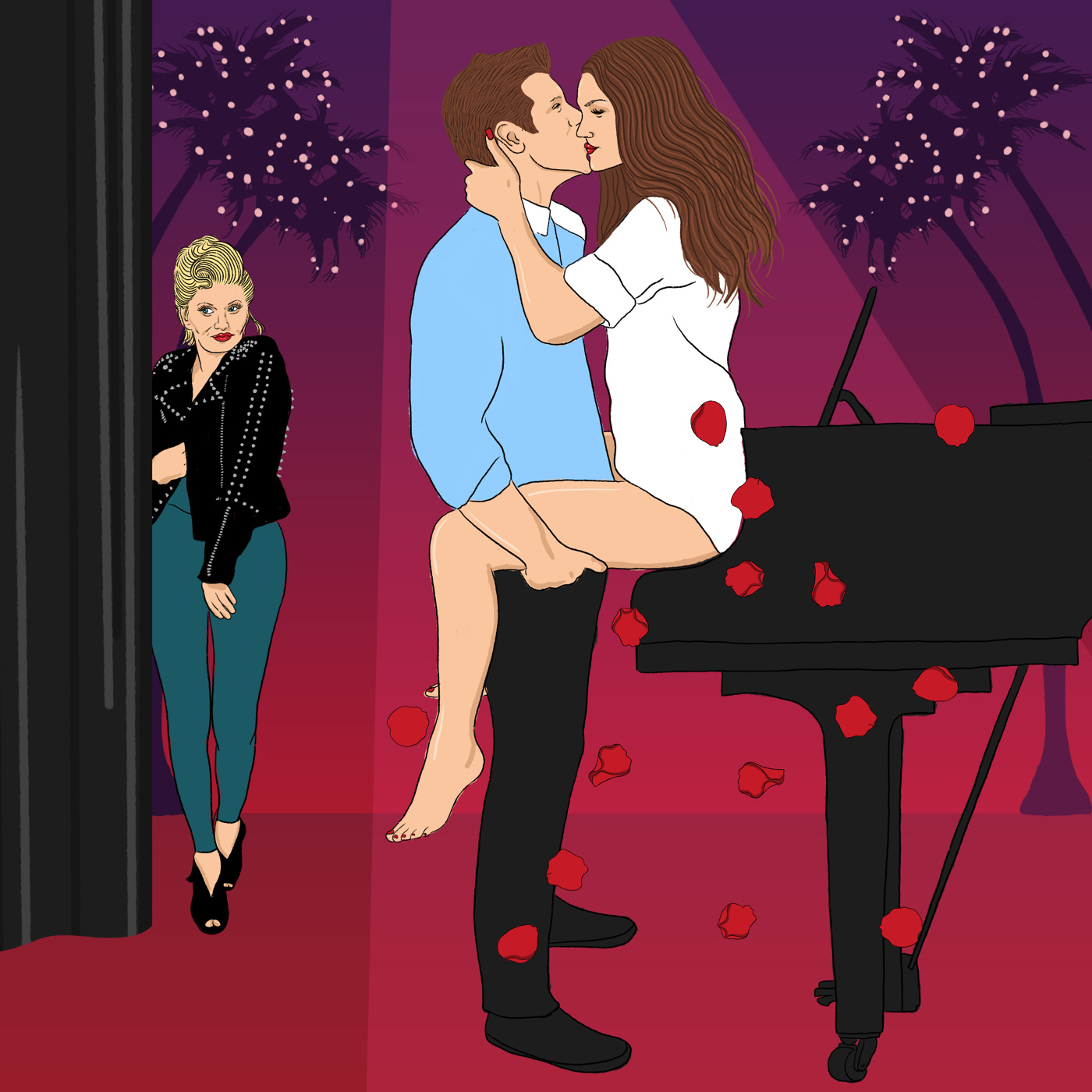 1. SHE'S NOT FAZED BY HER MAN'S ONSTAGE MAKE-OUT SESSIONS
"I wouldn't have married Andy and spent the last 17 years of my life with him if there wasn't a tremendous amount of trust. There are certain things that don't phase a long-married couple, and I love and trust Samantha [Barks]. There's no shenanigans going on. Honestly, I'm in the wings with Tommy Bracco and Eric Anderson when they're doing their big piano lovemaking scene. Literally, our entrance is seconds after the piano goes off. I have to be reminded that that's going on behind me because we're so busy catching up and chatting and having a good time and gossiping about whatever. My defining characteristic trait in life as a human being is that I'm cool. Things that might phase other people generally don't phase me."
2. SHE WASN'T A BROADWAY BABY
"A.C. Ciulla was one of my lead male dancers in my troupe in my recording career. A.C. called me up one day, and he's like, 'Hey! I'm choreographing Footloose. You want to come audition? They need a swing.' He might as well have been speaking a foreign language to me. I showed up for my audition in combat boots, overalls and a tank top with a hat. It was not good. He was like, 'Bring your book.' I thought he meant to bring a book to read in the waiting room. I brought my Mariah Carey Unplugged. I sang songs from that for a good six years of auditions."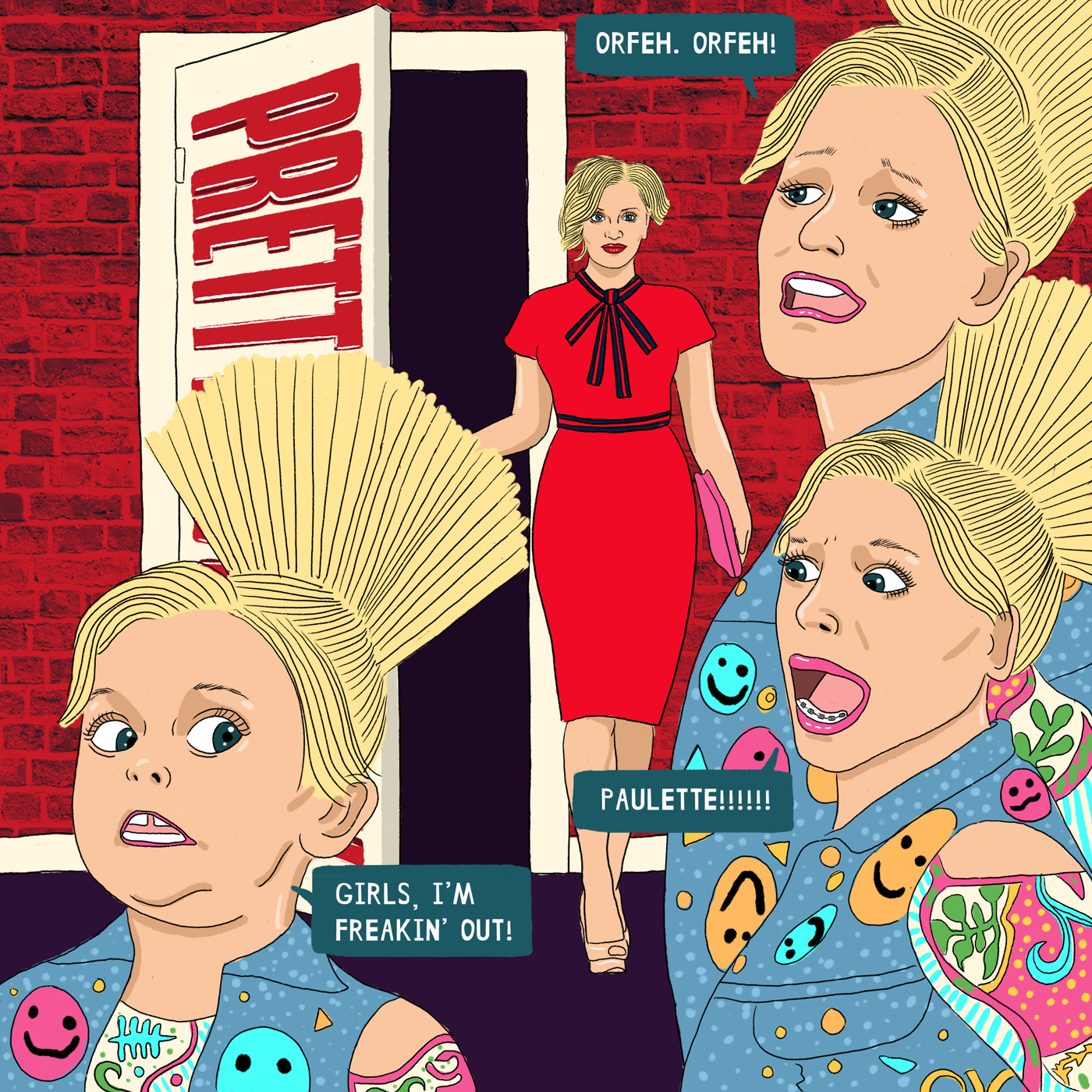 3. THERE'S ALWAYS LEGALLY BLONDE LOVE AT THE STAGE DOOR
"They do enjoy Kit, and they'll say wonderful things about Kit, but most of their opening lines are, 'Legally Blonde changed my life.' 'I'm in musical theater because of your part in Legally Blonde.' 'I just played Paulette.' I get it at the stage door all the time. Legally Blonde is just about as close to a perfect musical as you can get."
---
Other must-read highlights:
ON SEEING THE PRETTY WOMAN MOVIE FOR THE FIRST TIME
"We were all obsessed with it. I grew up in Murray Hill, and there was a big, very highly frequented movie theater on 34th where I have, at some point or another, sat next to Ben Affleck, Matt Damon, Tom Cruise—you name it, they all went to this movie theater. I used to love to go to the movies alone. It was like my decompression, meditation thing. I'd look to my side, and I'd go, 'Oh my God, it's Ben Affleck and Matt Damon. I could have put on a little lip gloss.' But I remember very specifically going to the movies with a group of my friends, and we just lost it. We all wanted to be discovered by Garry Marshall and wind up being a big megawatt movie star like Julia Roberts. We all fell in love with Richard Gere. It was one of those movies that became an instant phenomenon because it was so incredibly charming. Garry Marshall had this amazing knack for casting. It's just flawless."
ON BOOKING PRETTY WOMAN
"When Jerry Mitchell heard 'Rodeo Drive,' he literally just stopped everything. He was like, 'Just stop! Everybody just stop! I know who's going to sing this song! There's nobody else who can sing this song. I'm getting her on the phone.' That was honestly how it happened. That's honestly how I got this part."
ON HER BRYAN ADAMS FANDOM
"Nothing could be better. Could you imagine? You grow up, and you wind up doing a Broadway musical with one of your childhood music idols. I would sit in my bedroom—if you could call it a bedroom. It was a closet with a bed. New York City childhood! I would sit there and practice 'Summer of 69' on my rickety guitar. I could sing all of Bryan's songs, and he knows it because I drive him crazy. I'm always running up in his face and going 'BRYAN ADAMS!' I drive him crazy. It's hilarious."
ON MEETING JULIA ROBERTS
"Julia Roberts came to one of our early previews. It was a special event honoring Garry Marshall. She is every inch the movie star. She was so genuinely moved and took time to speak to every single person in the cast one on one and hold them. She had something wonderful to say to everyone. It was amazing. She spent so much time with us. We all knew she was there, and Samantha didn't know she was there. When she found out, the reaction that she had was priceless."
ON GARRY MARSHALL
"I knew Garry Marshall, and Andy worked with him on the Happy Days musical. The whole Marshall family has been very supportive of Andy's career. They've gone to every musical he's been in. The very first half act table read that Ellyn Marsh and I did years ago, Garry was still with us. This was one of his big, big passion projects. He's been working on getting this to the stage for a long time. We were very lucky enough to get to be with him and talk to him and have fun with him. My God, he was just as funny as you wished he was."
ON BEING TEAM ANDY KARL
"I'm his biggest fan on God's green earth. Listen, of course people are going to say, 'Well, of course, she has to think that.' It's like your mother telling you you're good-looking. But when I say what I say or feel the way I feel about Andy, it's because he is one of the most gifted, brilliant actors I have ever had the good fortune of seeing. If you didn't know that before Groundhog Day and you saw Groundhog Day and you don't think that, then I can't help you. It was one of the most tour-de-force performances I have ever seen anybody give in my life. I don't think there's another soul that could do that role that way. I'm sure there are other people who can bring their own bend and slant to it, but he's brilliant. He's brilliant, and he's a good person. What else is there?"
ON FALLING FOR ANDY KARL DURING SATURDAY NIGHT FEVER
"He was instantly amazing. He learned the whole show in seven days. Saturday Night Fever was no joke. The choreography was unbelievable. He was understudying Tony, and he got to go on a lot as Tony. He was thrown into the fire. So, getting to work with him—I just immediately knew. He was so young. I was just like, 'Wow, this guy is amazing.' He had the whole John Travolta thing down. I was like, 'Look at this great-looking character actor. How does that happen?' I instantly knew how gifted he was."
ON OR-N-MORE AND THE BIG PICTURE
"It still hurts. I miss being on a trajectory to be a pop star. That is really all I ever dreamed about or envisioned for myself from the time I was six years old. Everybody that could have taken gross and egregious advantage of us did. You're too young to know better, and you're immediately labelled a failure. And then there's the logic that comes with growing up. The people that I grew up worshipping and loving and wanting to be in the music business because of—Prince, Whitney Houston, Michael Jackson—they're gone. In my heart, of course, I would like to think I'd be on my 20th studio album with a shelf full of Grammys and writing for this person now and I'm sitting in the studio calling the shots or doing what Bryan Adams and Jim Vallance are doing right now. You don't know that that's how it would have turned out. Because it could have been that. Or I could have peaked at 25 and been begging people to buy my old merchandise at a convention right now to pay my rent. I'm really freaking glad I didn't peak at 25 because we're older a lot longer than we are young. I am always forging ahead. I'm harder on me than anyone could possibly ever be. Ever! But I realize that I still get to sing for a living for live audiences. I get to be around a lot of creative, beautiful, fabulous, energetic people, and I get to meet new people all the time. That's a really big blessing. I can't be that down on myself."
Watch the full episode of Show People with Paul Wontorek below!

Interview has been edited and condensed for clarity.

Did you know Show People is available as a podcast? Listen to your favorite stars talk Broadway and beyond on your way to work, the gym, the theater and more on iTunes and Spotify.