Elton John at the 2020 Academy Awards
(Photo: Kevin Winter/Getty)
Elton John, the Tony-winning composer of Aida, triumphed at the Academy Awards on February 9, winning an Oscar for Best Original Song. John, who also composed the scores to Broadway's The Lion King and Billy Elliot, received the biopic treatment this year with Rocketman and won for the film's new song, "(I'm Gonna) Love Me Again."
The Best Original Song category featured performances from two other Tony winners, Cynthia Erivo and Idina Menzel. Erivo, who was nominated for two Oscars this year as the star of Harriet—Best Original Song and Best Actress—performed the film's anthem, "Stand Up," which she co-wrote. Menzel performed Frozen II's "Into The Unknown," written by EGOT-er Robert Lopez and Oscar winner Kristen Anderson-Lopez, who also co-wrote Frozen and its Broadway adaptation.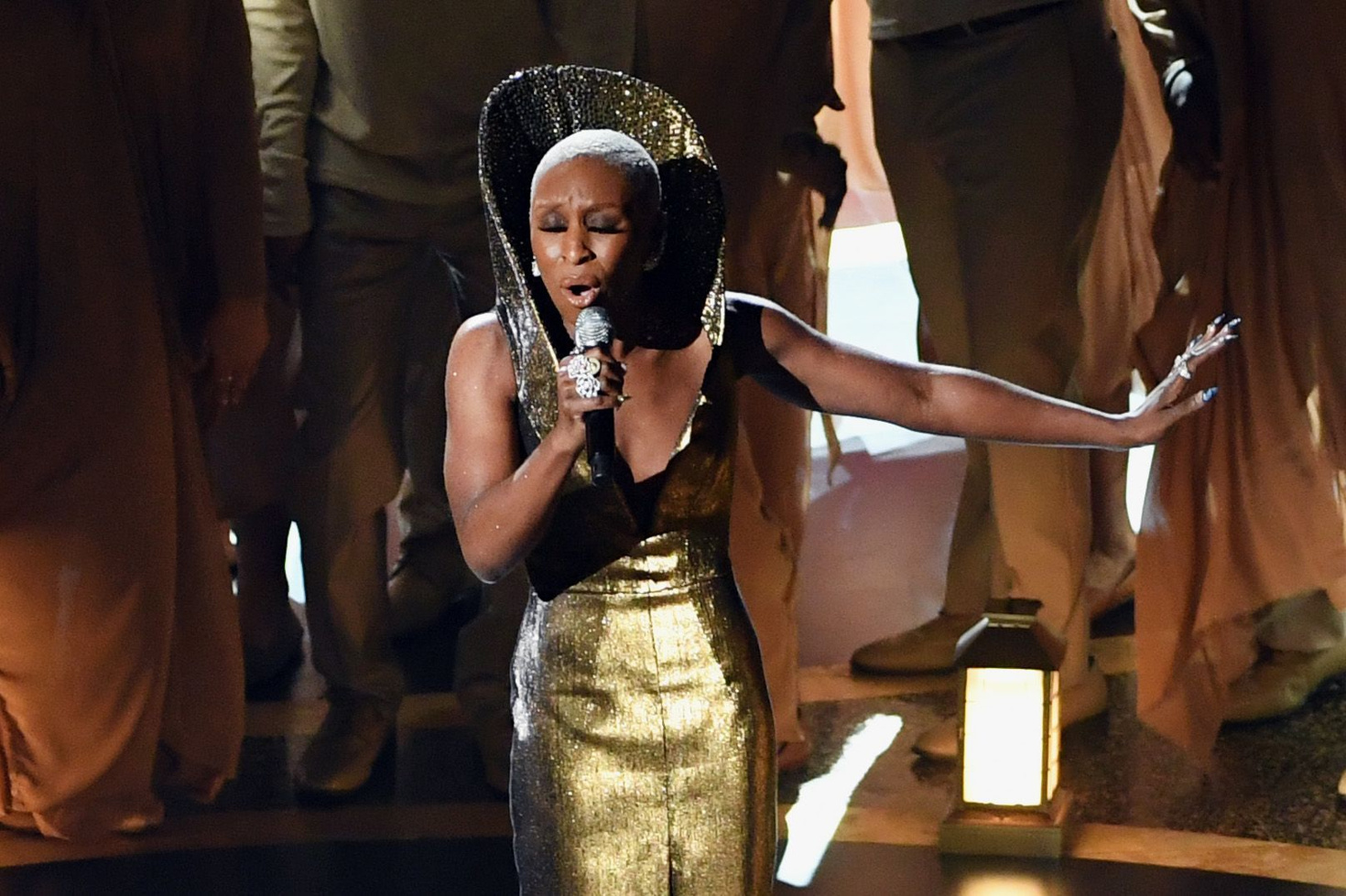 Reneé Zellweger, who has never been on Broadway, but celebrated stage and screen legend Judy Garland on film this year, took home the Academy Award for Best Actress. She was nominated for the same award in 2002 for playing Roxie Hart in the musical adaptation of Chicago, and she won her first Academy Award in 2004 for Cold Mountain. Judy, which chronicles Garland during the tragic last year of her life, was adapted for the screen from the Broadway play End of the Rainbow by Peter Quilter.
"This past year of conversations celebrating Judy Garland across generations and across cultures has been a really cool reminder that our heroes unite us," said Zellweger when she accepted her award. "Though Judy Garland did not receive this honor in her time, I am certain that this moment is an extension of the celebration of her legacy that began on our film set and is representative of the fact that her legacy of unique exceptionalism, inclusivity and generosity of spirit transcends any one artistic achievement. Miss Garland you are certainly among the heroes who unite and define us, and this is most certainly for you."
A host of other Broadway stars rounded out the evening: Lin Manuel-Miranda honored music in movies, and Hamilton alum Anthony Ramos, offering a special nod to his upcoming lead role in the film adaptation In The Heights (see you next year, Oscars!), introduced Miranda. Fittingly, Tony winner James Corden took the stage with Cats film co-star Rebel Wilson to introduce the nominees for Best Visual Effects while dressed, of course, as cats. Tony winner Billy Porter was a ubiquitous presence on the red carpet and sang in the opening number, while Broadway alums Scarlett Johansson, Adam Driver, Al Pacino, Jonathan Pryce and Antonio Banderas, all nominated for Academy Awards this year, showed up for the biggest night in Hollywood.