The 1981-1982 Broadway season was one for the ages. Stephen Sondheim and Harold Prince's historic Broadway flop, Merrily We Roll Along, opened and closed in 12 days; a month later, Dreamgirls took its bow at the Imperial Theatre and, in February of 1982, Cher starred in her one and only Broadway credit, Come Back to the 5 & Dime Jimmy Dean, Jimmy Dean.
It was a busy season for Tony nominee David Alan Grier, too.
While Grier is back on Broadway this season in the lead role of Charles Fuller's A Soldier's Play, he rushed on to the theater scene in 1981 with three whirlwind roles. He left the Yale Drama School to make his Broadway debut as Jackie Robinson in The First, opening the show in November of that year. While he earned a Tony nomination, The First closed after 37 performances. Grier moved on quickly to join the first off-Broadway production of A Soldier's Play at the Negro Ensemble Company and, by April, took over his next project: replacing Cleavant Derricks in Dreamgirls. A role in the film adaptation of Fuller's drama, A Soldier's Story, would soon follow—all before his star-making turn on the TV sketch comedy show In Living Color.
Grier sat down with Paul Wontorek on Show People to discuss his lightning introduction to Broadway, long career on the stage and return to the Pulitzer Prize-winning A Soldier's Play.
Here are a few of the highlights:
On starring in The First: "There were many days where they would teach us a new song at 10AM, run through at it 12PM and put in the show at night. Then, they'd take it out the next day and try something else. I really didn't have a break, and I was like, 'This is what Mickey and Judy felt like.' My request to God, my spiritual request, after I graduated from Yale was, 'God, please just give me one job. If you give me one job, my parents can come. Then they'll see this wasn't all for naught.' Then, my prayer became 'Let us open on Broadway.'"
On his first Broadway closing: "I used to take the 104 bus down to the theater, and when it was our closing day, I took a cab. I was on 107th street, and I asked the cab driver to take me once around the park. I wanted to savor that moment because everything I asked for I had. This had been a gift. So, we'd go once around the park. You mourn in silence, in isolation. I came into the theater and everyone was crying. I just was enveloped in the sea of hugs, and it turned into an amazing day."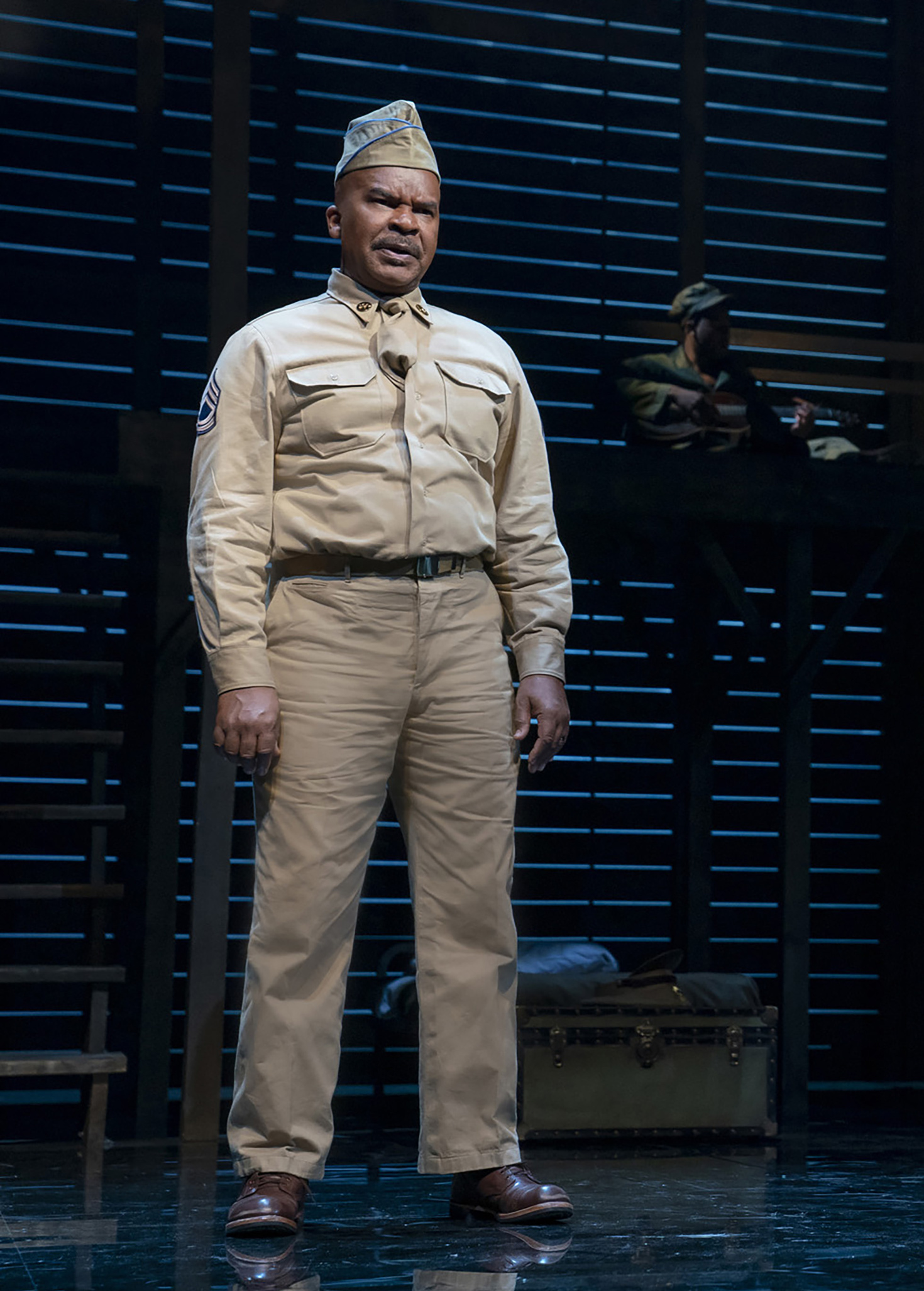 On rehearsing Dreamgirls while still cast in A Soldier's Play: "It was hard. I would rehearse all day. Then, I would perform [A Soldier's Play] at night. They had an equity cot, which was like this yoga mat underneath a table in the stage manager's office at [the Negro Ensemble Company's] Theater IV where I would sleep for an hour and then get up. When I was put into [Dreamgirls], I worked with Michael Bennett and all those guys. Jennifer Holliday would cheer me on, offstage. It became another great part of my life."
On returning to A Soldier's Play: "I was really talking with myself and the universe kind of going, 'Oh, I'd love to go back to Broadway, but I have a young daughter. It would have to be the right production.' You always want to be offered a role that you can't say no to. [Director Kenny Leon] called, and he said they're doing Soldier's Play on Broadway. And I said, 'Yeah, but for what role?' I think I was looking for a way to get out of it. And he said, the Sergeant. I was like, 'Oh man, let me think about it.' I knew I was going to do it, but I had to think a couple of days. I called him up, and I said, 'Listen Kenny, I don't know.' Kenny start cursing, he started cursing me out! And I went, 'I'm just kidding! I'm kidding. I'm going to do it.' Yeah, it was a bad joke."
---
Did you know Show People with Paul Wontorek is available as a podcast? Check it out on iTunes and Spotify.