Betty Who and the cast of "Hadestown"
(Photo: Matthew Murphy)
Betty Who strikes an imposing figure on the Walter Kerr stage. She's 6'1" without help. And boosted by the verdant goddess Persephone's heels and hair, she estimates her final height must be be around 6'7".
In an interview for The Broadway Show, Who remarks, "My height is always something I've been trying to live into and I struggle with." While Broadway.com Editor-in-Chief Paul Wontorek describes her onstage presence as "statuesque," she notes the lifetime of unease around the issue, even noting, "I wrote my whole last album about it."
The album to which she refers is her extremely personal 2022 album aptly titled, Big! Betty Who fans know it well, and may even be humming the tunes as they take a special trip to see Anaïs Mitchell's Tony-winning musical Hadestown—the debut Broadway credit for the singer-songwriter best known for her dance-pop Robyn-meets-Sara-Bareilles style. Who describes herself as an "underdog, culty, if you know you know" kind of artist, which tracks with the grassroots mobilization that made "Somebody Loves You" a hit single. She enjoys spotting the members of her proverbial cult in the crowd at Hadestown—donning their Betty Who t-shirts—but she also finds it disorienting as she tries to avoid fan service in order to sink into the complexity of Persephone.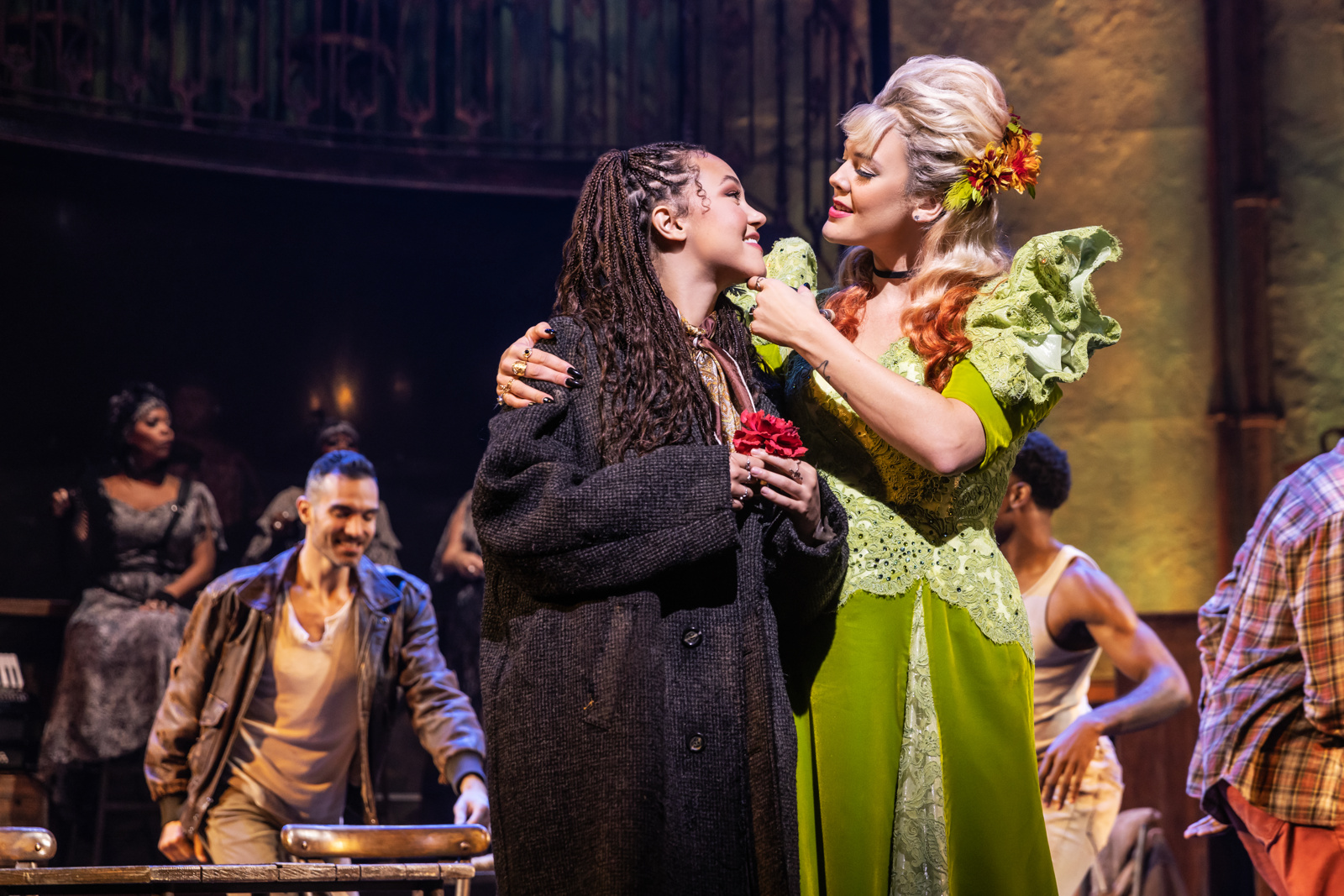 "I'm like, 'I'm not going to sing Somebody Loves You for you,'" she says, playfully tempering audience expectations. "We're going to have a different experience tonight." Meanwhile, she considers theatergoers who might be asking "Betty…Who?" to be a fun challenge. "I'm also really excited to be in front of new people who have never heard of me…and have this be the first introduction of me to them," she says. "It's so different from what I have done and normally do. But I'm bringing just as much rigor and trying to bring as much life to this performance as I possibly can—and make this goddess actually really human."
Who is seizing the opportunity that comes with each performance to "chip away" at her character, and each day at the Walter Kerr, she feels herself "thinking less and feeling more." But all-work-and-no-play it certainly is not, even if her muscles tell a different story ("I soak every night in salt because everything hurts").
"I mean it's truly a childhood dream come true," she says like a kid set loose in a toy store after-hours. "I keep looking around and touching things, being like, 'Is this real? Is this happening?'" She channels just as much giddy affection towards her castmates. She particularly loves basking in the glow of Broadway veteran Phillip Boykin: "He's literally my favorite person. I'm completely obsessed with him." Boykin plays Hades, Persephone's menacing other half who terrifies the Hadestown audiences with his despotic chant, "Why We Build the Wall." Offstage, Who enjoys calling him a "silly goose" with characteristic drollness.
---
"It's truly a childhood dream come true. I keep looking around and touching things, being like, 'Is this real? Is this happening?'" –Betty Who
---
The joy runs deep, as Who describes herself as "a theater kid at heart" who committed early to a musical path—but not the musical path she's known for today. "I was a cello player throughout my whole childhood and went to performing arts high school for cello," she explains. "But I was jealous of the theater kids the whole time. They did Seussical at my high school and I was furious that I wasn't in it. I didn't want to be in the pit. I wanted to be onstage." The cello and classical music, at the time, felt more practical than either theater or pop stardom. Now, however, she's getting to live every impractical dream she ever had.
"I did feel a little bit like, 'I'll take what I can get' about it," she says, looking back on her initial quest to find a Broadway show to call home. "The fact that I'm playing an incredible role in one of the best Broadway shows of all time is icing on the cake. Because I just wanted the cake in the first place." All the better that this cake happens to be tailor-made to her dimensions.
"My height actually being an addition to the story is something that I feel is really empowering me," says Who, who's grown accustomed to taking up the space reserved for someone fashioned on Mount Olympus. She's even noted improvements in her normal posture since sitting like a goddess became a daily practice. Goddesses, after all, have no fear of standing out. With every inch of their body and divine ethos, they freely declare to the world, "Look at how big I am."
"It's not like I need to be taller," Who demures in mortal fashion. "But here I am."