David Alan Grier scored his third Tony nomination this year as Catfish Row's drug dealing pimp, Sporting Life, in the acclaimed revival of Porgy and Bess. Grier, who became a breakout star in the 1990s sketch comedy show In Living Color, grew up in Detroit in the 1960s and graduated from Yale School of Drama. He made his Broadway debut in 1981 as Jackie Robinson in the short-lived musical The First and went on to write a book, star in TV and film projects and appear in Broadway shows ranging from A Funny Thing Happened on the Way to Forum to David Mamet's Race. Broadway.com chatted with the hilarious actor, who enlightened us on topics ranging from kissing Audra McDonald to vodka enemas.
It's been almost 15 years since you've been in a Broadway musical. What about Porgy and Bess lured you back?
In the 30 years I have been acting, [Porgy and Bess] has never been done in a way I could do the show. Also that [director] Diane Paulus and [music adaptor] Diedre Murray were doing it, the involvement of [writer] Suzan-Lori Parks and, of course, Audra McDonald—all those elements together were very intriguing.

On Tony nomination day, you mentioned feeling vindicated. What was it like for you when Sondheim attacked the show before the pre-Broadway run in Boston?
The morning that The [New York] Times came out, I actually thought it was exciting. I thought that theater was supposed to ignite passionate arguments, especially at a time I questioned if it even had the power to do that anymore. It seemed like this smaller and smaller circle of elites who argue amongst themselves and no one really cares about it. Theater is becoming that kind of entertainment; it's so expensive. A night for two people has become $500. Not everyone can afford that. There is only so high I can kick and so loud I can sing. So my initial reaction was it was exciting to see this passionate dialogue happening—I didn't feel our show was in jeopardy though.

What do you love about Sporting Life?
I didn't come to this with any preconceived notion, I just used the source material: He is a drug dealer; he is a pimp. How do I make that come alive and be true? I think there is a playfulness and a danger to Sporting Life, and how do I nail both of those and not just be this one-dimensional character?
Do you have a favorite part in the show?
Absolutely, it's that final scene when Audra [McDonald] and I are left alone on stage together. Based on my research of pimps, they want women who are vulnerable and have no other option and they totally take advantage. He uses the drugs to lure her and control her and get her. I don't think he cares about selling dope or bootleg liquor, I think the key to Sporting Life's psychology is turning Bess out and being a pimp. That's what he wants—he wants Bess!

What has been the highlight of your experience working with Audra?
It's all in that final scene. Sometimes I hate her, sometimes I love her, sometimes I think I am going to kill her. I check in Audra, we talk about it. I finally kissed her for the first time after months of doing it, and as soon as our lips touched, I felt I had swallowed all of her pain. Now, I am in the same hole she is in. It was surprising as an actor to discover this. I told Audra, and I said, "What do you think?" She said, "Well, let's keep working." That's the beauty; it's always evolving and changing. That's what I love about Audra—she is so game. She wants to keep digging and forging.

Are you excited for the Tony Awards? Do you feel like the favorite?
I don't care about that. I really don't. It's so great that we were all nominated. I thought we'd get a few. I did not expect 10! It's so much nicer to celebrate this time. Last time when I was nominated for Race, I was the only nomination in the whole production and it felt lonely. This is a more communal and joyous feeling to be able to celebrate as a company. That's what I love.

How did The First happen for you so quickly after your graduation from Yale?
Casting directors for Yale Rep spotted me when I was still a student and very politely asked if they could submit me for this musical. I was like, "Yeah, are you kidding?" I auditioned eight times and for hours. It was all day, 10 AM. to 3 PM: sang, dance, read, read. It was the longest, most grueling audition I have ever gone to.

What was it like being nominated for a Tony that first time in 1982?
It felt like a figment of my imagination. I could not have asked for a better role, one that involved acting and singing in a new musical that was about something. By the time the Tony nominations came out, I was like, "Did that really happen?" and getting the nomination was like, yes it did happen. I was so nervous I was physically ill when they read the nominees [at the ceremony]. If they did read my name, I could not physically walk down the aisle. I was so relieved when I lost. That's when I started having fun!

Let's talk about one of my favorite musicals, Dreamgirls. Any particular memories stand out?
The last show when Jennifer [Holliday] left Dreamgirls. It was a matinee day, and we were expecting all the famous stars that night, but that afternoon she gave this performance that I have goosebumps right now thinking about. When she sang "And I Am Telling You," we were in the wings watching and at a certain point we all started screaming and hollering and crying. It was too much. I had never seen anything like it. She took it to a place I have never ever, ever seen since.

What was the In Living Color experience like for you? Did you suspect that the show and all the actors in it would take off?
No. Jim Carrey would sit in my dressing room during the first year and say, "This is history. This show is going to live forever," and I said, "You are insane..." I thought honestly that after the show went off I would have about 18 months to tour around the clubs and after that everything would go back to normal and people would forget. In 1990, there was no YouTube. I remember when I did The Wiz at La Jolla in 2006, sharing a dressing room with all these guys. Everyone had their favorite Living Color sketches and they would just punch them into YouTube. I didn't anticipate it. I never thought there would be a generation after the generation. There are teenage kids just discovering it via the web, which I think gave it even more longevity.

People may not know of your background as an activist—what's your most vivid memory of experiences you shared with your father [William Henry Grier, author of Black Rage] when you were young?
I remember marching in Detroit with Martin Luther King, Jr. That has to be a huge memory, but my fondest memories are more mundane: summers in Detroit—riding my bicycle up and down the streets in the sweltering hot summer.

David Mamet has become an outspoken conservative. Did you ever talk politics with him? What was it like to work with him on Race?
We were constantly begging him to shut up [laughs]. No, he has always been a theatrical hero of mine, and he is one of the few directors I can really say loves the theater, loves the actors, loves the process. He is a big teddy bear! The most obtrusive thing about David Mamet was him telling theater stories and jokes. At a certain point, we were like, "We really have to run this [scene] again." We loved loved loved him.

You were on MTV's Loveline. Some crazy stuff goes down on that show. Do any calls particularly stand out to you, even now?
Um, yeah. This guy very earnestly said that his teenage girlfriend and her friends started doing vodka enemas and she really wanted him to do it. He was asking Dr. Drew if there were any health precautions, anything that can hurt him doing a vodka enema. Dr. Drew responded, then Adam [Carolla] said something then I said, "Yeah, there's one thing that is really something you should look out for…it's going to slur your farts." [Laughs.]

What's next for you after Porgy and Bess?
Hopefully rest, a wonderful glass of wine and a cigar.

See David Alan Grier in Porgy and Bess at the Richard Rodgers Theatre.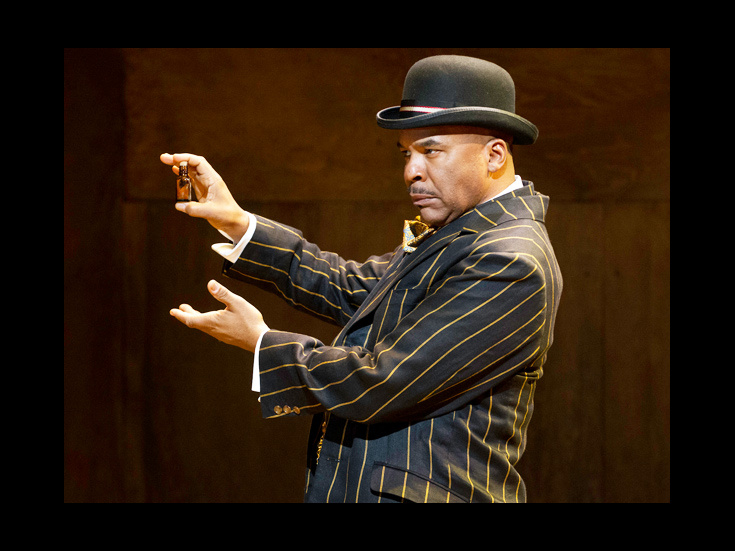 David Alan Grier in 'Porgy and Bess'