A quadruple threat who can sing, dance, act and do a spot-on American accent, 27-year-old Summer Strallen has inherited Ginger Rogers' screen role in the London stage premiere of the 1935 musical Top Hat. The delightful three-time Olivier Award nominee took time one recent evening to talk about "it" girls then and now, making a film live anew onstage and the practical advantages of having two sisters in other shows around town [Scarlett in Singin' in the Rain and Zizi in Rock of Ages].

You've fought off memories of Julie Andrews in The Sound of Music, and now you're doing the same with Ginger Rogers in Top Hat. What's that like?
I think of myself first and foremost as an actress, so I look at the role and what it asks of me rather than who I'm succeeding. If you only thought about comparisons, it would be too daunting and get in the way of what you're trying to do. I like to think that I'm inspired by those great women, but I put my own spin on the roles, as well. As long as I pull it off and give as much enjoyment to the audience as they did, I'm happy!

Dale Tremont in Top Hat seems like a dream part, from the songs you get to sing [including "Cheek to Cheek," with Tom Chambers in the Fred Astaire role] to the glamorous period costumes. Was this role a no-brainer?
It wasn't, especially when you take into consideration how much it will take out of your life, which in our case included 17 weeks on the road before we came into town. My first rider was that I had to meet Tom. I needed to know there would be chemistry where we could work together because it is such a long process. As with any relationship, we've had our ups and downs; we're very much in the up stage now.

What clinched it for you?
Actually, it was Bill Deamer, the choreographer, who told the director that he didn't want the people who were on the list to be seen for the role and that he wanted Summer Strallen instead. We had worked together in Regents Park on The Boyfriend [in 2006], and this seemed a great opportunity to do so again. And it is terrific to play a sort of "it girl" who goes to lovely parties in wonderful places wearing fabulous clothes…

…including the shimmering ostrich feather dress that Ginger Rogers immortalized on screen.
We had an exact replica of that dress at first, but it was an absolute nightmare, so we had to modernize it—but the ostrich feathers are there still.

Does the love story between Dale and Jerry translate to the modern age, in your view?
Well, I think nowadays people might be slightly more skeptical; I certainly would, especially if there was a guy in the same hotel as me who was behaving like a stalker [laughs]. Nowadays you might take out a restraining order against him, but the show exists in itself as a celebration of romance.

What are your memories of playing Meg Giry in Andrew Lloyd Webber's Phantom sequel, Love Never Dies?
It was very "challenging." That's my description of it when I talk to people [laughs]. At the beginning it was so fantastic, even romantic, to be working with Jerry [Mitchell, the choreographer] and Jack [O'Brien, the director]. Jack's such an incredibly clever man, and I would be honored to work with him again, maybe in a play rather than a musical. Unfortunately, as far as all the changes that took place on the show, we just had to get on and do it and try and be as patient as we possibly could. I find now that I feel both nostalgically happy and sad about it. Sierra [Boggess] and I had some wonderful times together as friends, and being able to hear Ramin [Karimloo] sing every night was lovely.

It's interesting that you received an Olivier Award nomination for that show in a supporting, rather than a leading, role.
Yes, and in that respect I was taking a step back in career terms. But I didn't mind, and in hindsight I wouldn't have passed up the experience, especially working with Jack and Jerry. In any case, you can't look back; you have to look forward.

What about Broadway? Your older sister Scarlett has starred on 42nd Street in Mary Poppins, but you have yet to do a show in New York.
I went out twice to see her in Poppins and wouldn't have missed it for the world. Seeing her on Broadway really inspired me, I have to say. That's one of the reasons I've been so enjoying [the TV show] Smash. I enjoy anything that promotes New York and Broadway shows—any shows, really!

Do you have a game plan for what's next?
I don't, to be honest, because I like to be surprised. With Top Hat, I feel like I'm where I want to be as far as my confidence as a leading lady. And I really do feel that if I were to do again some of the shows I did previously, like The Drowsy Chaperone, I would do a much better job now. It's funny that I seem to do these musicals set in the '20s and '30s when the fact is, I'm very broad in my tastes and I like a lot of things. If I were offered Scaramouche in We Will Rock You, I would do that, and if a play came along, that would be just wonderful.

What about doing a show with Scarlett? I could envision the two of you in Chicago.
Barry [Weissler, Chicago's producer] came to see my show last week, so who knows? I've never been approached for Chicago, but you put it into the universe and it might come back! I get quite bored if I'm not challenged mentally, so maybe the thing would be for us to do Roxie and Velma and we could change every week. That would be a real coup, wouldn't it?

It's fascinating that you and Scarlett have two younger sisters who are also in the profession—not to mention your aunt, Bonnie Langford, who returns to the West End next month in the revival of Spamalot.
It's beautiful and very useful, too! If I'm running around town shopping or having a coffee, I always know where I can find a loo. I can show up at one theater or another and say that I'm Scarlett's sister, or Zizi's, may I quickly run to the loo? That's one of the good things about it!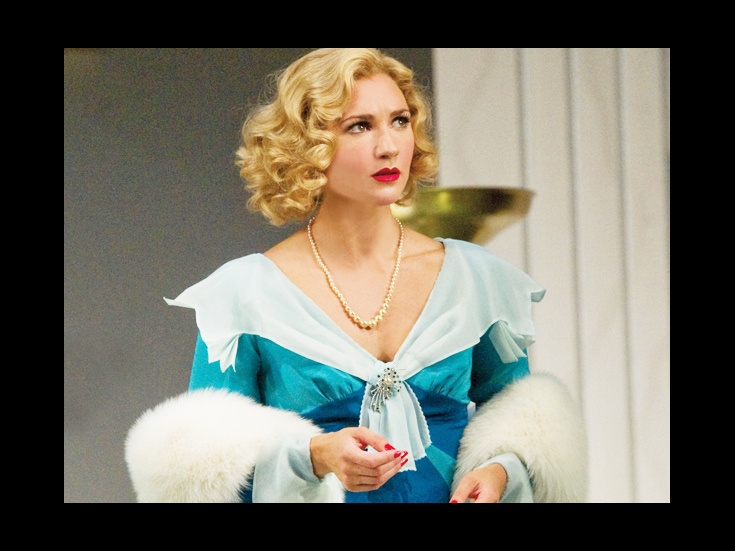 Summer Strallen in 'Top Hat'