Bring It On, the new Broadway musical inspired by the motion picture of the same name, is bringing a burst of human fireworks to the Great White Way. Read on to get a spirited look at a show with a heart of a champion.



Gimme a Girl Power Hit
"Contrary to popular belief, I was not a high school cheerleader," Bring It On screenwriter Jessica Bendinger wrote in production notes to the 2000 film comedy. Instead, Bendinger became a music journalist covering hip-hop for SPIN magazine as an undergrad at Columbia University and later writing for MTV News. It was there she became consumed with watching cheerleading championships televised on ESPN. Asked by her agent what she was most passionate about, the budding screenwriter replied, "I love the sport of competitive cheerleading and I'd love to do a movie about it—and Bring It On was born!"

When Bendinger's script, originally titled Cheer Fever, fell into the lap of director Peyton Reed, he was immediately intrigued. "I went into it expecting a take on cheerleading that would perhaps try to be overly hip, hating its characters and thumbing its nose at them," he said. "But Bendinger created characters whom you really like—and you find yourself really rooting for them."

The film centered upon Torrance Shipman, a Los Angeles high school senior poised to lead her cheerleading squad, the Racho Carne Toros, to their sixth national title as captain. Her world is turned upside down when she realizes that the routine she hoped would lead to victory was stolen from inner-city rivals, the East Compton Clovers. Back at square one, the entire squad must band together and bring their A-game to create an original routine and take home the title.



Smells Like Teen Spirit
Peyton signed on to direct a 45-day shoot on a modest budget of $10 million and a cast led by Kristen Dunst, Gabrielle Union and Eliza Dushku, who could handle the physical demands of the roles. "It was important to me, in doing a cheerleader movie, to show the athleticism and really make a strong argument that it is a sport, because it's insane," he told Reel.com. "When you go to a competition and see a routine, it's amazing enough, but when we're doing the movie, and had to do multiple takes in the 95-degree heat, I was just amazed at the stamina."

Bring It On was released on August 25, 2000, by Universal Pictures and received a positive response from critics and audiences alike. Touted by Roger Ebert as the Citizen Kane of cheerleading films, the film's saucy tone and fun, funny performances led to a box office take of more than $90 million worldwide. In the nine years that followed, Bring It On became synonymous with American-style cheerleading and spawned four direct-to-video sequels.



Power Trip
After successfully bringing adaptations of Wicked and Billy Elliot to Broadway, Universal Pictures Stage Productions saw potential in the almost decade-old film. Producers assembled a collection of Tony winners to make Bring It On flip onstage. The production came together with a libretto by Jeff Whitty, music by Lin-Manuel Miranda and Tom Kitt, lyrics by Miranda and Amanda Green and direction and choreography by Andy Blankenbuehler.

"My collaborators and I went on a crash course to learn about the world of cheerleading," Green told Broadway.com. "We attended competitions, read books and articles and watched countless episodes of Cheerleader Nation. Over the past four years of getting to know cheerleaders and observing their incredible athleticism, skill, fearlessness and dedication, my respect for them has grown in leaps and herkies."

While the musical was inspired by hit film, it featured an original story line and new characters. The new incarnation followed Campbell (played by Taylor Louderman), a rich, blonde cheerleading captain forced to transfer to the ethnically diverse high school across town.

"The best thing about high school as a setting for a show is it's when the stakes are highest," Miranda told Broadway.com. "Every action you undertake, every mistake you make, helps determine who you are. Hormones and pressure are coursing through your veins, so everything is life or death. I actually went back to my parents' house and pulled all-nighters to write angsty lyrics for Campbell, our heroine."



Showtime!
Under Blankenbuehler's guidance, Bring It On: The Musical includes heart-pounding stunts rarely attempted in a traditional musical. "It's cheering gone wild, with acrobatics, tumbling, aerial choreography and a level of extreme performance energy you've never seen anywhere," the director/choreographer told Toronto.com. To ensure that the stunts could be executed safely, Blankenbuehler made the bold decision to fill the stage with actual cheerleaders, although at first it was hard to find a balance between the two types of performers. "Cheerleaders who thought nothing of death-defying sequences choked up at the thought of singing a single solo line," he noted. "Dancers who can nail conventional routines in a snap were suddenly awkward when it came to gymnastics."

Bring It On received its world premiere at Atlanta's Alliance Theatre on January 16, 2011, and was nominated for eight Suzi Bass Awards. The show embarked on a 13-stop national tour before beginning performances at the St. James Theater on July 12, 2012, bringing "3-D musical theater" (an entertaining combination of dancing, singing and cheering) to the Great White Way.

"I think that musical theater going vertical is absolutely insane," said Miranda. "The real thrill is that Andy's found a dance vocabulary that incorporates these elements seamlessly. This is not the circus. This is real, thrilling cheer movement in the service of telling our story."

For Green, the idea of Bring It On: The Musical was always a winner. "The world of cheerleading is one of high stakes, huge emotional highs and lows, rewards and sacrifices," she said. "Sounds like a musical, right?"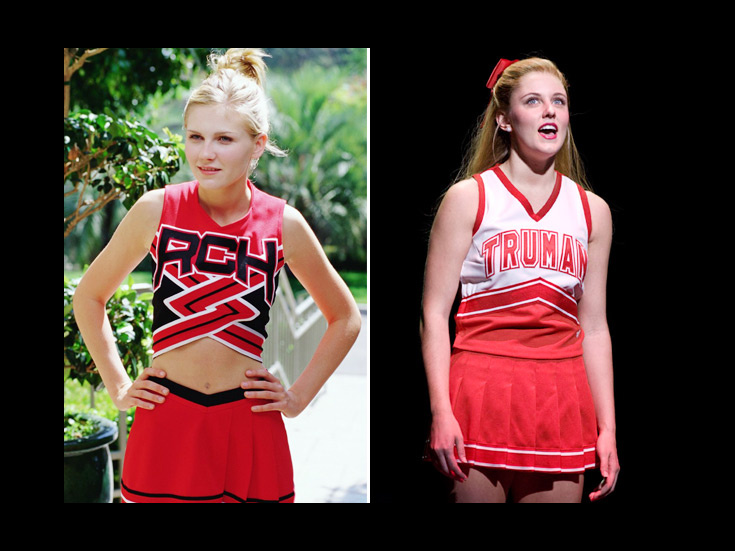 Kirsten Dunst in 'Bring It On' the movie & Taylour Louderman in the Broadway version of 'Bring It On'