Many young women dream of walking down the aisle in a wedding dress as their loving mother watches from the church pew. For Tony nominee Condola Rashad the experience was just another day at work on the set of Lifetime TV's remake of Steel Magnolias.

Rashad plays bride-to-be Shelby in the latest version of Robert Harling's beloved comedy, and while her real-life mom (Tony winner Phylicia Rashad) co-stars in the film as busybody Clairee, Oscar nominee Queen Latifah is the one taking on the role of Condola's onscreen mother, M'Lynn.

"My mind was definitely blown," Rashad told Broadway.com of filming the wedding scene eight times. "I had to wear a wedding gown [in a play] once, but this was so different because it was literally a mock wedding, with flower girls and everything. I thought, 'This is how it will feel to get married,' which was a little bizarre, especially because my mother was sitting there looking at me. And as a different character!"

Rashad and her co-stars have brought the classic story of a group of Southern gal pals to the present day, leaving behind the teased hair and long nails made iconic at Dolly Parton's beauty salon in the original 1989 film. And yet, as Rashad points out, "The story itself is so timeless. We're adding to the love that's already there. People are such die-hard fans of the original. I hope they will love [the Lifetime film], but if they prefer the original, they can still watch it. It's not going anywhere!"

In addition to the Rashads and Queen Latifah, the TV film features Grammy winner Jill Scott as salon owner Truvy, Oscar nominee Alfre Woodard and rising star Adepero Oduye. "I had a moment the first day [of filming] where I was like, 'How did I get here with all these talented, amazing woman?" Rashad said. "But five minutes after having that moment, you have to go work, so you forget all those titles and how you knew them from before. You are just actors working together." And that includes her famous mother: "We have great respect for each other on a personal and professional level. It wasn't awkward at all."

Much like the Louisiana ladies of the film, Rashad and her co-stars had a fabulous time together. "We laughed so hard all the time. Filming the Christmas party scene, we had all been there very early that morning. Everyone was just delirious, but when they started shooting off the fireworks we all got giggles to the max and had the best time ever."

So did Rashad learn any valuable beauty tips during her time on set? "Just that I hate wearing fake lashes," she said with a laugh. "They are so uncomfortable and itchy. You can see them hanging like spiders from your eyes, but, yes, they do look fabulous!"

Steel Magnolias premieres on October 7. Check out the trailer below!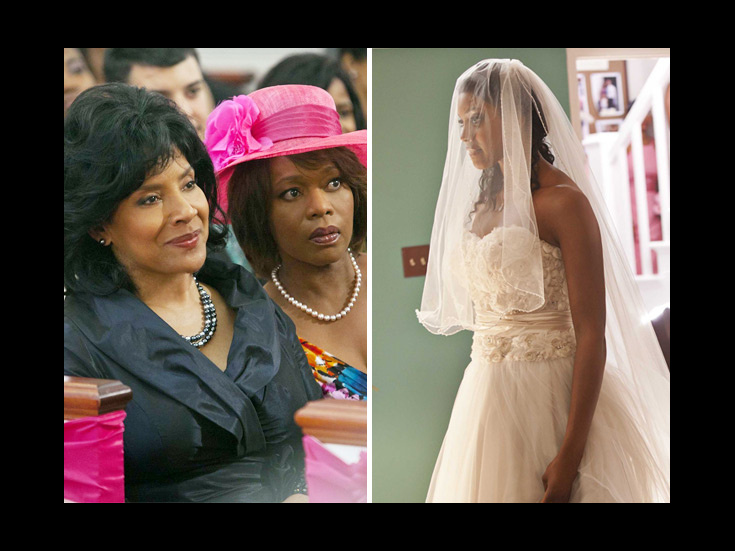 Phylicia Rashad, Alfre Woodard & Condola Rashad in 'Steel Magnolias'