Cyrano de Bergerac has found its way back to Broadway, with stars Douglas Hodge and Clemence Poesy stepping into the recognizable roles of the romantic Cyrano and his unobtainable love, Roxane. But how did this famous French play make its mark on the theater world? 'Tis imperative to read on!

A Man and His Nose
"'Tis enormous!" So begins the fictional Cyrano de Bergerac's explanation of his most famous feature: a nose that, because of its abnormal magnitude, has become perhaps the most iconic facial feature in the history of theater. Yet oddly enough, the man who served as the play's inspiration bore very little resemblance to his fictional long-nosed counterpart.

Hercule Savinien de Cyrano de Bergerac was a soldier, poet, dramatist and philosopher who drank and gambled almost as frequently as he hypothesized about space travel. Although this real Cyrano was a wordsmith who pined for an unrequited love (his cousin Madeleine, who became the basis for the play's character Roxane), his nose was relatively normal in size by most regards, and not nearly as comical as the disfigured shape that productions of Cyrano de Bergerac embellish upon.

In 1897, 29-year-old French writer Edmond Rostand penned Cyrano de Bergerac, a tragicomedy (loosely) based on this same French nobleman who had lived in the seventeenth century. Though its semblance to its hero is scant, the play has become one of the most widely recognized pieces of French theater in history.



Curtain Up on Cyrano
The first production of Rostand's Cyrano de Bergerac appeared at the Theatre de la Porte Saint-Martin in Paris, with its ostensible opening night (did they have previews back then?) on December 28, 1897. French actor Benoit-Constant Coquelin was the first to play the title role of a Parisian poet who lends his romantic words to a handsome cadet in order to win over the woman who scorns him for his ugliness.

The first Broadway staging of Rostand's comedy came less than a year after its Parisian premiere, opening at the Garden Theatre on October 3, 1898. The play received a hefty dose of star power from Cyrano portrayer Richard Mansfield, an actor and producer who had previously made a name for himself in Dr. Jekyll and Mr. Hyde and Napoleon Bonaparte. The production ran for two months and opened again the following season, with Mansfield reprising his role.

When the Broadway production returned to the Garden Theatre for the third time, Coquelin stepped into the role he originated in France. He then toured across North America, and Cyrano became the actor's signature role. (Fun fact: Coquelin filmed the play's duel scene on the phonograph cylinder and the result is widely believed to be one of the first films made with sound and color.)



Revivals, Revivals, Revivals!
Following the Garden Theatre threepeat, the show received a number of Broadway revivals beginning 25 years after the first production. In 1923, a revival starring Walter Hampden played the National Theatre from November 1 through June 1924. Though it only ran for eight months, it remains the longest-running production of Cyrano to have played a Broadway stage.

Fast-forward through four more productions in the '30s and '40s and we land at the 1946 Broadway revival. Enter José Ferrer. The Puerto Rican actor's interpretation of Cyrano was so lauded that he went on to portray the witty wordsmith in the play's first full-length motion picture adaptation. Ferrer won an Academy Award for Best Actor for his performance (becoming the first Hispanic actor to win an Oscar).

In total, Cyrano was revived on Broadway a whopping 15 times, with the most recent mounting, starring Kevin Kline and Jennifer Garner, enjoying a sold-out run at the Richard Rodgers Theatre in 2007. And that doesn't even include all the musicals!



From Musicals to Movie Deals
While Cyrano rose in popularity as a play, occasional musical adaptations emerged that turned the titular poet into a song-and-dance man. Legendary composer Victor Herbert attempted to mount a three-act operatic adaptation that played Broadway's Knickerbocker Theatre in 1899, with song titles including "Song of the Nose" and "I Must Marry a Handsome Man." The opera closed in under a month.

Other notable melodic stagings include Michael J. Lewis and Anthony Burgess's Cyrano, the 1973 Broadway musical starring Christopher Plummer. The show only ran for a month and a half, but was enough to earn Plummer his first Tony Award for Best Actor in a Musical. Another Tony-nominated musical adaptation, Cyrano the Musical played Broadway in 1993, but failed to take home a trophy for its team of Dutch writers.

Around the same time, Rostand's play made its way through Hollywood and the film world. A 1990 French adaptation starring Gerard Depardieu became the most awarded and nominated film at the César Awards (the French Oscars); the 1987 American comedy Roxanne, starring Steve Martin and Daryl Hannah, brought the text into the modern day and became a comedy hit.



Roundabout Channels Rostand
After winning a 2010 Tony Award for his Broadway debut as Albin in La Cage aux Folles, English actor Douglas Hodge snagged a chance to star as Cyrano in the latest Broadway revival. "Roundabout asked if I had a project that I'd like to direct or act in," recalls Hodge. "I said there was only one thing I would want to [act in], and that's Cyrano. There's something about this man who is a great, great poet, and loves words, that I love. He's a pretty huge character. Then they read this new translation, I suggested [director] Jamie Lloyd, and suddenly it was 'all systems go.'"

After the initial announcement of Hodge's involvement in June 2012, the rest of the production came together quickly, with Spider-Man, Turn Off the Dark's Patrick Page (a former Cyrano himself at San Diego's Old Globe) joining the company as the villainous Comte de Guiche. French actress Clemence Poesy (famously of the Harry Potter films) came on board as the beguiling Roxane.

Clocking in at just under three hours, this production of Cyrano is certainly one of the play's most ambitious. "It's the first time it's ever been done entirely in rhyming couplets," Hodge says of the Roundabout revival. "The translation is phenomenally energetic and witty, and it is very modern."
Audiences expecting a contemporary production that honors the show's historical—and French!—roots will be in for a treat when Cyrano de Bergerac opens this month. And if the long-nosed fellow has anything to say about it, there'll be plenty of panache!
Catch Cyrano de Bergerac at the American Airlines Theatre on October 11!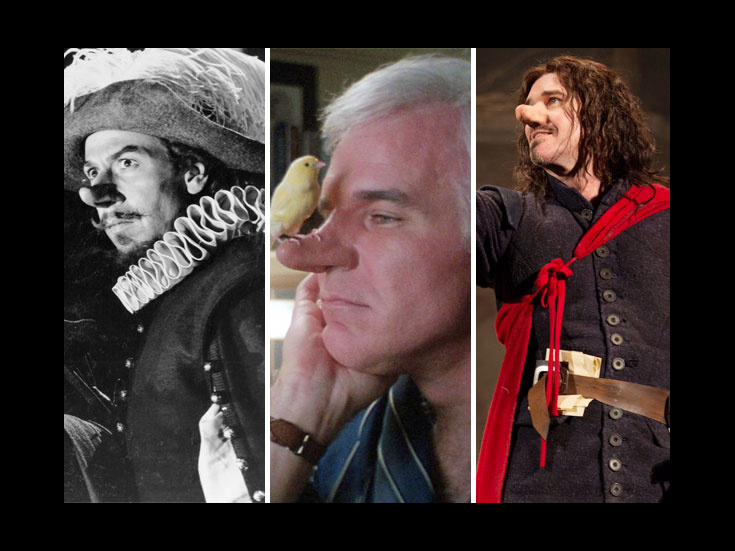 Jose Ferrer, Steve Martin & Douglas Hodge