The Tony-winning, family-friendly musical Annie is back on Broadway in a revival directed by James Lapine. Below, we trace Annie's history from a dark 1885 poem to the 2012 production starring Anthony Warlow, Lilla Crawford and Katie Finneran.



You Won't Be an Orphan For Long
James Whitcomb Riley's 1885 poem "Little Orphan Annie" served as the inspiration for Harold Gray's popular 1920s Chicago Tribune comic strip of the same name, as well as the popular Raggedy Ann doll. Gray followed the adventures of an 11-year-old orphan with curly red hair (and no eyes!), her wealthy benefactor, Oliver "Daddy" Warbucks, and her loyal dog, Sandy. In January 1972, lyricist Martin Charnin pitched the idea of creating a musical about Orphan Annie to composer Charles Strouse and librettist Thomas Meehan.

According to a pre-opening-night piece he wrote in The New York Times, Meehan thought Annie was a "rotten idea," but was convinced by Charnin's interest in "the richness of the character Annie herself—the lost, wandering child."

Because the comic strip gave little to work with in terms of backstory and connections for the characters, Meehan emphasized that "Annie is in no sense a literal adaptation of Little Orphan Annie. Instead, the musical might best be described as having been suggested by Little Orphan Annie. The story as I constructed it is the story of a child's Odyssey-like quest for her missing father and mother."

The three New Yorkers chose to set their new musical in their hometown, and "as a reaction against what was going on in the United States during the Nixon years," they also placed Annie, Warbucks and company in the Great Depression, specifically 1933. Meehan thought "Annie could, in the musical, become a metaphorical figure who stood for innate decency, courage and optimism in the face of hard times, pessimism and despair." This was a timely message in the mid-1970s, when New York City was in the midst of a financial crisis and Times Square had become seedy and crime-ridden.



I Think I'm Gonna Like It Here
Annie received its world premiere on August 10, 1976, at the Goodspeed Opera House in Connecticut, starring Kristen Vigard in the title role and Dorothy Loudon as Miss Hannigan, the alcoholic caretaker of the orphanage where Annie lives. Soon after performances began, producers replaced Vigard with a tougher young actress, 13-year-old Andrea McArdle (who originally played another orphan, Pepper).

McArdle opened the show at Broadway's Alvin Theatre (now the Neil Simon) on April 21, 1977. Produced by Mike Nichols and directed by Charnin, Annie was an instant hit. "To dislike the new musical Annie would be tantamount to disliking motherhood, peanut butter, friendly mongrel dogs and nostalgia," New York Times critic Clive Barnes declared. "It would also be unnecessary, for Annie is an intensely likable musical. You might even call it lovable; it seduced one, and should settle down to being a sizable hit."
The show received 10 Tony nominations and won seven awards, including Best Musical. McArdle lost the Best Actress prize to Loudon, whose performance as Miss Hannigan became the stuff theatrical legends are made of. As Barnes put it, "Dorothy Loudon never puts a sneer, a leer, or even a scream in the wrong place, and her singing has just the right brassy bounce to it." Annie went on to run for 2,377 performances and helped launch the career of replacement Annie Sarah Jessica Parker.



Let's Go to The Movies
In 1979, Columbia Pictures secured the rights to Annie in what would become a $50 million big-screen adaptation. In a surprising choice, Funny Girl producer Ray Stark recruited Oscar winner John Huston to direct Annie, explaining, "His films reflect a reality, a dramatic style, taste and elegance, all the things Annie would need for the screen." Huston and Stark cast Albert Finney as Oliver Warbucks, Broadway veteran Ann Reinking as his loyal assistant Grace Farrell, and comic icon Carol Burnett as Miss Hannigan. Broadway vets Bernadette Peters and Tim Curry played Miss Hannigan's scheming sidekicks, Lily St. Regis and Rooster Hannigan.

To find a young actress for the crucial title role, scout Garrison True and a dozen assistants spent 10 months visiting 20 cities and auditioning 8,000 little girls before settling on Pennsylvania native Aileen Quinn. "Suddenly I was famous," Quinn recounts on My Hollywood Adventure. "We filmed for six months. It was hard work, but we had a ball."
The movie was shot in three states and featured several new songs and plot changes. Most noticeably, the Christmas-themed musical was now set in summer. "We were shooting in summer and it was hard to get snow in New York City," Stark recalled in the documentary Lights, Camera, Annie! "So we shifted it to 4th of July, being a holiday season and being patriotic, [it] seemed perfect."

The film was released in May 1982, and although it has grown to cult status, Annie was a letdown at the box office. Still, Annie received multiple Golden Globe and Oscar nominations, winning none.

In 1999, Annie received a more faithful adaptation as a made-for-TV movie. The Emmy-winning ABC special starred Alicia Morton as Annie, Oscar winner Kathy Bates as Miss Hannigan, and Broadway vets Victor Garber (Warbucks), Audra McDonald (Grace), Alan Cumming (Rooster) and Kristin Chenoweth (Lily).



Something Was Missing
Nearly 20 years to the day after Annie first took Broadway by storm, director and lyricist Martin Charnin helmed the first-ever Main Stem revival at the Martin Beck Theatre, opening on March 26, 1997 to tepid reviews and a whirlwind of controversy.

Twelve-year-old Philadelphia native Joanna Pacitti won the title role of Annie after a nationwide search, crowned by McArdle herself at a Macy's press event. Weeks before opening night, however, Pacitti was fired from the highly publicized production and replaced by her eight-year-old understudy, Brittny Kissinger. The show received a raft of bad publicity as Pacitti went on TV to discuss being fired. "I just don't want this to happen to any other little girl," she told CNN.

The controversy continued when Marcia Lewis (a white actress who went on to win a Tony in the Chicago revival) appeared as Miss Hannigan in a montage TV commercial rather than the revival's star, African-American Tony winner Nell Carter. Carter spoke out to The New York Post: "It's insulting to me as a black woman," she fumed. The actress later recanted her statement to the Associated Press, claiming she had never accused the producers of racism. Leapin' lizards, sounds like too much drama for one production! The second coming of Annie closed after 239 performances.



We Got Annie
Fifteen years later, Annie is back on Broadway at the Palace Theatre in a revival directed by three-time Tony Award winner James Lapine (Into the Woods, Sunday in the Park with George). Faithful to the original book and score, the production stars Australian stage legend Anthony Warlow making his Broadway debut as Daddy Warbucks, two-time Tony winner Katie Finneran as Miss Hannigan and 11-year-old Lilla Crawford as Annie.
As in previous incarnations, Lapine conducted a national search for the lucky young girl who would play Annie. "I like children who are authentic on stage," he told Broadway.com. "So we're just trying to find kids who have a kind of rawness to them that will connect to the roles, rather than somebody too slicked out."

The theme of authenticity is important to Lapine's vision for the new Annie. "[James] has never seen a production of Annie, so he's come at it with very new eyes, and very honest eyes," Warlow, who has played Warbucks twice before, told Broadway.com. "His signature—the realism—is definitely put onto this, and it actually makes it a very interesting story, not only for children but for adults."

Annie opens at the Palace Theatre on November 8.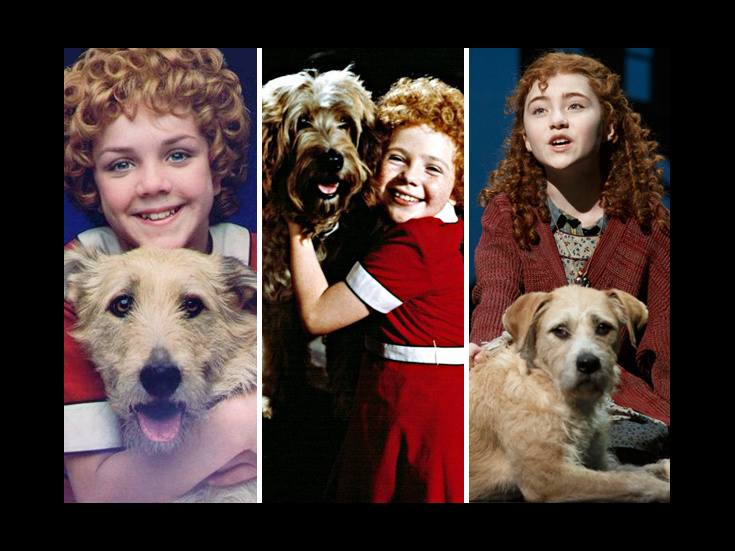 Andrea McArdle, Aileen Quinn & Lila Crawford in 'Annie'