Clifford Odets' timeless drama Golden Boy tells the story of a young Italian New Yorker in the late 1930s who pursues "the American dream" of fame and fortune and, by doing so, loses everything he holds dear. The play premiered in 1937 to great fanfare, and now Lincoln Center Theater is presenting the first Broadway revival in 60 years. Starring Seth Numrich, Tony Shalhoub, Yvonne Strahovski and Danny Burstein and directed by Tony winner Bartlett Sher, this production proves that Golden Boy still packs a punch. Read on to learn about the world of Odets, the stars who have flocked to his work and why Golden Boy holds up 75 years later.



A Theater Unlike Any Other
Playwright Clifford Odets was born to Jewish immigrants in Philadelphia in 1906. At age 17, he dropped out of school to pursue a career in acting, and in 1931, at 25, he became a founding member of the Group Theatre, created by Harold Clurman, Cheryl Crawford and Lee Strasberg. They recruited 28 actors to form their new company, which would dedicate itself to mounting original American plays that would shine a spotlight on the turbulent life of the country and its citizens.
The Group Theatre approached acting based on Strasberg's "method," a new interpretation of Constantin Stanislavsky's radical technique. "What touched me as a playwright was the Group Theatre—its method of acting, its ensemble ideal and its ensemble performance," Odets said in an interview reprinted in Lincoln Center Theater Review. "I don't think, still, that in our day anyone could put together such a company but Lee Strasberg."

Odets put the the Group Theatre on the theatrical map in 1935 when they debuted his left-leaning play Awake and Sing!, which was soon followed by Waiting for Lefty and Paradise Lost. "The Group couldn't have done it without Clifford, and he could never have done it without them," Ellen Adler, daughter of Stella Adler, said in an interview published by Lincoln Center Theater Review.


A Golden Idea for a New Play
By the end of the 1930s, the Group Theatre was near its end, and founder Harold Clurman ventured to Los Angeles, where Odets was working as a screenwriter. After learning of the company's downward spiral, Odets had an idea for a new play that would save it: Golden Boy.
"I really wrote the play to be a hit, to keep the Group Theater together. And it was a hit. It was my first really big hit," Odets said.

Golden Boy tells the cautionary tale of Joe Bonaparte, the son of Italian immigrants and a violin prodigy who is lured into the lucrative world of prizefighting. The original production opened at Broadway's Belasco Theatre on November 4, 1937 and starred Luther Adler as Joe, Frances Farmer as Lorna and featured Lee J. Cobb, Elia Kazan and John Garfield in supporting roles.

"[Golden Boy] is a genuine American tragedy," current Broadway director Bartlett Sher wrote. "Awake and Sing! took on a variety of issues but was essentially concentrated on a family's life in the Bronx. Golden Boy is a much bigger canvas. It has a damaged woman, Lorna, who is unlike any female character being written then. And there's a gay gangster who is also singular. Odets was very forward-thinking." The play also touched on the oppressive social climate for Italian and Jewish immigrants in New York at the time.

The play ran 250 performances on Broadway before being adapted into a 1939 film. William Holden made his big-screen debut as Joe, with box office darling Barbara Stanwyck as his love interest, Lorna, and Group Theatre member Lee J. Cobb as Joe's father.



Breaking Stereotypes and Boundaries
In March 1952, Golden Boy returned to Broadway at the American National Theare and Academy (ANTA). Odets directed the first Broadway revival, which starred original Broadway cast members John Garfield as Joe and Lee J. Cobb as his father. This Golden Boy closed after a mere 55 performances. "John Garfield always wanted to play the part," Odets recalled. "[But] by then, there were clichés, there was a set of stereotypes for playing that play. Garfield and Cobb fell right into the stereotypes. And it was very difficult to direct them out of those stereotypes."

It took 12 years to figure out how to break Golden Boy out of its rut: by transforming it into a musical, with a book by Odets and William Gibson, music by Charles Strouse and lyrics by Lee Adams. Superstar Rat Packer Sammy Davis Jr. signed on to play Joe Wellington, a young African American man looking to pull himself out of the Harlem ghetto. The musical also featured an interracial love affair between Joe and Lorna. Odets passed away during the creation of Golden Boy, and Gibson took several liberties, including the removal of Odets' subplot that Joe was an aspiring surgeon who hoped to use his hands to heal instead of hurt.

Thanks to Davis, the highest paid actor in Broadway history at the time ($10,000 a week), Golden Boy ran for 568 performances at the Majestic Theatre after opening on October 20, 1964. It went on to be nominated for four Tony Awards, including Best Musical and Best Actor in a Musical. Two years later, the show became first book musical to play the London Palladium. Golden Boy was given a fresh concert presentation by Encores! in 2002. Directed by Tony winner Walter Bobbie, the show starred Alfonso Ribeiro as Joe, Anastasia Barzee as Lorna and Tony nominee Norm Lewis as racketeer Eddie Satin.



Golden Boy Returns to the Ring
In 2012, Lincoln Center Theater announced that it would revive Odets' classic for a 75th anniversary production at Broadway's Belasco Theatre, where it first opened in 1937. This lush new production was to be helmed by Tony-winning director Bartlett Sher, who also directed LCT's Tony-winning revival of Odets' Awake and Sing!

"I am trying to make the play true for what it is," Sher wrote on the show's site. "I have to trust that it still has something to tell us, and that there is still some continuity in how audiences experience the piece." Actor Daniel Jenkins mused on the play's power to Broadway.com, saying, "We think of [Odets] as literature but seeing it come to three dimensional life with amazing actors and an incredible director, it's like, 'Wow!'"

The revival stars War Horse alum Seth Numrich as Joe, Emmy winner Tony Shalhoub as his father, Australian screen actress Yvonne Strahvoski as Lorna and three-time Tony nominee Danny Burstein as Joe's manager, Tokio. The anniversary production also features a complete production team of Tony winners: Michael Yeargan (sets), Catherine Zuber (costumes) and Donald Holder (lights).

"Every day at Golden Boy is like a master class," Burstein told Broadway.com. "This is one of the best ensemble casts I've ever gotten to work with; from the very beginning, everyone has been completely prepared and on their 'A' game. Clifford Odets is New York's Shakespeare—his language is poetic and beautiful, and for me, having grown up in New York City, it's like mother's milk."

Clifford Odets' Golden Boy officially opens at Broadway's Belasco Theatre on December 6.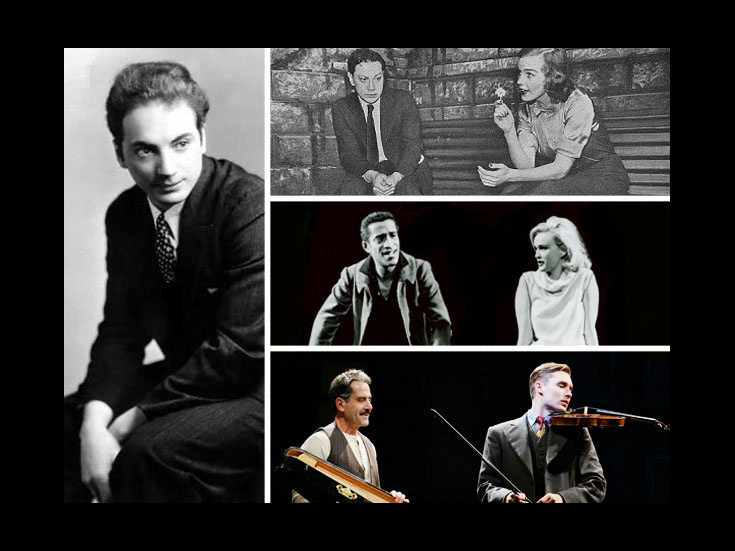 Clockwise from left: Clifford Odets; Luther Adler & Frances Farmer; Sammy Davis Jr. & Paula Wayne; Tony Shalhoub & Seth Numrich