Here's a quick roundup of videos you may have missed from today.

Hamilton's Bros Take Chicago
Alexander Hamilton couldn't be non-stop without his best buds! Jose Ramos, Chris Lee and Wallace Smith, who will be playing the Chicago production's John Laurens/Phillip Hamilton, Marquis de Lafayette/Thomas Jefferson and Herclues Mulligan/James Madison respectively, hopped on Facebook Live on August 18 to say "Hey" to the fans. Three weeks into rehearsals, the golden trio discussed their reactions to getting cast in the revolutionary hit ("Who doesn't want to be in Hamilton right now?!"), which Schuyler sister they would be and revealed that Chicago will have its own #Ham4Ham. Check out their hang sesh below!


Brandon Niederauer Shreds to Honor Hendrix
A School of Rock performance is always a reason to get hype, but on August 17, the cast followed up their curtain call with a gnarly celebration. Guitar master Brandon Niederauer commemorated the anniversary of Jimi Hendrix's historic Woodstock performance with his own rendition of "The Star Spangled Banner." Rock and Roll Hall of Famer Hendrix played his controversial version of the U.S. national anthem in 1969, well before the pint-sized power player was born. Watch Niederauer effortlessly carry the torch below!


Scream Queens Throws It Back
On August 18, Scream Queens season two co-stars John Stamos and Lea Michele told fans that they met when they were just Broadway babies. Stamos was starring in How to Succeed in Business Without Really Trying while Michele was making her Great White Way debut in Les Miserables as Young Cosette. The two met at (where else?) Sardi's, and Michele sang "Castle on a Cloud" for Full House's Uncle Jesse. Now, (as announced) they will star in Fox's bloody good series beginning September 20. Take a look at the interview (and the chilling trailer) below!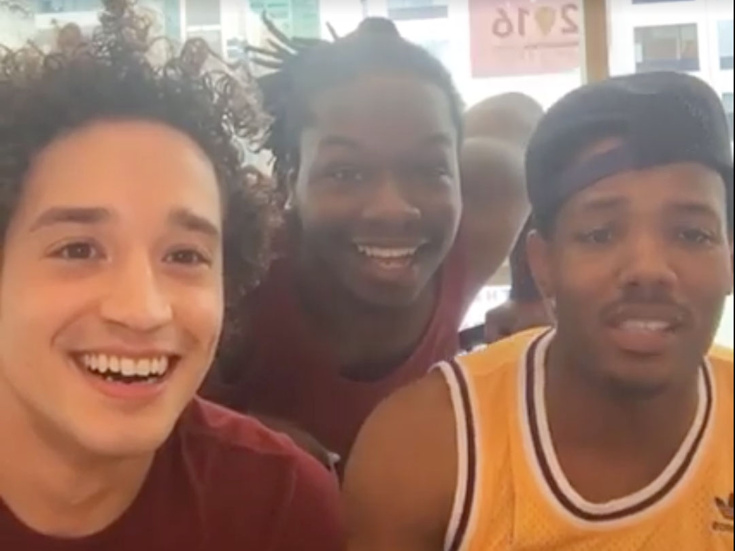 Jose Ramos, Chris Lee & Wallace Smith