Florence Henderson, the well-loved stage and TV star, died in Los Angeles on November 24, according to the Associated Press. She was 82.

Henderson got her start on the stage, making her Broadway debut at the age of 18 as the well-named "The New Girl" in the 1952 Harold Rome review Wish You Were Here at the Imperial Theatre. In quick succession, she went on to play Laurey in Rodgers and Hammerstein's Oklahoma! on tour and at City Center in 1953, Resi in The Great Waltz at Los Angeles Civic Light Opera and the title role in the hit musical Fanny at the Majestic Theatre in 1954.
In 1961, Henderson headlined the national tour of The Sound of Music as Maria Von Trapp, a role she reprised in a 1978 production of the Rodgers and Hammerstein musical at the Los Angeles Civic Light Opera. She returned to Broadway in 1963 to star in the Noel Coward musical The Girl Who Came to Supper at the Broadway Theatre, opposite Jose Ferrer. Henderson took on two more classic Rodgers and Hammerstein roles in the 1960s, as Anna opposite Ricardo Montalban's King in The King and I at the Los Angeles Music Center in 1965 and Nellie Forbush in South Pacific at the New York State Theatre at Lincoln Center in 1967. Her biggest film project was a leading role in the 1970 movie musical failure Song of Norway.

Of course, she is best known to fans around the world as everyone's favorite TV mom, Carol Brady, on the iconic sitcom The Brady Bunch, which ran from 1969 to 1974, as well as many follow-up Brady projects, including the highly-rated TV movie A Very Brady Christmas. Following the sitcom's original run, she returned to musical theater, headlining a national tour of Annie Get Your Gun in 1974 and playing Ella Peterson in Bells Are Ringing opposite Dean Jones at Los Angeles Civic Light Opera.
Henderson can be heard on many original cast recordings including Oklahoma!, South Pacific and The Girl Who Came to Supper and also released an album featuring songs from the Broadway musicals Flower Drum Song and Gypsy.
More recently, Henderson appeared as a contestant on Dancing With the Stars in 2010 and was seen in the audience of the popular dance show just days before her death cheering on contestant Maureen McComick, her Brady Bunch TV daughter. She's also served as host on two shows on RLTV, a talk show (The Florence Henderson Show) and a cooking show (Who's Cooking with Florence Henderson).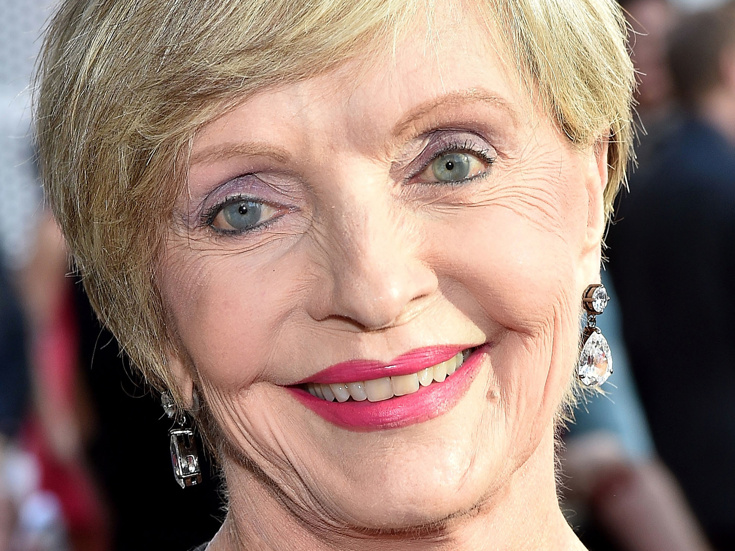 Florence Henderson (Mike Windle/Getty Images)