Rachel Bay Jones & Jennifer Laura Thompson photographed at Night Times Square
(Photo: Emilio Madrid-Kuser)
Family life is messy in the new hit musical Dear Evan Hansen, and that's exactly the way Rachel Bay Jones and Jennifer Laura Thompson like it. After years of solid work in Broadway musicals, Jones (Hair, Pippin) and Thompson (Urinetown, Wicked) portray mothers on opposite sides of a tragedy compounded by a lie. After kicking off Evan Hansen with Benj Pasek and Justin Paul's witty ode to parenthood, "Anybody Have a Map?" their characters embark on an emotional journey that's both heartbreaking and hopeful. The warm personal bond Jones and Thompson have developed over the course of the show's three-year road to Broadway is obvious as they chat about motherhood—real and fictional.

Q: Are you getting a lot of hugs at the stage door? After what your characters go through in this musical, you deserve them.

JENNIFER: We do get a lot of hugs.

RACHEL: And the audience needs a hug. Everybody wants a hug, especially after our show.

Q: Given how emotional Dear Evan Hansen is, have the two of you formed a special bond?

RACHEL: We're soul mates.

JENNIFER: We're sisters who found each other later in life. Through all the changes in the show and the growth, we've been there to lift each other up through our losses and frustrations and glorious triumphs. It's been a really, really great gift.

RACHEL: And she makes me laugh so hard!

Q: Are you surprised that this show was written by three guys under the age of 35?

RACHEL: I never stop talking about this! And directed by a dude [Michael Greif]. And here we are with this beautiful feminist exploration of motherhood.

JENNIFER: I remember the day you sang your beautiful song for the first time, "So Big/So Small," and all of us were in awe of the depth and the beauty and the reality. I said, "Benj and Justin, how could you do this?" And you said, "How do you know how to reach into the soul of a middle-aged mother and just put it out there?"

Q: What touches you most about these two moms?

RACHEL: I think Heidi is so perfectly flawed. We all have these deep flaws that we're ashamed of, that we don't want to show the world, and it's been an incredible gift to exploit these things that are shared by so many mothers, things we tend to hide from in ourselves. To be able to be forgiven of these flaws is a healing process for me every night.

JENNIFER: What I love about Cynthia is her drive, her relentless want to save her son and keep her family together. She never, ever gave up, and I think that her propensity to go a step further than anyone is [true] of every mother. That's what we do. I'm a mom. My kid is my everything.

RACHEL: She is that kind of mom.

JENNIFER: Parenting is so difficult. From the moment you become pregnant, the worry never stops. I'm not saying it's not rewarding because absolutely it has to be; otherwise, none of us would be here. But it's a burden and a great gift to be a mom.

RACHEL: I'm a mom as well, and from the moment they're born, it's this constant process of them moving away from you, this achingly beautiful process of letting them go. And this [theme] exists inside of this story in different ways for these two mothers.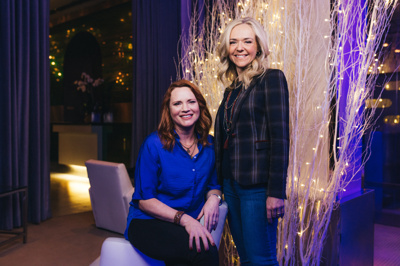 Q: Have your kids seen the show? [Jennifer has a 13-year-old son, Tommy; Rachel has a 13-year-old daughter, Miranda.]

JENNIFER: Mine has not.

RACHEL: My daughter has seen it many times.

JENNIFER: I don't think I want him to watch me grieve the way I have to in this show. I don't think it would have a positive impact on him, so I'm going to wait until someone else is doing it and I can bring him back and say, "That's what I did."

RACHEL: Cynthia is more of a tragic character in my mind; it's a deeper kind of loss. There's a lot of redemption for Heidi, a lifting out of that place that doesn't get to happen as much for Cynthia. It's a big deal for them to see what we have to go through on stage, and I can see why you wouldn't want Tommy to come.

Q: Are either of your kids interested in acting?

JENNIFER: My son shows absolutely no interest. He's coding computers. He's going to be a Nobel Prize winner.

RACHEL: He's too smart to be an actor! She is interested in a lot of different things, and I've got my fingers crossed that it will take her somewhere else. I dropped out of high school to become an actor. I moved to New York. I was not wise about my decisions. My hope for her is that she'll be a little more thoughtful.

Q: The Evan Hansen cast seems like such a close ensemble, beginning with Rachel's bond with Ben Platt as Evan.

RACHEL: He is a beautiful, beautiful man. Everything that's inside of him is completely accessible. And the experience that we have together on stage—there's an open flow of communication that doesn't have any walls. There's a deep connection with all of us, and a support system because this material is difficult and challenging. We all make each other laugh constantly.

JENNIFER: I was getting my makeup done for a shoot, and Laura Dreyfuss casually walked by and said, "It takes a village." That's my [stage] daughter!

Q: You two obviously appreciate how special this experience is.

JENNIFER: I feel so lucky to be here because I have all the wisdom and experience in my life to draw from to portray Cynthia the way I can now. This story needs to be told because it has a message that is so important to so many generations.

RACHEL: I think people are ready to see women of our age portrayed in a way that they can relate to. It's not just the sidelined mom character who's perfect, or not relatable at all, seen only through the distorted eyes of an angry teenager. There are so many beautiful shades of gray, so much humanity, in the way that these two women are written. There are endless wells to draw from.