Jonathan Groff is known and loved by Broadway enthusiasts for his Tony-nominated performances in Spring Awakening and Hamilton. Now, even more fans are getting on board with Groffsauce as he leads the ultra-addicting Netflix series Mindhunter. Watch as he chats about branching out on the Netflix hit, laughing uncontrollably throughout his career, crying watching Frozen on stage and more on this week's Show People with Paul Wontorek.
Here are some must-read highlights:

ON MINDHUNTER DIRECTOR DAVID FINCHER
"I had auditioned for The Social Network. I was doing Hamilton, and my agent sent me the script. It said 'David Fincher,' and I said, 'Yes' to auditioning before even reading it. When I did, I found that the scenes read almost like a play. They're incredibly psychological, and they play out over such a long period of time. I was so intrigued by the density of the material. I put myself on tape, and the next day they asked me, 'Can you fly to L.A. on your day off from Hamilton?' So I did. I went to the audition and just sat with him and talked about the project, what his goals were, what he wanted to explore. And then it was on. The crazy thing about David Fincher is that he can do everybody's job better than everybody else, including acting. I'll be like, 'Can you say that line again? 'Cause the way you said it is how I want to say it.'"

ON HIS UNCONTROLLABLE LAUGHING PROBLEM
"I would have these insane laughing fits. Holt McCallany, who plays Bill Tench—we're so opposite. It's like The Odd Couple. While we were filming, I remember watching him get into the car one day, and I just lost it. I couldn't stop laughing. It became this sort of running thing. Weeks later, we're in this scene, talking about something serious, and again, I had to run laps around the set because I couldn't stop laughing. It's my Achilles heel. It started on Spring Awakening. I think it was performance 303. I remember the performance number because John Gallagher and I broke. Something inside of us broke, and it's never been fixed again. He came in for the scene before 'Touch Me.' He slid in with his crazy hair. It wasn't anything we said. We just looked at each other and started hysterically laughing. But we started the scene. I pulled the mic out and [wobbley voice] 'Where...I go...when I go there…' Ever since that moment, it's this thing that happens to me. I also find acting so absurd. 'Cause we're just in costumes playing pretend."
ON GRILLING MARC KUDISCH ON MILLIE
"I was grilling him the whole time we shot Mindhunter together on Thoroughly Modern Millie stuff. He's such an amazing actor, and he's so good in the show. I remember one time that I went to go see Millie, they were doing the speed test scene. She was sitting..Sutton Foster…The royal 'She,' and she was writing in her pad. Kudisch crossed over to stage right, and she sort of scurried over next to him and showed him a notepad. I remember it so vividly. He had this smile, and I remember thinking, 'I think she wrote something inappropriate on that pad. I don't think that they're acting right now.' I had to ask him about it while we shot Mindhunter. So I did. And he was like, 'I don't remember.'"

ON HIS LACK OF SOCIAL MEDIA PRESENCE
"I think social media is great. It's useful in so many ways, but I think in order for it to be effective for any particular person, you also have to be really into it. You can't really half-ass it. I don't like being on my phone. It's just not my thing. I don't think it would be effective simply because it's not something that gets my heartrate going. No one has ever pressured me into using it. I think if Facebook came out when I was in high school, I probably would be on all social media. It just was never a part of my everyday situation. I delete my texts and emails after I respond to them so that I can remember to get back to everyone. To then have to respond to all kinds of social media interactions just makes me feel tired."

ON COMING OUT
"When I came out, it was actually through Broadway.com—thank you, Broadway.com, for outing me. I came out like a month after I left Spring Awakening. I was 23. I had a personal revelation. I went travelling by myself. I realized I wanted to be open about who I was, and my whole life changed. I came out with my friends and family. But then there was no opportunity to come out publicly, but then I was at the march on Washington. I was dating Gavin Creel at the time. He changed my life in so many ways, that being one of them. I was in love, and we were in D.C., and it just made sense. A reporter from Broadway.com asked me: 'Are you gay?' She asked me, and I kind of took a moment. And she said, 'Oh my god! I don't want to make you feel weird. Forget I said that.' I was just looking around at the crowd and at Gavin who was just like speaking into a megaphone. I felt so wrong to just be standing there. I always knew that I would come out. To me, love is more important than career. And so I walked over to her again, and I said, 'Hey, I know you wanted to ask me a question. I'm sorry to walk over here again after you just asked me that. But yeah, I'm gay.' And she was like, 'On the record?' And I said, 'Yes.'"

ON THE FEAR OF BEING TYPECAST AS G-A-Y
"Looking came along, and it's one thing to be a gay actor. It's another thing to be gay on screen. Am I stamping a giant G-A-Y across my forehead? Maybe I'll forever be typecast as a gay person. That was my insecurity in going for that project. But I put that insecurity aside after seeing our director Andrew Haigh's movie Weekend. It blew my mind, so I thought, 'Let me put away that dumb insecurity about being labelled as a certain thing forever.' I just believed in the project. And then Mindhunter came along. It's as much a surprise to me as anything else. It's also a reflection of being an actor in 2017. Even 10 years ago, coming out was a different thing. Hopefully, it's a reflection that everybody's catching up with the times. It's such a silly notion that your sexuality in your real life would determine your intimacy and chemistry with people on a set or on a stage."
ON FINDING ROMANCE
"I don't really have a type. I've dated all different types, all different ages. What I'm looking for is that thing when you sit down with someone, and you can't stop talking to each other. When all of a sudden, hours have gone by. I have that with close friends. Like, 'Oh my god! We've been sitting here for four hours?' That's what I'm looking for. It's one of those things that's either there or it's not. But I don't have a physical type."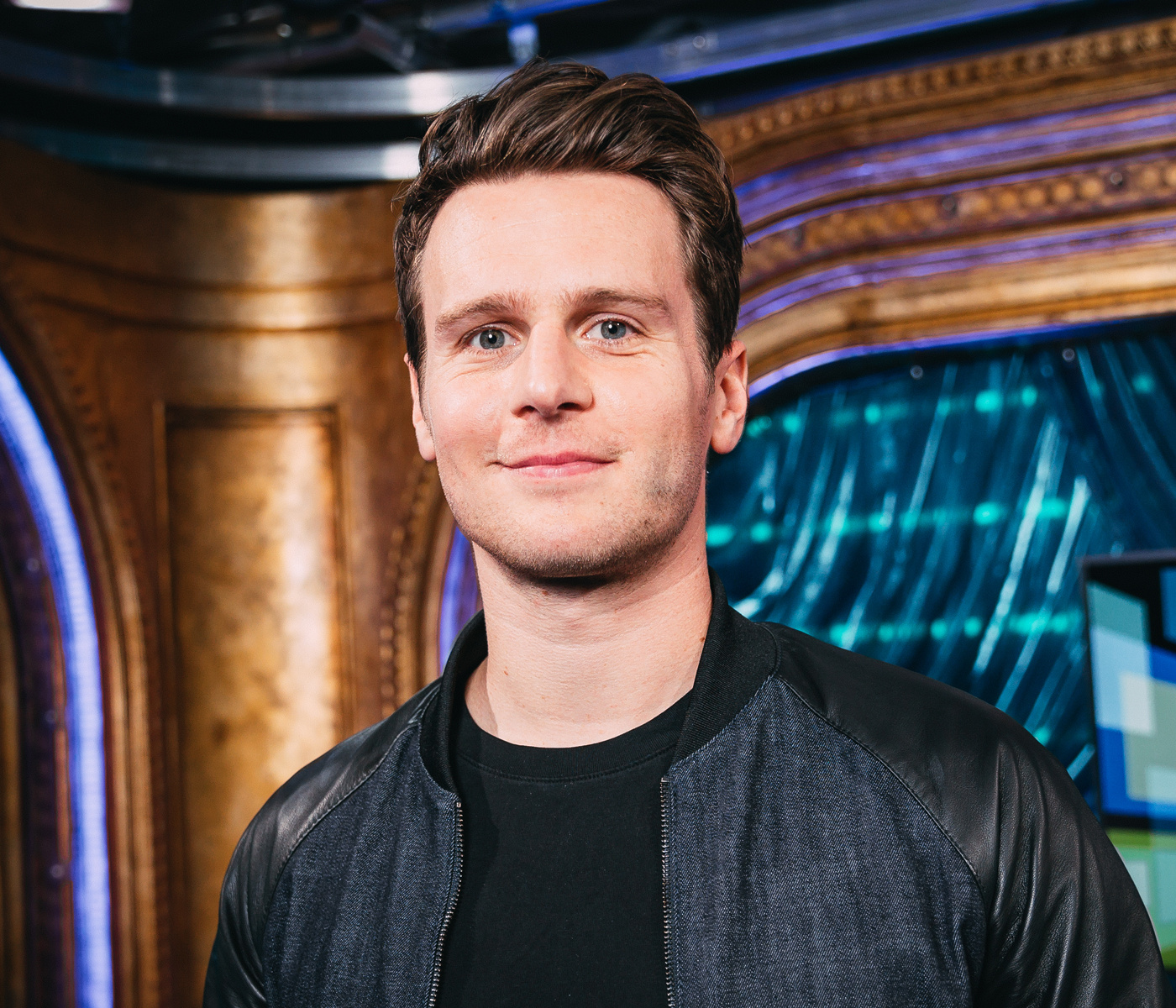 ON WHY HE CAN'T SPOIL FROZEN 2
"We started recording Frozen 2 the week of the stage musical's opening in Denver, actually. I am not at liberty to say anything about it. If I, in this moment, revealed the plot of Frozen 2 to you, I would implode. Blood à la Milly Bobbie Brown in Stranger Things would just start pouring out of my nose."

ON WATCHING FROZEN ONSTAGE
"Jelani Alladin made me cry when I saw it in Denver. Even just like thinking about it makes me want to cry. They wrote so much new material, so he knows more about Kristoff than I do because they wrote so much for the character. The whole story and the relationship between he and Anna is so filled out in this beautiful way. He has this moment in the second act with this beautiful song that just like made me cry. He was incredible. And Caissie Levy. At the intermission, after she sang 'Let It Go,' I felt like I was lit on fire."

ON HIS REAL HAMILTON DREAM ROLE
"Every day, I'm texting Tommy Kail about playing Angelica. I feel like Hamilton is such a groundbreaking show. Why not just like really take it to the next level, and just make Angelica Schuyler a white... man? [Laughs] I'm just obsessed with Renée Elise Goldsberry. I actually don't want to be myself as Angelica. I want to be Renée as Angelica, which makes it even more complicated."

ON THE STATUS OF LEA MICHELE (THE GOAT)
"Dead. Lea Michele the goat has passed."
Watch the full episode of Show People with Paul Wontorek below!



Interview is edited and condensed for clarity.