In their last Broadway outings, Alison Luff and Paul Alexander Nolan were decidedly not "nibblin' on a sponge cake, watchin' the sun bake," to quote Jimmy Buffett's megahit "Margaritaville." Luff was chopping off her hair and selling her body to feed her daughter in Les Miserables and Nolan was carrying the emotional heft of a man whose father seemingly killed his newborn baby in Bright Star. These days, the stage vets have their hearts and flip-flops firmly planted in Buffett vacation mode, headlining the romantic new jukebox musical that celebrates cheeseburgers in paradise and the age-old question, "Why Don't We Get Drunk?" (there's more to the title of that novelty hit that's best kept a surprise for the uninitiated.) After a launch at La Jolla Playhouse and a mini-tour, Escape to Margaritaville starts February 16 at the Marquis Theatre to shine a little sun on Broadway after a harsh winter. To celebrate their arrival, Broadway.com took the sexy pair out for some photo fun and a chat about falling in love under the stars of Margaritaville.


Jimmy Buffett music on Broadway. I never saw that happening!
Alison Luff: It's happening!

If they're like me, a lot of theater fans might go into this show not knowing much of his music, but the world at large does. How familiar were you?
Paul Alexander Nolan: I got asked to audition and I said, "No, I don't really know the music." And then I thought about it for a few days and I'm like, "What do I have to lose?" So, I learned a few of his songs on guitar and realize, "Oh, yeah, I know that song." And then I got cast and started listening to his stuff and realized I know a lot of his songs. I just wasn't part of the culture. I wasn't a parrothead.
Alison: I wasn't a parrothead per se, but I definitely grew up listening to his music on road trips. And one of my earliest memories was when I was like five years old. I was in the Keys with my family and we were at a steakhouse or something and I was dancing to a Jimmy Buffett cover band.

Did you two know each other before?
Paul: We had met twice.
Alison: We did a reading together. And what was the other time?
Paul: Showers at the Y.
Alison: Wha?! Right.
Paul: [Laughs]
Alison: Because I work out just as much as he does. And I go to the Y as well. YMCA.
Paul: What does that stand for?
Alison: I don't know. The Village People. [Laughs.] This is going well. No, we did a concert together and a reading together.

You have to like your co-star when you're doing a romance. How did you get to know each other?
Alison: Well, we work out together at the Y.
Paul: [Laughs.]
Alison: I spot him.
Paul: I lift her.
Alison: I feel like we just hit it off. This entire cast is like the grooviest cast.
Paul: Hot tubs. We actually went to the hot tubs together…
Alison: That sounds crazy. I mean, his wife was there, too. And my husband.
Paul: …in La Jolla [where the show had a pre-Broadway tryout]. They were. That's true.
Alison: Getting to know each other with your spouse.
Paul: Yeah, just include them.


This show has a very Island vibe, which isn't seen much on Broadway, except for Mamma Mia!, which did OK.
Paul: Never heard of it.

It's a fun, relaxed vibe. Do you feel that energy on stage?
Paul: Yeah, in fact, there's a moment when one of the women in the show is dancing in a bikini. I'm sure that that's not exactly the easiest thing to do. Because dancing is different than walking in a bikini… I mean, we're wearing friggin' Hawaiian shirts all night. Actually, the uncomfortable part about it is backstage. It's quite cold, so once you get under the lights, you warm up a bit. But backstage, you're getting changed for your show and you're thinking, "Man, I wish we were doing a parka musical."
Alison: I start in a parka, so it works out for me. It's a super fun show and it's a blast to do. I always say that, I mean, we both have done some heavy roles in the past and I realized that I often use the show that I'm doing as therapy. If I'm having a bad day, then I get to go die and be a prostitute in Les Miz and I feel great afterwards! It's extreme release. But here, if you're having a bad day and you start your show, you just feel better. Not because you had to cry on stage and let it all out. You just have a great time.

Yes, we've seen you as Fantine and Paul as Jesus in Jesus Christ Superstar. This is obviously going in a different direction. Is it a lighter load, or is that an unfair assumption?
Paul: Yes, absolutely. But obviously there are skills involved. I play guitar in the show.
Alison: He plays every single song. He's not doing himself justice.
Paul: Not every single song.
Alison: Pretty much.
Paul: I think I play 18 songs in the show, in some capacity or another. And I don't just get to stand there and put all my energy into thinking about the guitar. I'm walking around the stage, flirting with her, throwing a party. So, that's not the easiest thing in the world to do for me. So, I practice guitar a lot, but other than that, I don't have to like work up to "I'm going to die on the cross." I just show up and try to bring the party to the audience.
Alison: Yeah, I mean, when I first got the breakdown for this character, I read it and I was like, "This isn't me. This is so not me." And I went in and I was like, oh, I kind of dig her humor. It's dry and blunt like me. The writers-Greg Garcia and Mike O'Malley-have been so amazing about writing what you do really well and adding more of that in the show.
Paul: Yeah like when they figured out that I'm not funny, they gave all the funny stuff to other people.
Alison: Me.
Paul: Yeah, they gave it to her.
Alison: Because I'm funny.
Paul: Yeah.


And that Jimmy Buffett. People love him. Is he around? What's his involvement in all of this?
Alison: I haven't told him this but I want to call him Uncle Jimmy. And I don't know if he'll be okay with this, but I feel like he would be because he's a great guy. He's so fun. He's always around. I mean, he's a really very busy man, but he's always around. And when he is around, he's always giving his input, and he's always being supportive. The other day, the second to last run-through we had in the rehearsal studio, he was laughing like he had never seen the show before. And there were a couple new parts that he hadn't seen, and I'm looking over to see if he's laughing and then he is and I'm like, "Yes!"
Paul: I'm glad you were in the moment, Alison.

Talk about your characters. If I remember correctly, Paul, your character is hooking up with different tourists every week.
Paul: Yeah, yes.

And Alison, you're sort of like uptight and you're on this getaway trip and then you guys…spoiler, you fall in love. Let's talk about your characters and how you relate to them.
Paul: My character is called Tully Mars, which is a name taken from one of Jimmy's novels. But, in the novel, Tully is a rancher from Wyoming but they needed to make Tully from the East Coast, so that he's the son of a sailor, so that we had a reason to sing "Son of a Sailor"! Anyway, Tully has escaped to this island years before and found his bliss out there enjoying living life and not thinking about the future or the past. I feel like I'm stealing money doing this show because I'm like, "Isn't art supposed to be difficult?" And in this go-around, no. It's not.
Alison: That's right. Rachel is an environmental scientist. I call her the Sarah Brown of the show. That's a Guys and Dolls reference. She is extremely driven and hard-working, and it's not that she doesn't want to find someone. That's just not her priority. Her priority leaving the world better than the way that she came into it. And she wants to take her friend on the best bachelorette vacation ever, and while she's there, she lets her hair down.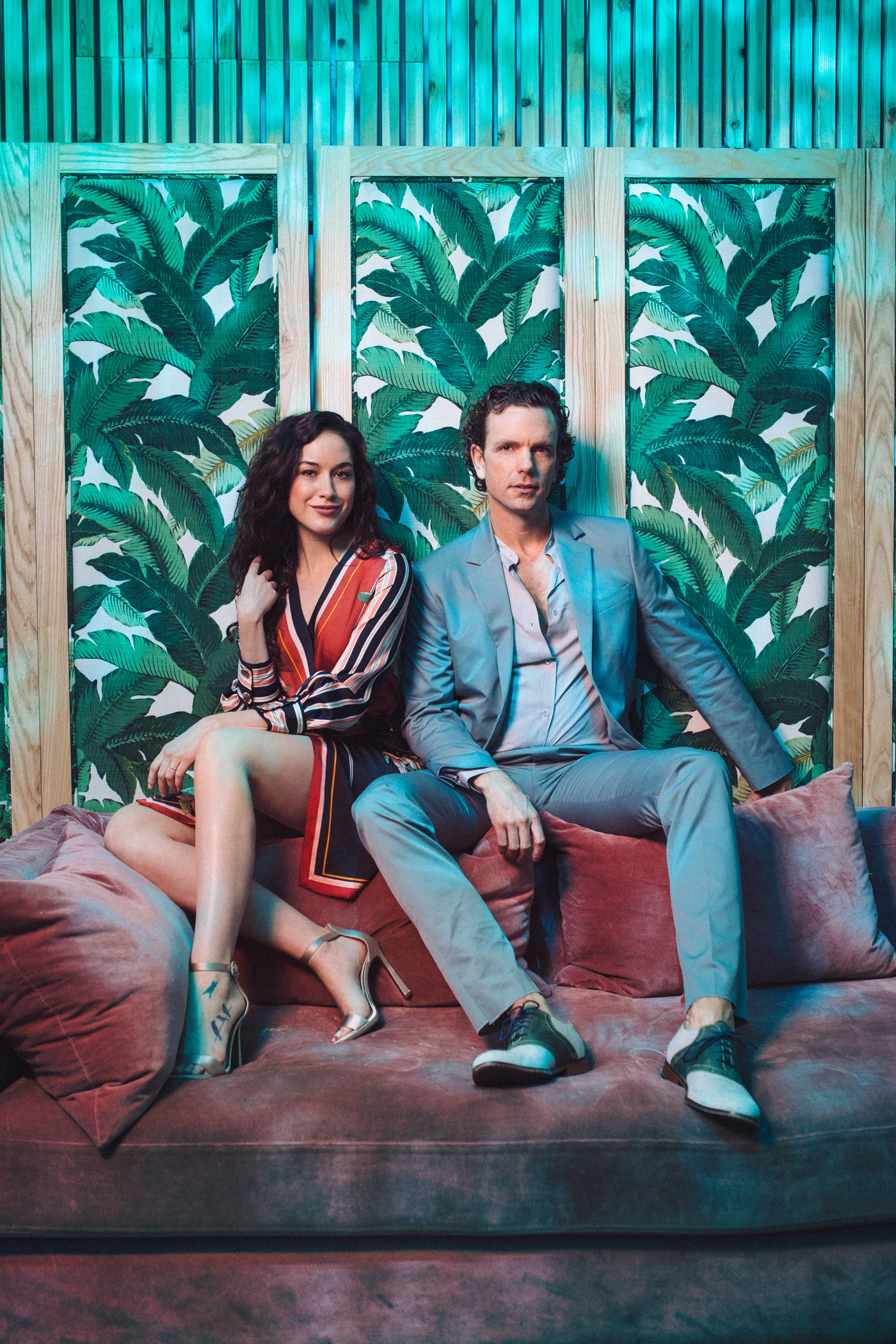 A lot of crazy things happen on the island and it's a super-fun show. What do you want people to know about it?
Alison: It is super-fun, and there's a lot of escapism and that's what we're going for here but there's also an underlining theme about not changing who you are for someone else, and being the authentic version of yourself. And watching the beauty that can come out of that, the relationships you can build out of that. And I think that's a story that we could all use. And meanwhile, you have fun.
Paul: Yeah, and Jimmy's music is surprisingly deep. It's this package of music that feels, on first listen, to be whimsical and fun. But there are more philosophical things going on in those lyrics than you ever expect when you're listening to the Margaritaville station. That's been really cool to discover his music in that way and to kind of turn the light on like that. That's a nice surprise.

Are you guys forever hooked up at the Margaritaville restaurant chain? Free margaritas for life?
Alison: I'm glad you're bringing this up because....
Paul: Yeah, Jimmy... what the eff?

Do you guys recommend a cocktail at the show? Seems to fit the theme.
Paul: Yeah, absolutely.
Alison: Cocktail, mocktail...
Paul: I guess the margaritas we're serving are Jimmy's recipe, so you're going to get an authentic margarita. And Jimmy said he wants the music to be blaring as the audience is coming in. So, we're doing that. And he doesn't want the ushers to make people stop singing. This is the show if you want to sing out, Louise because you won't be shushed. And, in fact, you might even remind me what the real lyrics are to one of these songs. When we were in La Jolla, I blanked on the lyrics to the song "Margaritaville" and I just stopped and I said, "What is it?" And the audience fed me the lyrics, and I said, "Great." And I just kept going. What show can you do that in?
Alison: And I stood very supportively in the wings, peeing myself of laughter.


Photos: Emilio Madrid-Kuser | Makeup & Hair Artist: Rachel Estabrook | Styling: Carlton Jones | Location: The VNYL | Wardrobe: Agnes B, Zara & The Carlton Jones Collection