Ana Villafañe in Miami Beach (Photo by Emilio Madrid-Kuser)
Headlining a big, splashy Broadway musical is a dream-come-true opportunity for any young wannabe star. Ana Villafañe's debut moment, playing pop music icon Gloria Estefan in the bio-musical On Your Feet!, came with some specific challenges, starting with the role itself. Would a strikingly accurate depiction of the famous singer, complete with copycat vocals, limit her ability to find future parts? And would the show, more of a hit with audiences than critics, be popular enough with industry players to properly launch her career? Ultimately, Villafañe proved to be a powerhouse, both onstage and off, leading the cast for almost two years until closing last fall at the Marquis Theatre (three actors played Gloria's husband Emilio during her run). Now the Broadway beauty—photographed for Broadway.com in her hometown of Miami—is anxious to show theater fans another side of her, taking on the part of Nina, the strong, smart heroine of In the Heights for the show's weeklong run at the Kennedy Center, starting March 21.

How exciting is it to play Nina? Has this role been on your list?
It's been on my list since the first time I heard the album. It's very much one of those dream roles—and it's a great chance for me to show people what I can do beyond Gloria Estefan. That was definitely a concern of mine, if I'm honest. As soon as we closed, I was terrified that the world would only see me as the girl who played Gloria. And now I can show my own voice. It's quite a challenge vocally coming off of three years singing pop music that was at the bottom of my range! [Laughs.] But I couldn't ask for a better leader than [director/original cast member] Stephanie Klemons. She obviously knows the material so well, and she's empowering all of us to make our own discoveries. I had never seen the show. Not even at, like, a school.

Really?!
Yeah, I didn't even know there were scenes. I thought it was all sung!

You literally just knew the album.
Correct. I'm completely fangirling. And then with [composer/original star] Lin-Manuel Miranda and [original director] Tommy Kail and [original choreographer] Andy Blankenbuehler coming to watch. And [original cast member] Andrea Burns… [librettist] Quiera [Alegria Hudes]… We've had everyone watching our run-throughs! And doing it at the Kennedy Center of all places right now, being in D.C. and singing about our pride and our flag and our home and where we come from… It's incredible!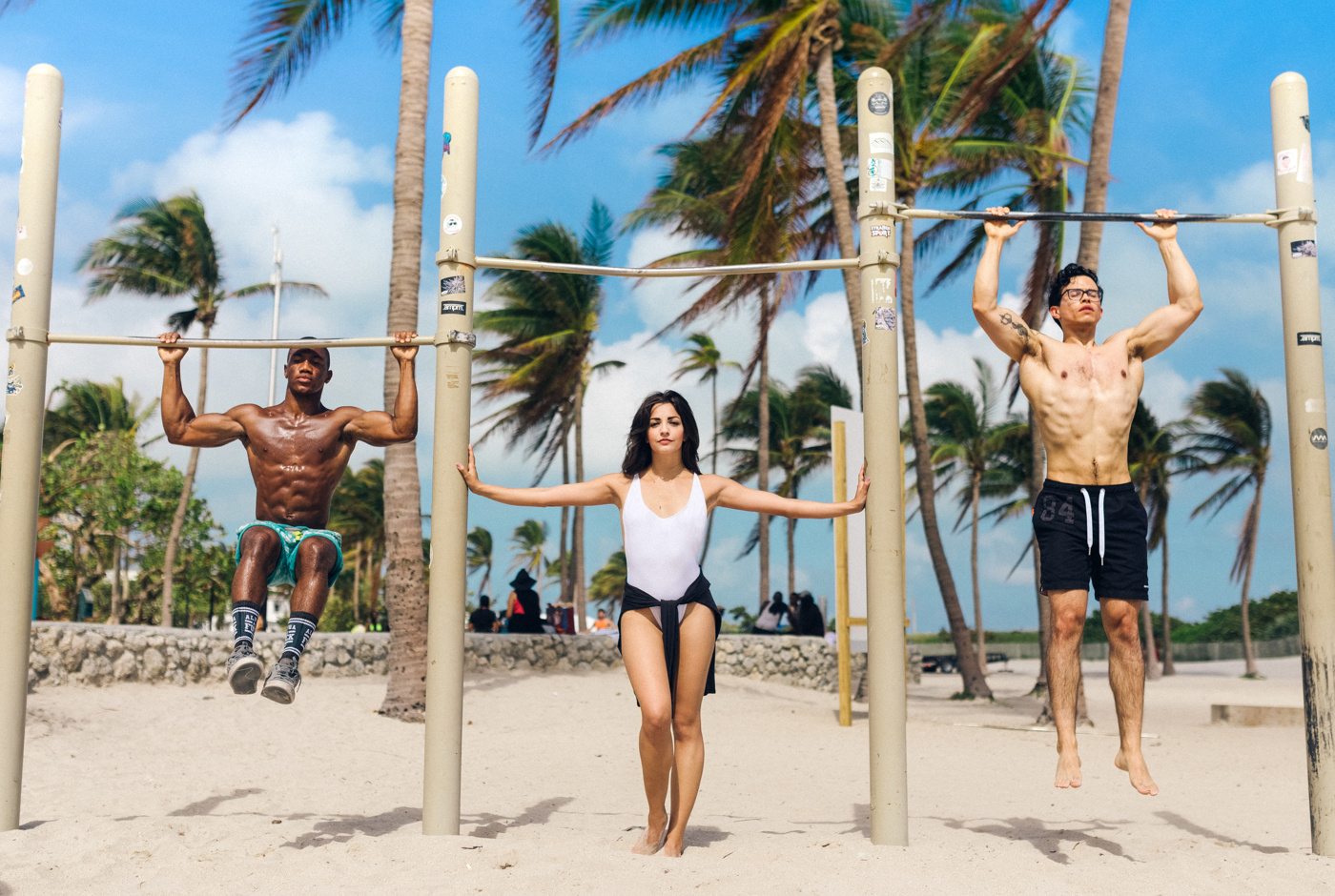 I love this score so much and the smallest musical moments get stuck in my head. Any favorite In the Heights earworms for you? Besides the Piragua guy song, obvs.
Seriously! I mean [original and current cast member] Elisio [Roman] can sing anything and I would just be like, please don't stop. But the "Carnaval del Barrio"… The way things layer over each other. It's a big mashup of melodies and it's brilliant. [Sings.] "Pa'ribba esa bandera! Álzala donde quiera!" That gets stuck in my head. And then "No Me Diga," too. "Tell me something I don't know." I love that song.

Tell me something I don't know! This cast is crazy, an amazing group of talents. Were you excited to get in the room with them?
Beyond. I didn't know who they were going to get and my manager called and said, "Do you know who they got?!" When I heard Eden [Espinosa] was doing it, I was so excited. And then Vanessa [Hudgens]… It just elevates the whole thing to have these people and it's fun because we're reimagining it. I can't un-see the original cast because what they did was so beautiful but it's fun to explore a different side. And then Anthony [Ramos] came in to play Usnavi the night before rehearsals!

Weren't you doing high school musicals when Vanessa Hudgens broke out in High School Musical?
I was. I remember the day it came out. It really solidified what I wanted to do with my life at that age. And it's very exciting to see her in this role because it's not something we've seen her do before and she's honestly nailing it, which is awesome!

Speaking of awesome, Lin tweeted after he saw the run-through that you were "Anamazing," so that's good.
When I saw that tweet, I was like, "Oh my god. This is real life!" This is the Sondheim of our time. The Shakespeare. He's so brilliant. And when he's in a room, people stand a little straighter and hit their marks a little crisper because he's the real deal. He's always been very kind to me. Hamilton and On Your Feet! opened in the same season, and I was the new kid on the block, literally. They were next door to us and he would come over for our parties—especially that Christmas season when we'd have coquito, which is like the Puerto Rican eggnog, at the theater. We became friends, which was cool because I wasn't a New York-based actress at the time. I didn't understand the relevance of being friends with Lin. I was just like, "He's so nice!" And people were like, "No, you don't get it!" That's the beauty of the Broadway community. We see each other as humans because we all know how hard it is. We have mutual respect for each other because no one can just show up off the street and do eight shows a week. It takes serious chops and dedication.
It's been seven months since you stopped playing Gloria. What was it like when that mammoth run ended? What was the detox like?
As soon as it ended, I went to France for a couple of weeks. I hadn't taken a vacation for the entire run and I needed a break! But it wasn't until I came back to New York that it really hit me. For a few weeks, it was a little bit bittersweet. I didn't want to walk on 45th Street. People don't realize how intense the schedule and lifestyle is—maintaining any kind of relationship outside the show is almost impossible. So, I was kind of like born again when it ended. I was able to do things I never got to do like go to brunch, or the High Line or meet up with friends in Brooklyn on a Saturday night. It was cool to finally kind of say hello to New York! I'll always miss the show. It's kind of like your first love. No one is going to take away what we did at the Marquis Theatre for two years. And no one can ever take away my bond with Gloria. We're still incredibly close. It was tremendous responsibility to play a live human being. I know Gloria's favorite food, favorite number, favorite color, all of those things. Now I can apply that discipline to other characters I play, find the little details, which will make them more alive. I want to be back on Broadway, but it has to be the right project because you have to really be in love with what you're doing to wake up and hit it out of the park.

The show was a big hit with audiences and, obviously, with Gloria. And your passion and dedication is a big part of why it ran for almost two years. But do you think the industry gave you props for your performance?
Maybe not in the way that people would have expected or wanted. I did gain the respect of my peers, but did I get nominated for a Tony? No. But that's not a requirement. As a kid, I dreamt of being on Broadway, of playing great characters, telling great stories. I dreamt about being on stage and those lights hitting me. I never dreamt about accolades and awards. I did what I came to do and I'm very happy that I'm now continuing to do it despite whether you win an award or not. That's part of the business, but not part of the artistry. Maybe that's an unpopular opinion but…

Here's another unpopular opinion: nobody remembers who was nominated!
[Laughs.] That is true. What makes me happy is there are kids—I was at Whole Foods in D.C. and was approached by this Latina girl studying at Georgetown. It's important, what we do. It's real and what we do on Broadway makes a difference to so many people. And I was that kid! I was the kid learning every song from the In the Heights album!

Any other dream roles you want to mention? Maybe something people wouldn't think of you for.
I don't know. The sky is the limit. I don't want to be locked down by anything. I love the idea of gender-bent casting and color-blind casting. I would love to have a cute little role like King George in Hamilton. When I used to see Jonathan Groff, he'd be having a glass of wine or two and I'd be like, "I can't, because the show…" And he'd be like, "Girl, you gotta get one of my type of gigs!" [Laughs.]
Any news on your CBS sitcom pilot, The History of Them?
I'll know if it's a go in May, but it's been such a dream. They rewrote my character after I got cast and now she's a singer. So, I'm singing Whitney Houston in the first episode!

It sounds kind of like How I Met Your Mother, where you're looking back on a relationship?
It's been described as "if Friends, How I Met Your Mother and I Love Lucy had a love child."

Oh my. Well, I'm in!
Those are some pretty nice blueprints, I guess!

I know you have tech rehearsal now, so I'll let you go. This In the Heights run is a quick burst, only a week. How does that feel? Is it weird to do something that's not going to be a two-year run?!
Absolutely! I get really attached, so I'll definitely have withdrawal next week. But it's also really nice, coming off something for two years. As soon as I got the offer, I was like, "It's just three weeks? Actually, that sounds fantastic!"
---
Find out more about the Kennedy Center run of In the Heights on The Broadway.com Show below.