Though he may be well-known for making hearts flutter during his time on Dawson's Creek, Joshua Jackson has grown so much since the days of Pacey Witter puppy love. The actor is making his Broadway debut in the emotionally wrenching love story of Children of a Lesser God alongside fellow Great White Way newcomer Lauren Ridloff. He calls the theater his "happy place," one that has reminded him why he loves to perform time and time again. In addition, he's got Showtime's steamy fourth season of The Affair premiering in June and a big year ahead as he turns 40. Here's what we learned from the stage and screen star as he chatted about his close connection with Ridloff, learning American Sign Language (ASL), his stage start alongside Patrick Stewart, the review he can still recite and more on this week's Show People with Paul Wontorek.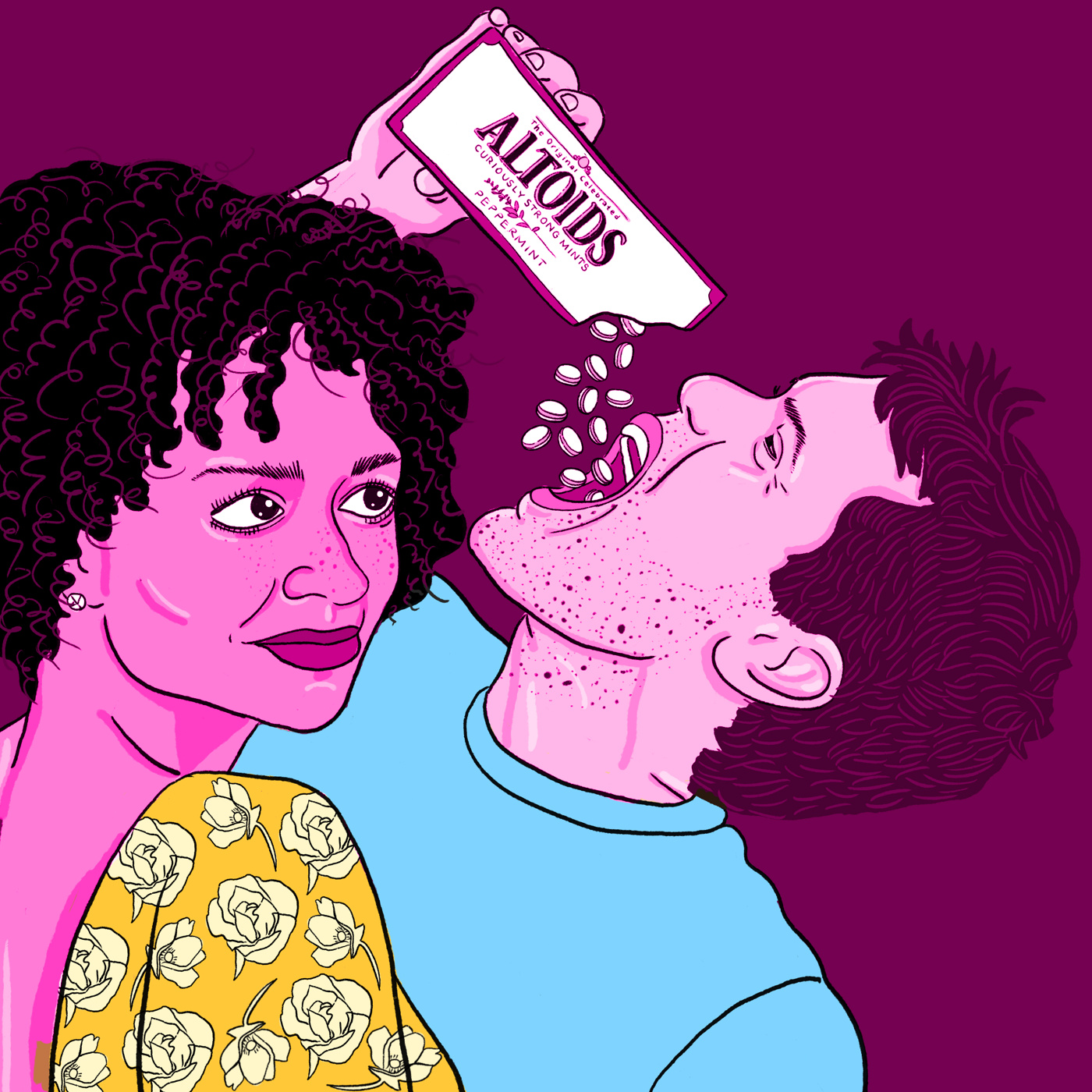 1. BREATH MINTS WERE USED IN THE MAKING OF THIS SEXY POSTER
"We shot the photo for the Children of a Lesser God poster about halfway through the out-of-town run last summer, so we were quite used to being in each other's faces at that point. Lots of breath mints were involved."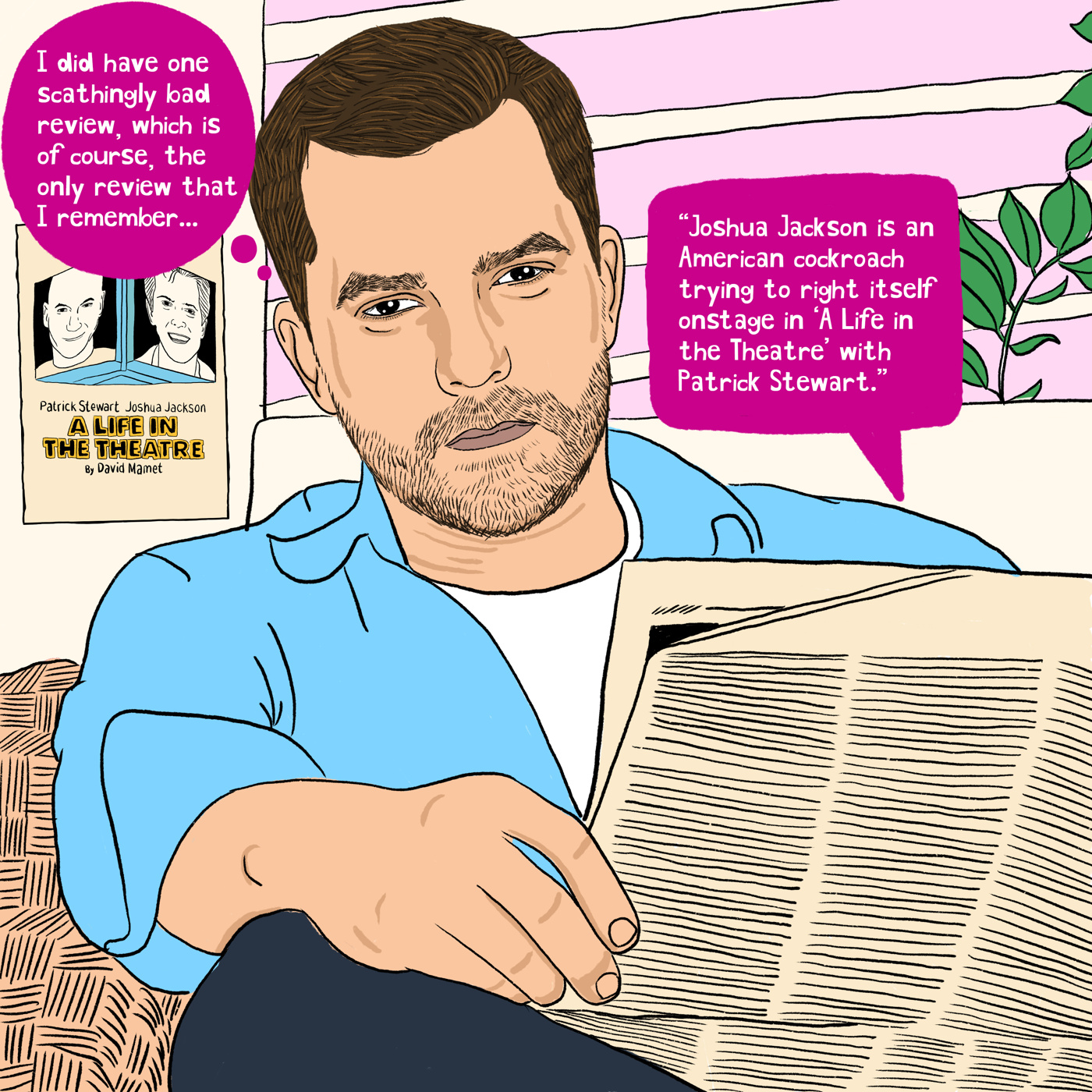 2. THERE'S ONE REVIEW HE CAN STILL QUOTE
"I did have one scathingly bad review during A Life in the Theatre, which is of course, the only review that I remember. But it was brilliantly bad. The critic said I looked like, 'an American cockroach that had been flipped on its back trying to right itself onstage.' That's pretty bad. It's only been 17 years. I'm sure I'll forget about it eventually. The Evening Standard. Oh yes, I remember."
3. HE'S LOOKING FORWARD TO THE BIG 4-0
"I didn't put a timeline on coming to Broadway, but it is an excellent birthday present for 40. Every year that clicks by is another year where I think, 'I can't believe I still get to tell stories for a living. This is amazing!"
---
Other must-read highlights:
ON MAKING HIS BROADWAY DEBUT
"The experience of doing a play is such a joyful thing. It's not the place where I spend the bulk of my work life, so when I do get the opportunity to come and do it, it's because something really specific that I want to be a part of, a story that I want to tell. To walk up to work every day and and walk onto a Broadway stage is a pretty magical feeling for an actor."
ON SHARING THE STAGE WITH LAUREN RIDLOFF
"She never ever leaves my eyes. There's like this rope tied between the two of us when we're on stage together. That bond is a joy to experience every night."
ON THE DISCOVERY OF CO-STAR LAUREN RIDLOFF
"Kenny Leon was putting together a read-through and had assembled a bunch of people. He called me up. He said, 'I've found everybody else, but I haven't found my leading lady. I do have this woman, who has been teaching me ASL, who for purposes of the read-through, I think would be amazing.' She comes in on day one of rehearsal, and we get to the climactic scene in the play where Sarah uses her voice. Lauren says, through her interpreter, 'I haven't spoken out loud since I was 13.' Flash forward the next day, we're going through the play with people watching. We finally get to that scene. There's this electricity building, and when she let it go it was a nearly indescribable experience. It was just this raw, emotional outpouring. It was one of those moments that can only happen in a live space. Kenny and I went out to get a drink afterwards, and I was like, 'Man, that's the whole thing right there.'"
ON CHILDREN OF A LESSER GOD'S INTENSITY
"When we get it right, it will really just tear your heart out of your chest. It's the perverse reason why we go to the theater."
ON LEARNING ASL
"Particularly for a leading man and leading lady, it's important to get to know each other, to sort of understand who each other are, especially if you're going to places that are uncomfortable. I had done quite a bit of work before I got to rehearsal, but had a lot more work yet to do just to get the language of the play down. So we would spend a day in rehearsal, and then she, I and Alexandria Wailes, our ASL director for the show, would then just break out another four hours and slowly but surely build me into a place where I was at like a post-toddler level in that language."
ON THE END OF DAWSON'S CREEK
"It was such a long and ultimately complete experience because we knew we were going to end it when we were going to end it. So it was just this tremendous sense of relief. To be perfectly honest, I was quite burnt out at the end of Dawson's Creek. There were many satisfying moments throughout that experience, but there were also many unsatisfying moments. If I could have ended it a couple of years earlier than we did, I would have."
ON FINDING HIS HAPPY PLACE IN THE THEATER
"After Dawson's Creek ended, I knew within a couple of months that I was going to go and do David Mamet's A Life in the Theatre with Patrick Stewart. The plays that I've worked on in my life have all been very specific to a time in my life where there was a challenge or a question that I needed to have answered for myself. To put myself in Mamet's language in the West End, a two-hander with just Patrick Stewart, is about the deepest of the deep end that you can possibly go into. He is such a skilled theater actor. If he had wanted to slaughter me onstage just to showcase his talents, he absolutely could have done that. That was within his power. But he's not that man. He was incredibly gracious in allowing my learning curve—which was very steep for that show. Seeing his joy in it and discovering my own joy in it, I thought, 'Oh right! I'm an actor. This is really truly what I want to do. I love this.'"
ON HIS ADVICE TO YOUNG PERFORMERS
"Care less about being pretty. There's a whole industry built around frivolous, external things, which is actually worse now than when I was doing Dawson's Creek because social media didn't exist yet. Be honest with yourself: what is it that you love about this job? If you love the part where you're in a scene with another human being and something magical can happen and a wise voice can give you a little direction and an idea that hadn't occurred to you can come out, then take the time. The gray hairs and the wrinkles are the good stuff. If you take real joy out of this, and you continue to feed it, you put everything that you have into it and it feeds you back. The truth of the matter is, it's the chasing the bright shiny thing that kills a lot of the joy."
Watch the full episode of Show People with Paul Wontorek below!

Interview has been edited and condensed for clarity.

Did you know Show People is available as a podcast? Listen to your favorite stars talk Broadway and beyond on your way to work, the gym, the theater and more on iTunes and Spotify.