Zach Adkins
(Photos: Emilio Madrid-Kuser)
Zach Adkins says growing up as a "bigger kid" in a smaller town made it hard to find his passion. "If you weren't good at sports, you weren't good at anything," he jokes about his Northeast Ohio home city, Ashtabula. "I realized that I loved talking to people and I loved getting a lot of people's attention at one time. Once I figured out that theater could give that to me, that's the path I took and never looked back." On March 27, after a year of understudying the part of Dmitry in Anastasia on Broadway, he took over the role full time. Below, hear the newly minted star open up about taking on the character, his theater beginnings and why he wants to be friends with Antoni from Queer Eye.


Bet on It
Adkins theatrical career started off with a familial gamble. "I made a bet with my sister that I could get into the musical my freshman year of high school," He explains. "At that time, I had never sung in front of anyone. There is no acting in our family, so this was all very new and foreign to all of us." When he snagged a role—Bickle in Footloose— that was it. He performed in every high school show until he graduated. "I was very shy as a kid," Adkins says. "In high school, I started to come out of my shell, and I think it's because I found the power of words, and I found the power of speech and how you can affect people and make people feel good, and make people laugh. Once I started exploring that, theater kind of slowly just fell into place for me."

Great Expectations
Taking on a character like Dmitry, that so many fans have grown up with on their well-worn Anastasia VHS tapes, puts on the pressure. "There's always this weird feeling going on as a character so many people know well where you want to do the movie justice," says Adkins. "But you also want to do this new version justice. You're so happy when people are like, 'Yes, that is exactly how I pictured Dmitry to be! This is my childhood.'"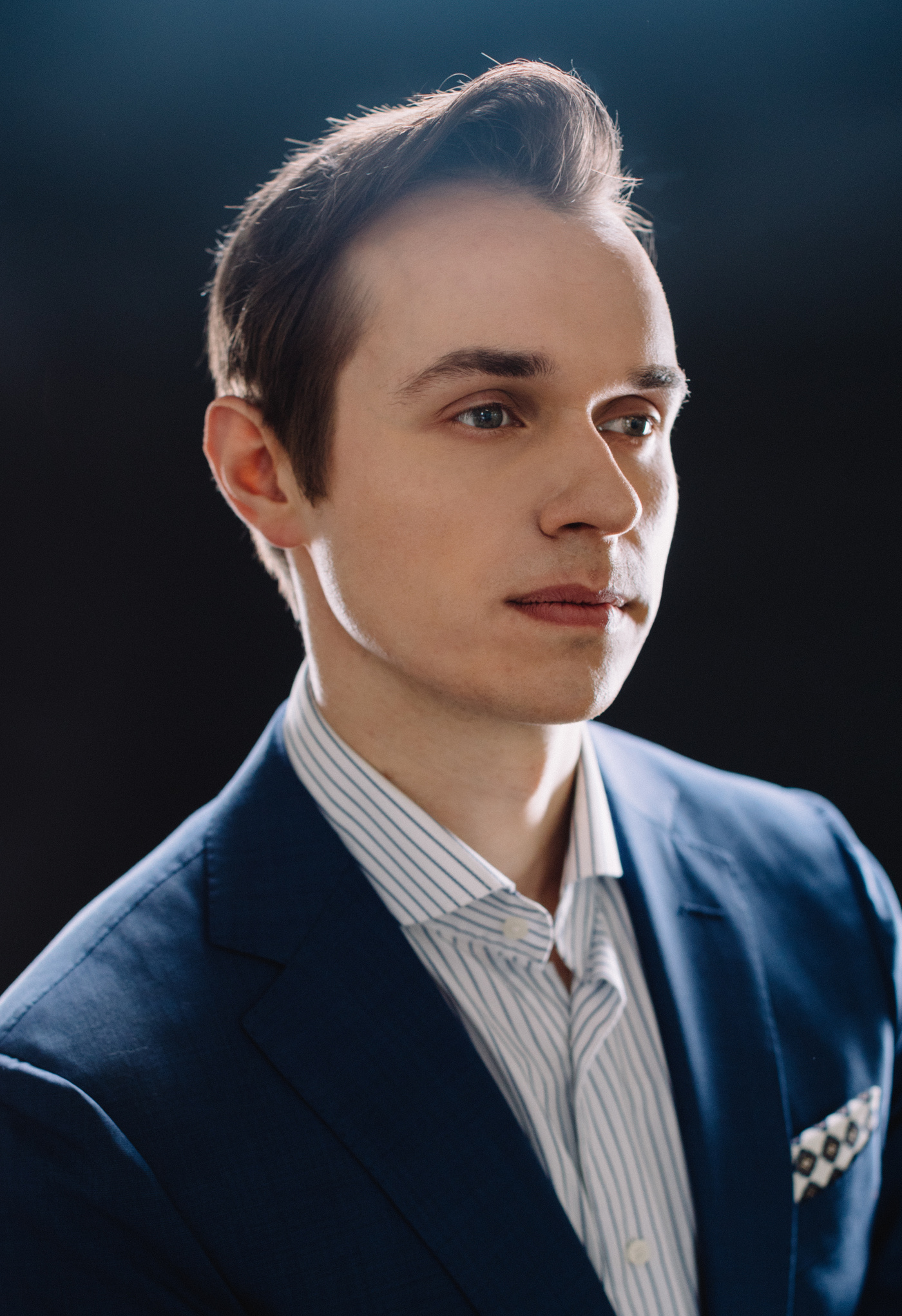 Understanding this Understudy
Adkins also feels the added pressure of following up fan favorite Derek Klena, who originated the role. "He was doing amazing things. He was making amazing choices," Adkins says. "But some of those choices, I decided wouldn't work for me and who I am as a person. So, early on, I was sprinkling myself into the part and in understudy rehearsals." What's the difference between Adkins' Dmitry and Klena's? "A lot of the people who have seen me go on as this past year, have noticed that I'm a little bit of a softer Dmitry, I am not quite so stern all the time. I smile more, and those are things that I just can't help sometimes." That doesn't stop fans from mixing up the similar looking actors at the stage door, though. "Derek probably hates it," he jokes. "He has this movie star quality about him, and I'm kind of dorky guy. It's very flattering when people do that."

On Being a Pushover
While the character of Dmitry can be a rough and tumble fighter type, Adkins says that's where he and his character diverge. "He doesn't put up with anyone's bull crap," Adkins explains. "And I kind of do. I'm a pushover sometimes. I'm not so stubborn. I'm a go-with-the-flow kind of guy. I think as an actor, you have to be." Will playing Dmitry eight times a week bring out his stubborn side? "Yeah, maybe I'll be more of a fighter."




"Santa Fe" and Shawn Mendes
Adkins says the Jack Kelly number, "Santa Fe" from Newsies has been his go-to audition song for five years, and it is still his favorite to sing. "It was my college staple song, and it's kind of just followed me through my career." However, when he's not belting out "My Petersburg," he's probably working on his rendition of "Stiches" by Shawn Mendes. "I'm a big fan," he says. "There's this great article about him becoming a sex symbol and how he didn't want that for himself, and he's like struggling, dealing with it. It's very fascinating."

On His Doppelgänger
"Everyone says I look like Antoni from Queer Eye," Adkins says, referring to Antoni Porowski, one of the Fab Five experts on the Netflix reboot. "I love Queer Eye, and I love him so much. Once it was over, I was like, that's it? When is the next episode coming?" The actor says he's desperate to meet the avocado-obsessed cook. "So, if this interview can bring it to fruition, I want to be his friend. I can't cook, though."