Two-time Tony nominee Joshua Henry is bringing down the house as Billy Bigelow in the Broadway revival of Carousel. Not only is his "Soliliquy" one of the standout performance moments of the theatrical season; taking on a coveted, classic musical theater role traditionally played by white male leads is just another showcase of how Broadway continues to break down barriers in the entertainment world. With his golden voice and commanding stage presence, Henry has appeared on the road in Hamilton, alongside Tony winner Cynthia Erivo in the "anybody who's anybody was there" concert performance of The Last Five Years and in memorable Broadway productions like Shuffle Along, Violet, The Scottsboro Boys and more. Now, the longtime performer is being hailed as a favorite as awards season kicks into high gear. Here's what we learned from Henry about his early days hitting the books at the University of Miami, his entry into the In the Heights dream team (and coincidentally, the Hamilton cabinet), why he's just as obsessed with Jessie Mueller as you are and more on this week's Show People with Paul Wontorek.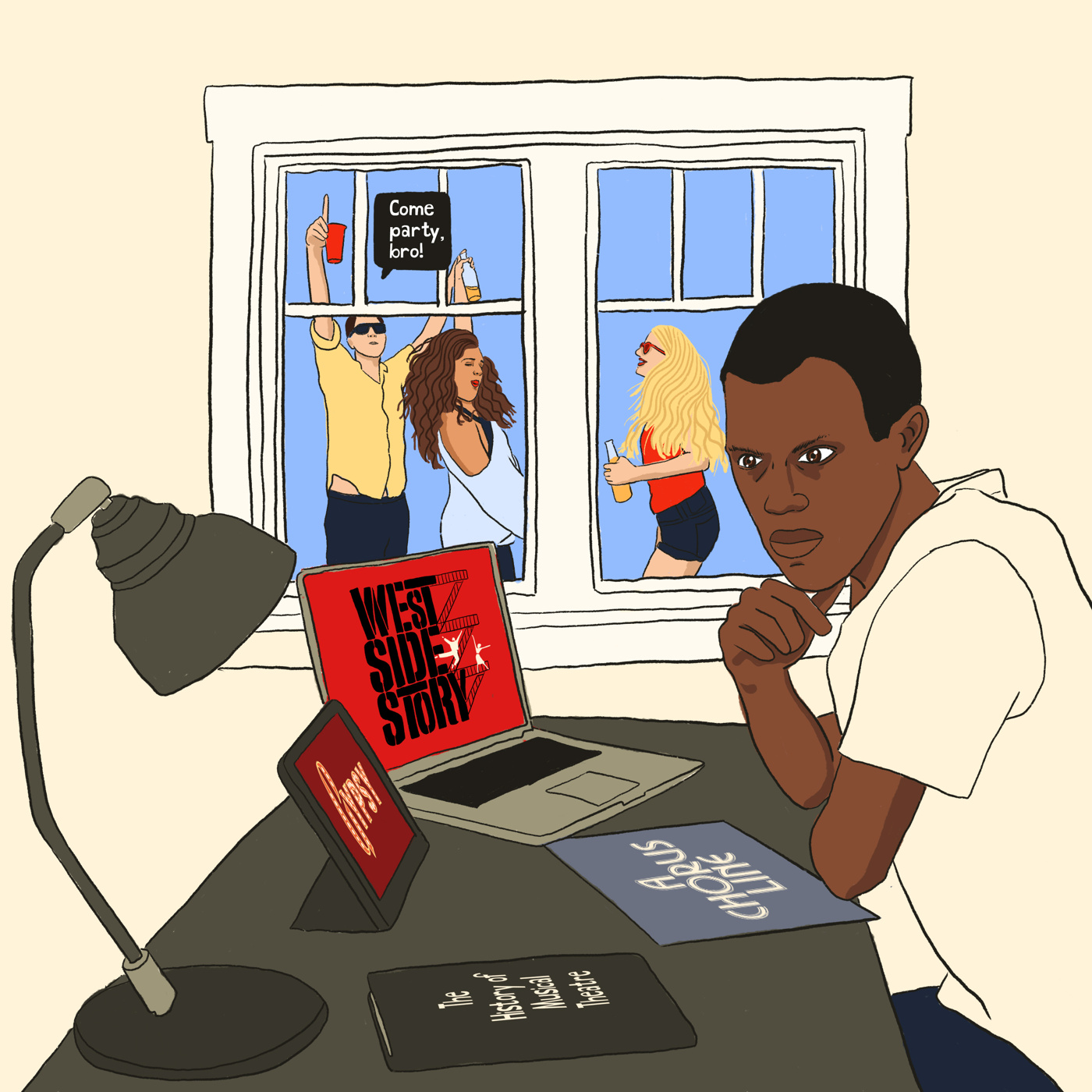 1. HE HIT THE BOOKS AS OPPOSED TO THE COLLEGE PARTY CIRCUIT
"I avoided the party scene at the University of Miami. I came in to study musical thetaer, and I felt so behind. I literally knew nothing. I got into shows when I was a junior in high school. I was literally living in the musical library, studying the shows and learning what music theory was. I had 8 a.m. music theory and then would stay up until 2 a.m. studying."
2. HE'S PLAYED HAROLD HILL IN THE MUSIC MAN—AND IS DOWN TO DO IT ON BROADWAY
"My first show in high school was The Music Man. I was a junior. I played Harold Hill. I did the role at the University of Miami too. I do love that musical. To do it in high school and college and then to do it professionally—I mean, come on!"
3. HE'S A TOTAL JESSIE MUELLER FANBOY
"She's incredible. When we had just started working together, I had to talk to her about Beautiful and Waitress. I was like, 'You're going to sit here, and you're going to take my compliments.' She was so humble. She's absolutely incredible to work with. She's a chameleon! She can do ANYTHING. But she's so sweet and so generous. She's a solid woman, and I think she's got this really spiritual thing about her, which I really dig. I'm loving having her as my Julie."
---
Other must-read highlights:
ON PLAYING BILLY BIGELOW
"I feel honored and super grateful to have been chosen to do this role at this time. It's a huge moment for me and for Broadway and for actors of color. Some people come up to me at the stage door, and they say, 'Thank you for opening these doors.' I'm thankful for the moment so that I can show people what I can do. Those doors were opened for me by Brian Stokes Mitchell, Norm Lewis, Billy Porter, so I'm grateful to walk through these doors and make a little bit of room. I'm hopeful for what the future holds for actors of color and for everyone."
ON BRINGING CAROUSEL BACK DURING #METOO AND #TIMESUP
"It's hard. Playing with this character, it's hard to reckon with the fact that he is abusive and violent. I'm not those things. But along with that violence, which we don't shy away from, he loves his wife and his child so much. The biggest challenge with this role is that those things are so intertwined. Rodgers and Hammerstein did such a great job of creating such a complex character that has to reckon with those two things. I think that's why it's such a beautiful journey to take on. I love playing roles where it's not just the good guy or the bad guy. Riding that wave throughout the night is my challenge in this role. Carousel asks, 'Is there a second chance?' 'Can you bounce back from something so heinous?' 'Can you be redeemed?' I think it's a good thing to be a little uncomfortable and to ask these hard questions in the theater. Rodgers and Hammerstein were ahead of their time."
ON HIS SPIRITUALITY
"My parents were very spiritual folks. I grew up studying the Bible. My dad's a Christian academy teacher. I grew up with a big spiritual influence. It's a big part of my life. That's what really attracted me to Carousel, the spiritual aspect of what happens, those questions about the afterlife."
ON JOINING THE IN THE HEIGHTS DREAM TEAM/HAMILTON CABINET
"Doing Godspell at Paper Mill, that's where I met Robin De Jesus, who was in a little off-Broadway show called In the Heights at the time. He was like, 'You should come in and audition for the understudy of Benny.' I did, and that's how I got involved with the In the Heights dream team: Lin-Manuel Miranda, Alex Lacamoire, Tommy Kail and Andy Blankenbuehler."
ON ADVICE TO ASPIRING PERFORMERS
"Just follow your path. You never know where it's going to lead. When Godspell didn't work out, I went back into In the Heights as a swing. I had like five roles that I was covering. That's where I really learned my chops as a performer because I had to be in charge of four or five different roles. And I needed that! If I didn't have that, then I wouldn't have been prepared for The Wiz. And then I wouldn't have been prepared to take my first role in Scottsboro Boys. I think all of these things happen for reasons that you don't know at the time. But you take the detour, and you value the detour."
ON HIS WIFE CATHRYN AND NEW SON SAMSON
"I met Cathryn during my senior year at the University of Miami. We lived across the hall from each other. We met at the elevator! I remember when she walked off the elevator. She's got this beautiful red hair. She smiled at me, and I was like, 'Oh, snap!' She reminded me of the Wendy's girl. Fifteen years later, we're here. Now we have Samson. He's incredible. Cathryn has been a trooper, taking care of him while I'm rehearsing and doing the shows at night. It couldn't be a better time to be doing a role like this. Singing a song like 'Soliloquy' before he was born was one thing. I never thought I'd have a baby while doing a show about being a father."
Watch the full episode of Show People with Paul Wontorek below!

Interview has been edited and condensed for clarity.

Did you know Show People is available as a podcast? Listen to your favorite stars talk Broadway and beyond on your way to work, the gym, the theater and more on iTunes and Spotify.