Hailey Kilgore has a lot to say about Ti Moune, the character she plays in the Tony-nominated revival of Once On This Island: "She is a powerhouse. She knows what she wants. She's going to go and do it." The same can be said for the 19-year-old Tony nominee. The Michael Arden-helmed production of Lynn Ahrens and Stephen Flaherty's musical began performances at the Circle in the Square Theatre in November 2017. In just over six months, Kilgore has become a fresh-faced Broadway star, winning the hearts of audiences and critics alike. Tony winner LaChanze, currently starring in Summer: The Donna Summer Musical, garnered her first nomination for originating the roleback in 1991. Now, LaChanze and Kilgore are facing each other in the stacked Leading Actress in a Musical category. Kilgore has always been a go-getter as well as a devout Ariana Grande fan and a pageant queen. Like Ti Moune, she's someone who knows what she wants and is going to go and get it. The young talent stopped by Show People with Paul Wontorek to tell us where she's been, and where she's headed.
1. WATCH OUT, PATTI LUPONE! KILGORE'S ALSO GOT SOME AUDIENCE ETIQUETTE TIPS
"The magical thing about what we do is that all of a sudden, people think they've become invisible. Audiences members have to remember the rules. We can hear you. We can see you picking your nose. We can see you taking pictures. But we want people to be a part of the show, and we want people to be excited. As long as you're respectful and having a blast, we are having a blast with you."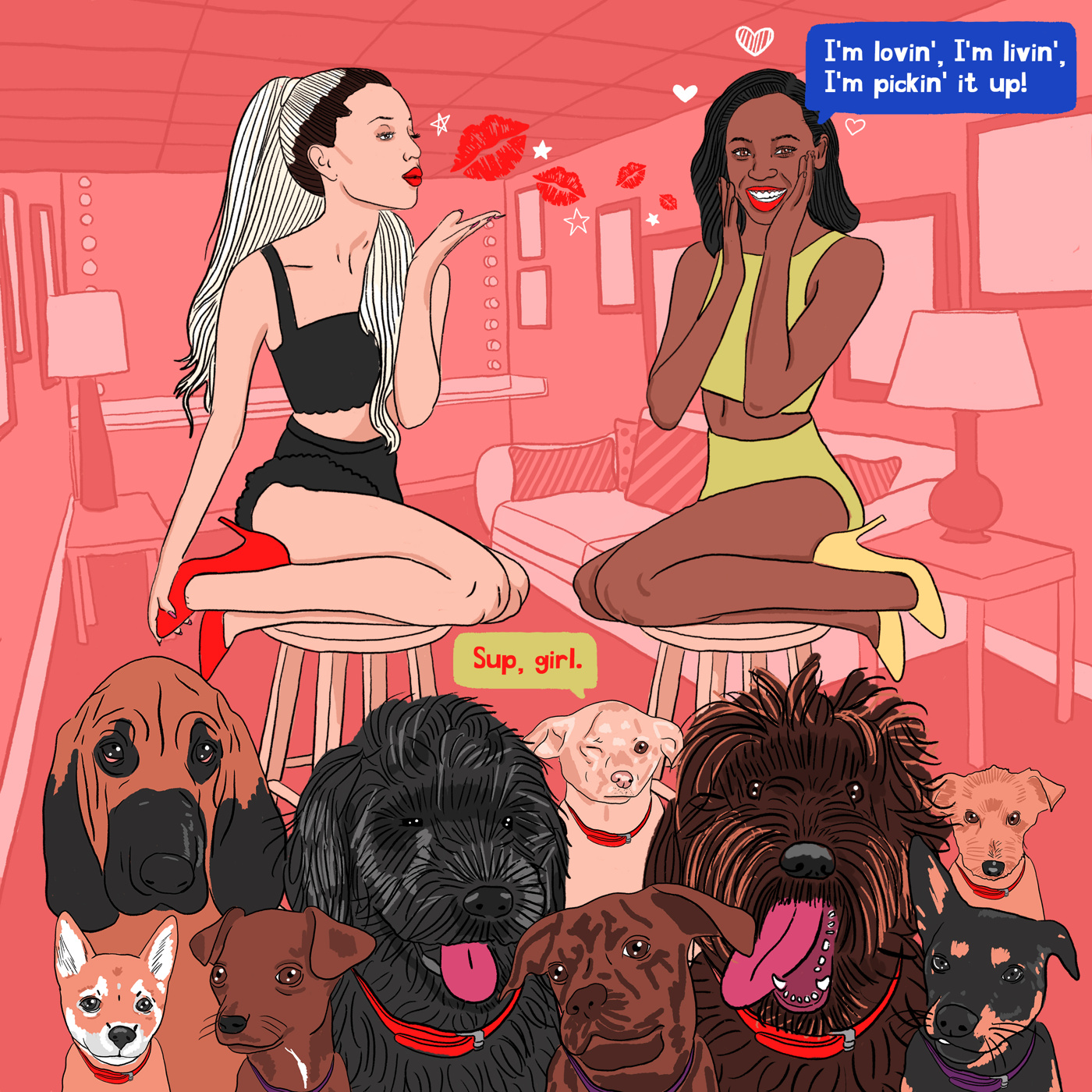 2. SHE FINALLY MET HER ROLE MODEL ARIANA GRANDE
"I got to meet Ariana Grande. She was doing a concert at Radio City. I love her. All of her dogs were there. Toulouse was there! I love her even more now because she's just a beautiful person. She's very selfless and very creative. She knows what she wants. It was cool meet her and to see her process a little bit. She's my role model."
3. HER SUCCESSFUL PAGEANT CAREER WAS A BIT OF A SURPRISE
"I started at the age of nine in fourth grade. My mom really entered me so she could enter me into the talent competition so I could sing in front of people. I sang "There's a Hero" by Billy Gillman. I won talent, and then I got second place overall. We were like, 'What?' Because we were literally going just so I could sing. And then I did it again, and I won. So then I had the responsibility of being a National American Miss, Miss Oregon Pre-Teen. There were a lot of responsibilities that came with that, like volunteering and working with non-profit organizations. It definitely gave me my passion for helping others, which goes into what theater is about for me. It's serving other people."
---
Other must-read highlights:
ON HER SUCCESS
"It's a whirlwind. It's an honor. But it's also a good learning moment for me to stay grounded and centered. There's an energy and a spirit within this company that I'm so lucky to be a part of. The fact that we have people coming in that have never experienced this story before is really exciting. For my character, it's really just about telling the truth. I never felt the need to add a performing aspect to the character. I think living and just being with her is the best."
ON DIRECTOR MICHAEL ARDEN
"The best thing about this whole process was seeing how excited Michael was. Hearing his story about how he got the revival to be—that was not an easy task. To get to know him and to see how excited and how driven he was—he's so selfless. He's really focused on the truth of everything. You can have all of the beautiful ornaments and accessories, the incredible set, the gorgeous costumes and all of these beautiful elements that we've added to the show. But the thing about Michael is, he wants to make sure that you see the truth, and he wants to make sure the story is told. I love that about him."
ON BEING ADOPTED
"My parents wanted to adopt. My mom had an alarm clock system that would play music when you wake up. 'Blackbird' by The Beatles came on, and she got a phone call from the agency. They said, 'We have a little girl. She was just born. Would you be able to come and pick her up?' My nickname is Bird. I have birds in my dressing room and my bedroom. And now with Ti Moune, trees are my thing, too."
ON HER THEATER UPBRINGING
"My parents put theater into my life and storytelling into my life in a way that was never forced. From the time I was six years old, I was doing full-on productions of Sweeney Todd with my father in the living room. He was Sweeney, and I was everyone else. I played Little Inez in Hairspray. My mom was Prudy Pingleton, Penny's mom. I would go to school. There would be days where I would have to leave school, go to rehearsal and then do a show at night."
ON BEING A ROLE MODEL
"It's really cool that I'm someone that girls look at and look to for help. I like to let fans know that they can always reach out to me on social media."
ON WHAT'S NEXT
"I want to do everything. My dream is to work with Kenny Leon. I did the August Wilson monologue competition with him. I must do a show with Condola Rashad. I love her. I want to do everything. I don't want to limit myself."
ON HER TONY CATEGORY
"I don't know how I ended up in that group. I'm being 110 percent serious with you. I have no idea."
Watch the full episode of Show People with Paul Wontorek below!

Interview has been edited and condensed for clarity.

Did you know Show People is available as a podcast? Listen to your favorite stars talk Broadway and beyond on your way to work, the gym, the theater and more on iTunes and Spotify.