With his long history on the Great White Way, Nick Scandalios is one of the engines that makes Broadway run. Broadway.com is kicking off our new series, Industry Insider, which looks at the people who make the Broadway community special, even though they are not center stage.
How We Describe His Job: Executive Vice President and 30-year vet of The Nederlander Organization, the 106-year-old powerhouse theater producing organization, which also owns and operates venues around the country and London, including nine on Broadway.
How He Describes His Job: "I work for a large family business that owns Broadway theaters. And I get to wake up every day and love what I do."
Career Highlights: "I loved when we did Movin' Out. Being a Long Island baby—it was church on Sundays and Billy Joel concerts. That's all you had to accomplish. And I loved doing On Your Feet! because I got to work with Gloria and Emilio Estefan. Estefan Enterprises is also a family business, so we were these concentric family circles."
Tony Time: In addition to a Nederlander nomination for producing the revival of Angels in America, the most-nominated play in Tony history, Scandalios is being honored with the Isabelle Stevenson Tony Award. Founded in 2009, the award recognizes theater artists for their humanitarian work with charitable organizations; Scandalios for his long relationship with Family Equality Council, fighting for the rights of LGBTQ families.
Heeding the Call: In 2007, Scandalios became keenly aware of the work Family Equality Council was achieving when he was awaiting the birth of his twins via surrogate with husband Ric Swezey. "The whole year was such a moving experience," he says. "Building the relationship with our surrogate, and with her husband and children, and really exploring the notion of what family is and why is value only placed on blood relationships?" After an introduction from Growing Generations, the couple's surrogacy organization, Scandalios met with Jennifer Chrisler of Family Equality Council shortly after the birth of twins Kate and Luke. "I don't know if she got me at an emotional moment, as I was weepy over newborn babies, but it felt good to find a way to give back," he says. Scandalios joined the board of directors and later became board chair in 2014. When Swezey died tragically in 2017, he formed the Ric Swezey Memorial Fund for Family Equality Council, raising over $500K for the new initiative, which will tell the stories of LGBTQ families.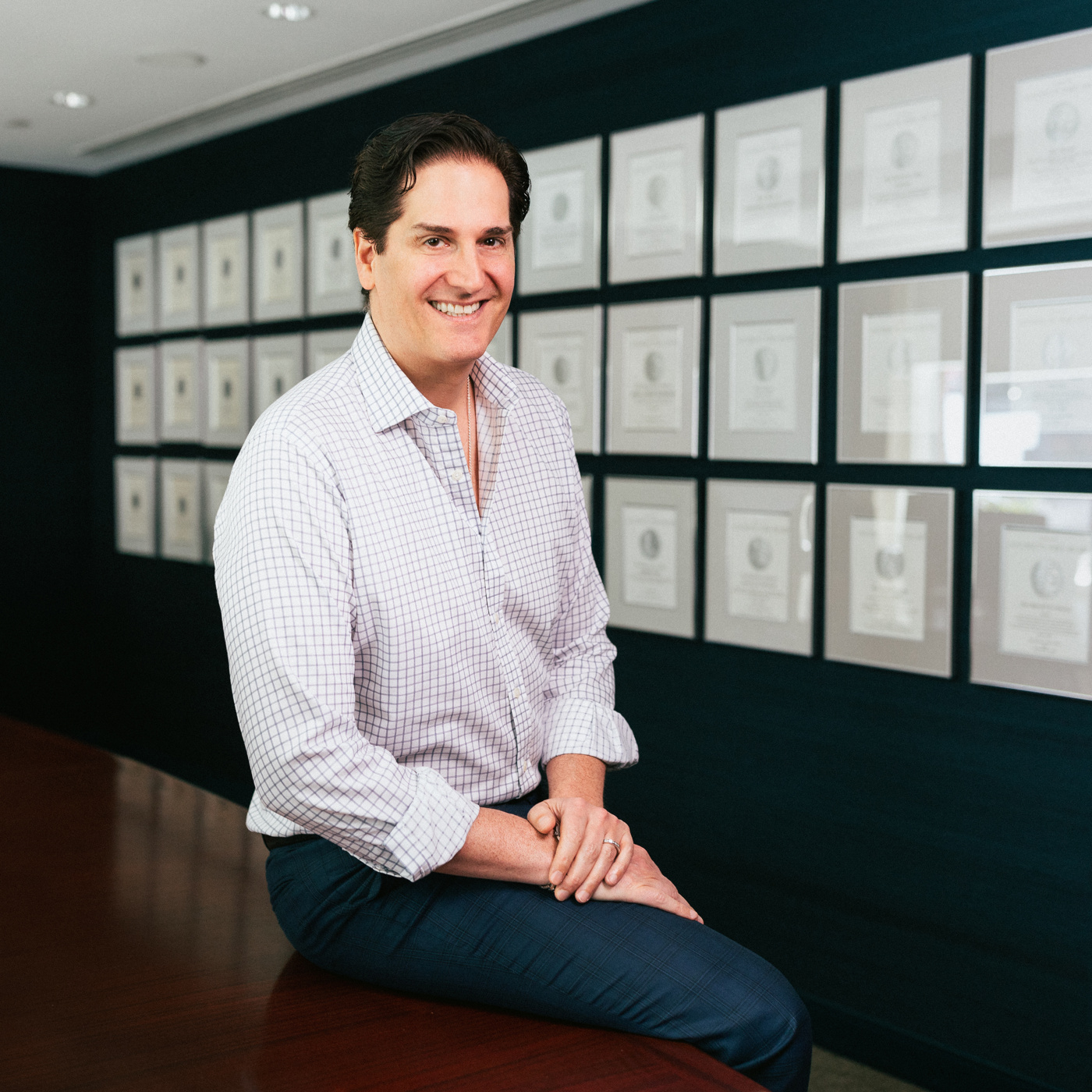 Long Island (Broadway) Baby: Scandalios hails from a large Long Island Greek family—born in Port Washington, raised in Hicksville. The theater bug bit early, especially after his (no doubt triumphant) take on Buffalo Bill in Annie Get Your Gun in 6th grade. "I wore whichever turd-brown leisure suit was in my closet," he laughs. "It was 1976." His parents made a deal with the aspiring performer, stating if he went to business school and still wanted to be an actor when he was finished, they would pay for any acting program that would take him. "I should have realized at that moment that I wasn't hungry enough to be an actor," he says. "Because I thought, 'Well, that's reasonable!'" Plus, he knew his towering stature would define his prospects: "At 6'4", you're either going to be an instant star, or you're not going to eat!"
Boston to Broadway: While studying for a business degree at Boston College, Scandalios still grappled between the choice of a life on the stage or a life behind a desk. At school, he got to play Tony in West Side Story during his senior year. During summers, he worked at Chase Manhattan Bank and started a Long Island theater company with friends called Harbor Theater Company, a subset of The Play Troupe of Port Washington (you may have seen his Che in Evita!). When graduation came, Scandalios turned down investment banking jobs and instead got an internship at the general management office for the 1987 hit play Les Liaisons Dangereuses for $100 a week. "There was only one condition," he laughs. "I was at the interview in my suit and they said, 'You can't dress better than we do!' I didn't know people in the theater wore jeans!" Soon after, Scandalios was called in for a receptionist job at with the Nederlanders, one of the producers of the show. He got the gig, but with another condition: "Kathy Raitt hired me and said I had to stay six months," he says. "'She was afraid I was going to be bored."
Jimmy Senior: "Hey Nick!" At his reception desk, a shocked Scandalios heard the unmistakable voice of James M. Nederlander (affectionately known as Jimmy Sr.) calling out to him. "Everyone told me he wouldn't remember my name for months. I thought I was getting fired." Instead, a 30-year relationship was born, one that lasted until the theater titan's death in 2016, in which Scandalios looked up to him as a friend and mentor. "Jimmy put me in circles at a very young age," he remembers. "It may have been baptism by fire—'if he can survive this, he'll be all right.' It just amazing what he did." Scandalios says the relationship didn't just stay in Nederlander's Times Square offices—Jimmy Sr. was on hand at his 40th birthday party in Mykonos and was a cheerleader when he decided to take on gay fatherhood. "He was 80-plus years old at that time, a Depression-era kid. You might think, 'Well, how's he gonna feel about that?' But he was beautiful and loving and embracing. My favorite pictures are of him holding the babies."
Family Embrace: Scandalios is incredibly honored with his special Tony Award, and excited to share the career high with his friends in the theater industry. "The thing about this community is that we're all living the arc of life together," he says. "Unlike other industries, it's small enough that we're experiencing things together, and feel connected in an intimate and personal way. Even living through this last year, which has been difficult for me and my family losing Ric, it happened inside the larger theater family and you can never replace the embrace that goes with that. When we celebrate, we celebrate big, together. And in difficult times, we share them. That's why people spend their whole careers and build their whole lives inside the theater. It's a beautiful thing."
---
Contributions to the Ric Swezey Memorial Fund continue to be accepted here.