Matt Bomer has arrived. To be sure, the Texas native has been performing since childhood and has solidified his career as a screen star in White Collar, Magic Mike, American Horror Story and more. It's not just those gorgeous baby blues. The Carnegie Mellon grad nabbed a Golden Globe in 2015 for his heart-wrenching performance in HBO's The Normal Heart and cut his teeth in the early workshops for what feels like every musical theater fans worship (Thoroughly Modern Millie and Spring Awakening, to name a few). As Donald in Mart Crowley's iconic gay play The Boys in the Band, true stage man Bomer makes a Broadway debut for the books: a star-studded cast of proud and out men, Joe Mantello at the helm and a historic premiere of a play that was and remains a theatrical game-changer since its debut in 1970. Bomer sat down on Show People with Paul Wontorek to discuss his newfound passion for the director's chair, why the world is ready for that Magic Mike musical and more.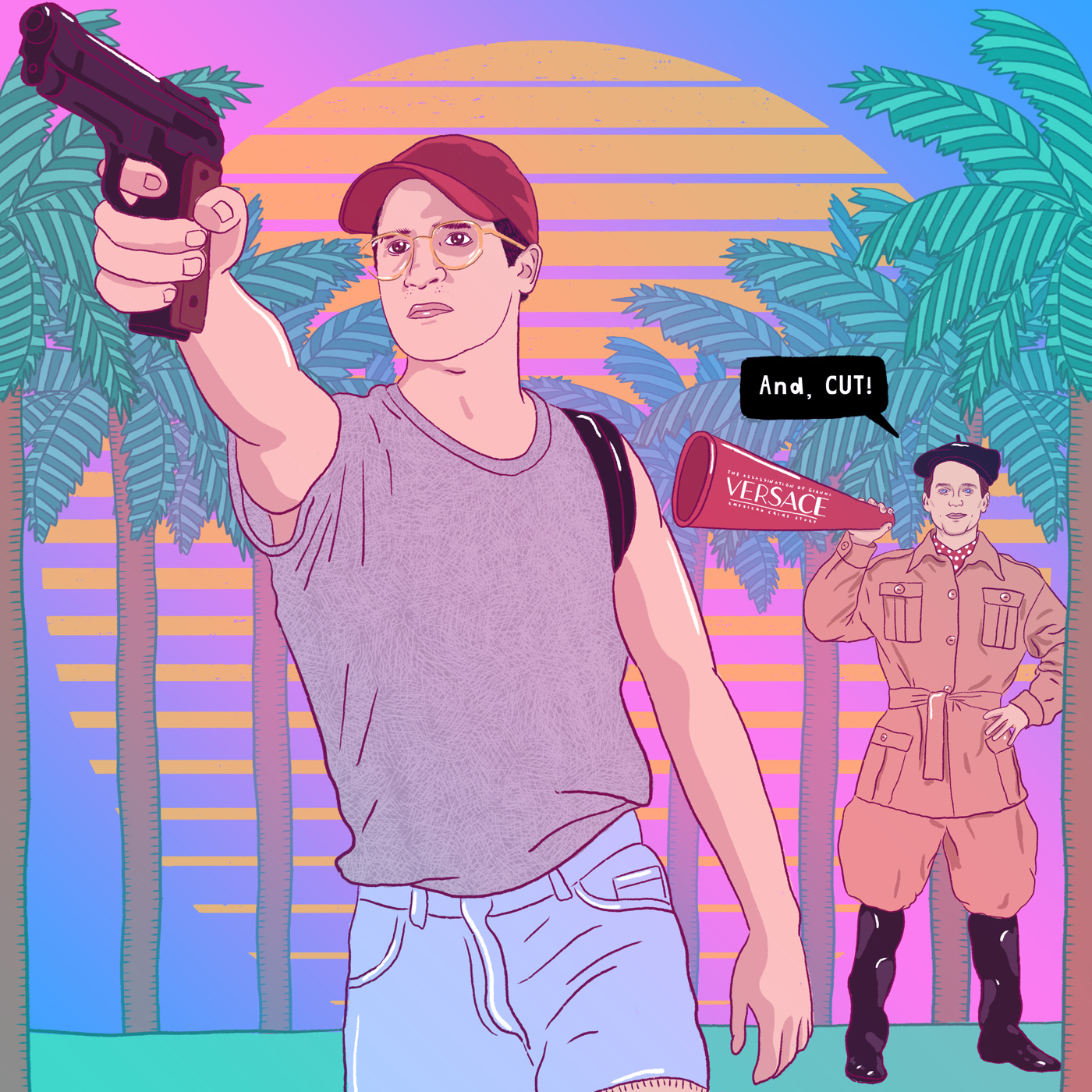 1. WHAT HE REALLY WANTS TO DO IS DIRECT
"Ryan Murphy turned to me one day with my dog-eared, well-worn script and was like, 'You should be a director.' Then he called and offered me the opportunity on Versace. It was just a really profound gift. I've never met an actor I didn't like—even the prickly ones I love. It was a great opportunity to work with people like Darren Criss and Edgar Ramirez and all this great theater talent. Thank God you have someone like Ryan who is willing to look at someone like Jon Jon Briones and see the talent in him and give him a huge opportunity. It was a great, great first directing gig. I have a few directing offers for the fall. I'm not sure how it's all going to go, but I know I will be directing for Ryan in the fall."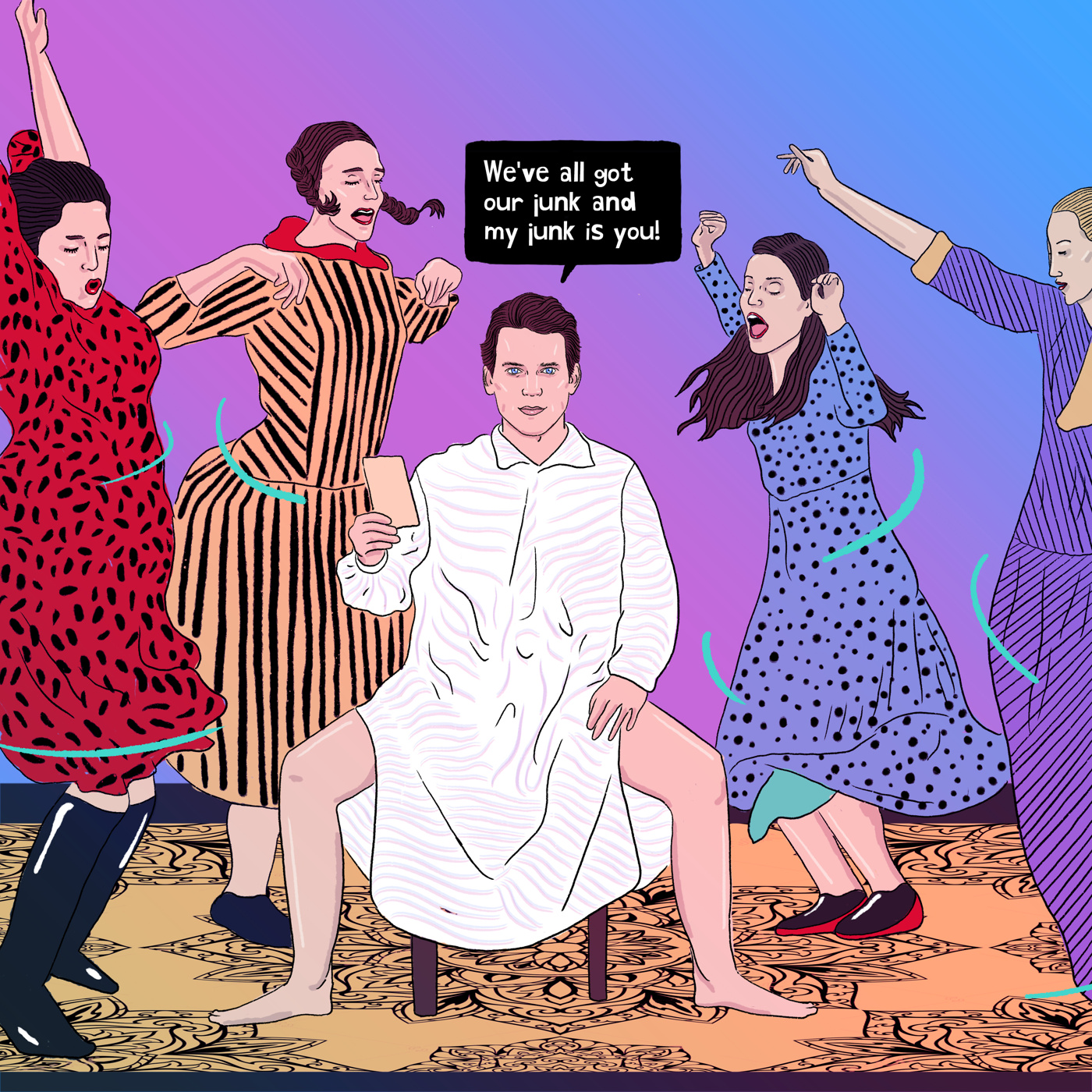 2. HE'S A TRUE GUILTY ONE
"Before I graduated from Carnegie Mellon, I was fortunate enough to get into the Sundance Theatre Lab in the summer of 2000. I did the very first workshop of Spring Awakening, which Michael Mayer and Steven Sater hired me for. It was a real first workshop. That forum is the best entry point for anyone into this industry because you're with the greatest creative minds in the theater world in this safe haven up in the mountains in Utah. You're breaking bread together. You're working together all day in this really constructive way, but there's not too much pressure on it. I love that. I played Hanschen. There were amazing songs that didn't even end up in the show. One of my favorite songs with the most beautiful, poignant lyrics didn't even end up in the show."
3. HE'LL SING FOR YOU—EVEN IF YOU DIDN'T ASK
"I sing CONSTANTLY—anything that floats into my head. Ask Jim Parsons. He'll kvetch about it to no end. I'm always associating words with songs. If you say a phrase or a turn of phrase that reminds me of a song, then that song will get stuck in my head. Yeah, I sing constantly."
---
Other must-read highlights:
ON MAKING HIS BROADWAY DEBUT IN THE BOYS IN THE BAND
"I honestly only ever thought I was going to do theater. My career just took me other places. Joe Mantello is the best director working today. The cutting he was able to put together of the piece really moves it along. There is no intermission. You're in there as the room's getting hotter, as the stakes are increasing. We were able to do a reading and a workshop before so we had a sense of what it felt like in the room. I can't imagine a wider safety net than Joe Mantello and these actors I'm sharing the stage with."
ON SIX DEGREES OF MATT BOMER
"I went to school with Zachary Quinto. I've known Michael Benjamin Washington since I got out of school. I've known Andrew Rannells for years. We went to different high schools, but Jim Parsons lived just up the street from me. Lee Pace went to my high school. We did The Diary of Ann Frank together, Wild Honey, Crazy for You and we did South Pacific."
ON THAT SHOWER SCENE
"The shower is in the script. It's a very brief shower. The first time I actually had to be naked in rehearsal, I completely went up on my lines. I had to get comfortable."
ON RYAN MURPHY
"He's so magnanimous and so generous of spirit and so loyal to his troupe of actors. It really does feel like you're part of a rep company, which I love."
ON HIS EARLY THEATER EDUCATION
"The first theater I ever worked for was The Alley in Houston, which is a rep company. I thought, 'This is so great. It's like a family that gets to work on all the best plays together.' When I got to sixth grade, you were able to take an elective. Marla Crowe came into my life, and she taught me acting through improvisation, which I thought was the most fun thing. We had this great theater program in high school where our teacher at the time—he was only there for our freshman year, but he was so tapped into everything that was going on on and off-Broadway. So I was doing scenes from Angels in America. We would do Hamlet and The Little Foxes for the school, but then in scene work in class, we'd be doing The Destiny of Me and Lonely Planet, which were things that I ended up using to get into conservatory. Before I could drive a car, I was doing scenes about the AIDS epidemic."
ON HIS FIRST GAY ROLE MODEL
"There was one incredibly brave soul named Jim. We were friendly because he would sometimes do things with my church youth group. In fairness to my youth group, he would come on retreats with us and things like that. No one was ever judgmental. He was very bold. In Bible-belt Texas, he was wearing rave clothes to school and dying his hair red, just really living in his authenticity at a very young age, which I just give him incredible props for."
ON HIS FAMILY'S SUPPORT
"My family came to the shows. They've never been that backstage family at all. There's not a lot of fanfare—not in a bad way. They're very humble, God-fearing people. They have always tried to encourage that humility in me. Up until a few years ago, whenever I'd call home, they'd say, 'Well, they're doing Christmas Carol at The Alley! When are you going to come down to Houston and work there?' They were much more concerned with me coming back and working at the regional theater in their neck of the woods than whether or not I was screen testing for a movie."
ON THAT MAGIC MIKE MUSICAL
"Channing Tatum is such a brilliant businessman. I had said to him early on, 'You know you have to make a Broadway musical.' I'm not taking credit for the idea. I'm sure they were already well into it at that point. I think it's a great idea, and it's such an interesting and rich world to explore. We do seem to be in this place in society now where we're not casting so many aspersions on that lifestyle."
ON FLIRTING WITH BROADWAY
"Sutton Foster and I were originally cast as the understudies at La Jolla for Thoroughly Modern Millie. I was the cover for Gavin Creel and Marc Kudisch. September 11 happened, and so no one was coming to New York. The show got delayed, and they had to wait on the house they wanted. Thankfully I was able to get a soap opera. I did the workshop of Grey Gardens at Playwrights Horizons. I was in rehearsals for the Playwrights Horizons production, and I got a movie. I prefer doing plays, and the musicals I've been attracted to like Spring Awakening are very actor-centric. The music is truly just an elevation of the scene work you're doing. I see myself doing a Broadway musical. It would just have to be the right one."
Watch the full episode of Show People with Paul Wontorek below!

Interview has been edited and condensed for clarity.

Did you know Show People is available as a podcast? Listen to your favorite stars talk Broadway and beyond on your way to work, the gym, the theater and more on iTunes and Spotify.